From Vancouver to Atlanta: Falun Dafa Showcased in Summer Festivals across North America
August 01, 2018 | By Minghui correspondents in Canada and the United States
(Minghui.org) Festivals and community events are a major part of the summertime scene in Canada and the United States, from celebrating Caribbean culture to the simple pleasures of ice cream on a hot summer day. Every summer, Falun Dafa practitioners take part in these festive occasions, introducing the uplifting ancient meditation practice to local residents and visitors at events across the continent.
As July draws to a close, we present a roundup of recent events from Vancouver, Edmonton, Ann Arbor, and Atlanta.
Vancouver, Canada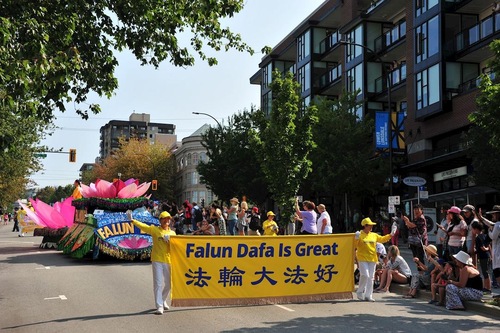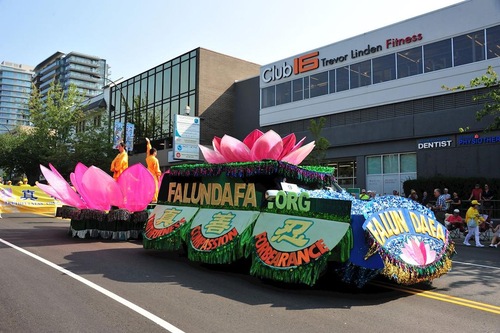 The 2018 Caribbean Days Parade in North Vancouver on July 28.
The 2018 Caribbean Days Festival started with a parade in North Vancouver on July 28. Now in its 31st year, this festival has become one of Vancouver's largest summertime events, attracting around 50,000 people. Falun Dafa practitioners took part with a float themed Truthfulness-Compassion-Forbearance, which was warmly received by parade spectators.
Many people took pictures of the beautiful float as practitioners passed Lonsdale Quay Market, a well-known tourist site. Many more took materials to read. Local resident Carl Hewitt talked with a practitioner and said that he agreed with the message of Truthfulness, Compassion and Forbearance emblazoned on the float.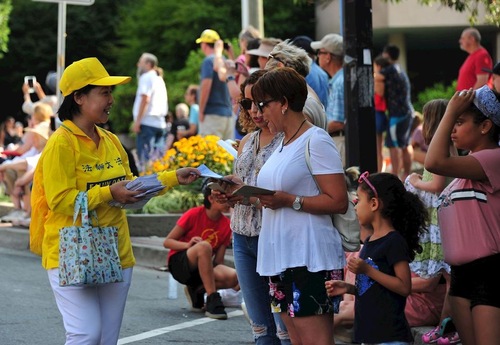 Spectators are happy to receive informational materials from practitioners.
Sam, a visitor from Houston, said, "I am excited to see Falun Dafa practitioners today. The float with the lotus flower is a highlight of the parade, very beautiful and peaceful."
Edmonton, Alberta (Canada)
Thousands of people gathered on the streets of Edmonton on July 20 for the 2018 K-Days Parade. Among over 100 participating groups, Falun Dafa practitioners have been attending this event for 14 years and won the Chairman's Award for their performance.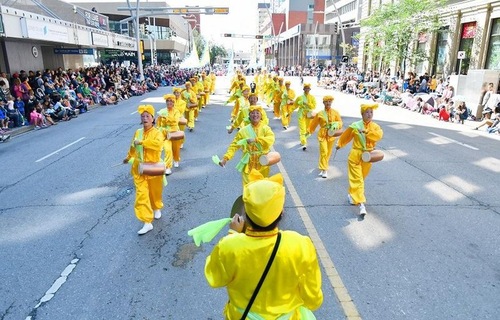 Waist drum performance at Edmonton on July 20, 2018.
Celebrating the gold rush of the 1890s in the area, the event is one of the biggest summer festivals in Alberta. The parade host explained to spectators that the practice of Falun Gong helps improve mind and body, as well as reduce anxiety. He also announced that practitioners offer workshops to teach the exercise free of charge.
Ann Arbor, Michigan (USA)
The 59th Ann Arbor Art Fair took place between July 19 and 22, where more than 1,000 artists from around the world displayed their work. The Michigan Falun Dafa Association has joined this event since 2009, to introduce the meditation and raise awareness of the suppression in China.
One young couple, Juliana and Mark, stopped at the booth and were impressed by the gentle exercises. Juliana, an elementary school teacher, had not heard of Falun Dafa. After talking with practitioners, she said that they would stop by a nearby group exercise practice soon.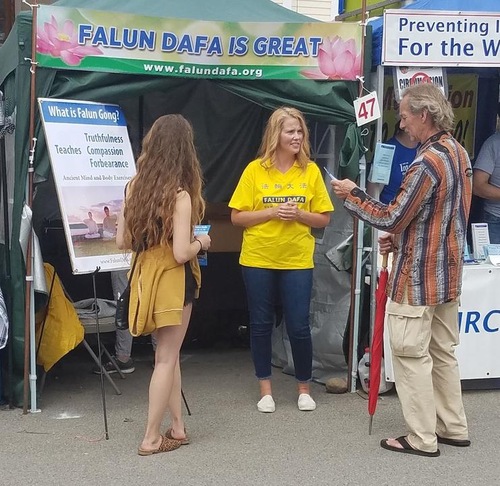 A practitioner talks to passersby about Falun Dafa during the 59th Ann Arbor Art Fair.
Javier, an engineer from Spain, was in Ann Arbor on a business trip. "This looks great. Is there any practice site in Madrid?" he asked. Upon hearing that there was, he was very happy and left with some informational materials.
Mary Manthey began practiticing Falun Gong two years ago after she received a pamphlet during a parade. "Falun Dafa is very good not only because it teaches people to become better citizens, but also helps society in general. That is why I like introducing it to more people," she said.
Atlanta, Georgia (USA)
The 8th annual Atlanta Ice Cream Festival was held at Piedmont Park in downtown Atlanta on July 28. Kevin James, host of the event, said he was glad that Falun Dafa practitioners were again invited to the festival. "They [practitioners] have been here for 8 years. Five of these years they have been doing an exercise demo on the stage. I hope more people can learn about the meditation and hear about the suppression in China."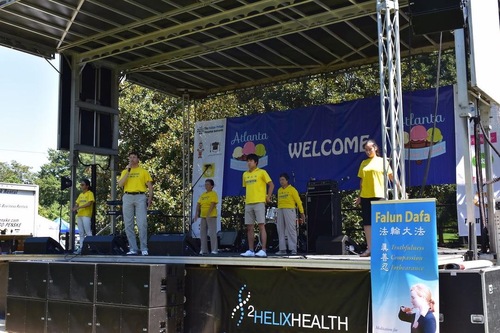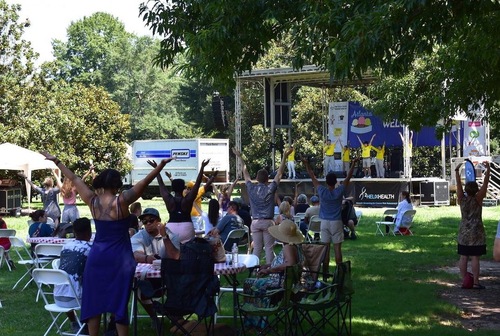 Exercise demonstration during the 8th annual Atlanta Ice Cream Festival on July 28, 2018
Gigi from Virginia talked with a practitioner and was surprised to hear about the persecution in China. "There are so many people practicing it in China. But the communist party wants to control people's minds and the persecution is terrible, especially the [Chinese government's] forced organ harvesting [of prisoners of conscience]," she said. "Thank you so much for telling me about this."
Gabriel Coemos from Pittsburgh said he admires practitioner for their determination and courage. "I am so happy to see this and I think I will find out more about it," he remarked. He said that people need a spiritual pursuit in today's society.
Kitty Young and Kitty Birmingham from the Georgia Institute of Technology had heard about organ harvesting from living Falun Dafa practitioners in China during a symposium on campus. "As we walk in a park and enjoy ice cream here, it is hard to imagine something so brutal happening," remarked Ms. Young.
Ms. Birmingham agreed, "These practitioners are so peaceful and they cause no harm to others. They should not be persecuted."