"The Art of Zhen, Shan, Ren" in the Bulgarian City of Stara Zagora: "Goodness Will Save the World"
August 01, 2018 | By Bulgarian practitioners
(Minghui.org) The Bulgarian city of Stara Zagora, also known as "The City of Linden and Poets," hosted the international exhibition, "The Art of Zhen, Shan, Ren" (Truthfulness-Compassion-Forbearance) before its last stop at the capital of Bulgaria. The exhibit visited Bulgaria July 19-27, 2018, and was seen by dozens of visitors at Stara Zagora's regional library, Zacharyi Knyajevski.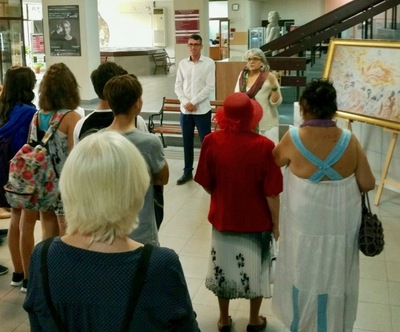 During the exhibit opening, two elderly ladies were surprised to see that the artists were only mentioned in passing in the annotations. It was hard for them to comprehend that such accomplished artists would be so modest. Later on, after seeing the work "I Want My Daddy/Where Is Daddy," which depicted a woman with her child holding a photo of the father detained for practicing Falun Gong, they commented that they were aware of Falun Dafa and the persecution, thanks to a documentary seen on television.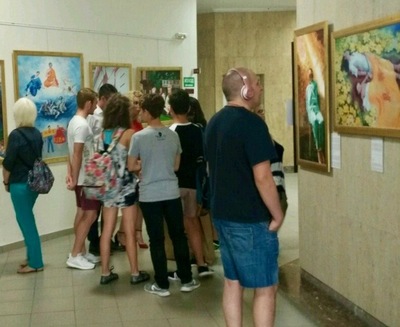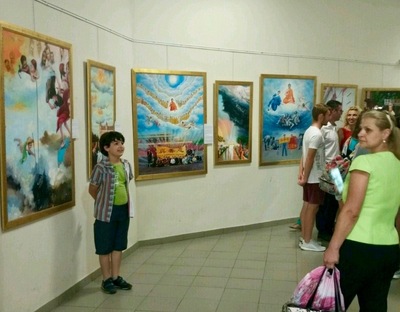 An older couple who often traveled abroad and appreciated different types of art shared that visiting art exhibitions was the number one thing they liked to do in their leisure time. They listened with a great deal of interest to each painting's story and carefully contemplated each of the canvases afterward.
In the "Lotus Candle" painting the husband noticed a halo around the heads of the tortured practitioners. He was also interested to hear a local practitioner explain that Christianity could be considered a part of the Buddha School as it cultivates Shan (Compassion). He and his wife were also interested in the depicted swastikas and wanted to know more about the persecution. The couple condemned the crimes of communism and were grateful to know that there were still people trying to promote higher moral values. They said that they hoped that young people would appreciate and aspire to them also.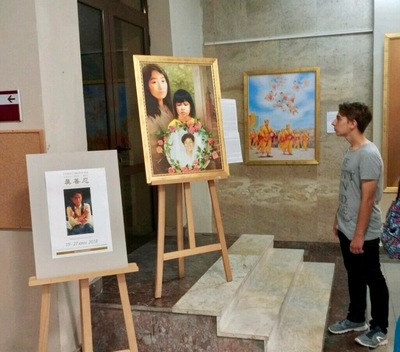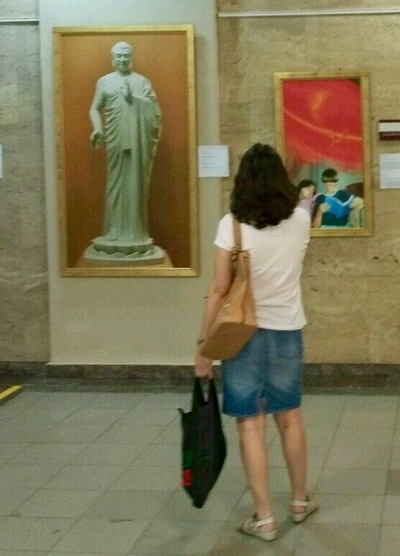 A young man who spent a considerable amount of time looking at all the canvases and reading the annotations also carefully reviewed the artworks catalog. When he closed it, he had tears in his eyes. When he left, without sharing his feelings, he took a Falun Dafa flyer and thanked the practitioners.
A pregnant woman who'd seen the exhibition once came back the next day with a friend.
A little girl, who came to see the exhibition with her parents, insisted on touching the paintings and even made a drawing in the guest book. Her parents were surprised by their daughter's reaction.
A local artist had high praise for the artworks and wrote in the guestbook, "Goodness will save the world."