Three Shandong Women Detained for Their Faith, Families Devastated
July 08, 2018 | By a Minghui correspondent in Shandong Province
(Minghui.org) Three women in Changyi City, Shandong Province, were arrested separately on April 24, 2018, for practicing Falun Gong, a spiritual discipline being persecuted by the Chinese communist regime. All of them remain detained, and their families are devastated.
Ms. Qi Naihua Tortured in Detention
Officers from the Changyi City Domestic Security Department and the local police station arrested Ms. Qi Naihua at her home on April 24. She was sent to the Weifang City Detention Center. Because she refused to renounce Falun Gong, she was put in handcuffs and leg shackles; the restraints were linked together so Ms. Qi could not stand up straight. She required assistance to use the restroom.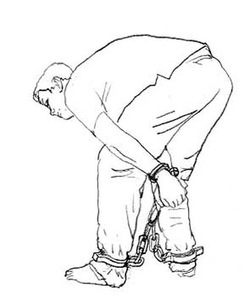 Torture illustration: Handcuffs and Shackles
Her husband was so distraught after her arrest that he lost more than 20 pounds in a month and could not sleep well. Her grandson who lives with them did not receive proper care without her.
Ms. Qi's case is now at the local procuratorate. Her husband tried to find a defense lawyer for her, but all the lawyers he visited told him that they didn't take Falun Gong cases.
Ms. Xu Wanxiang's Bail Rejected, Mentally-Challenged Son Left Home Alone
Ms. Xu Wanxiang, nearly 60, was arrested at home on the same day by officers from the Changyi City Domestic Security Department. Her 21-year-old son, who is mentally challenged, was also brought to the police station. He was released later on the same day. However, due to the shock, his mental stability deteriorated, and he refused to speak. He is now left home alone even though he previously had trouble taking care of himself.
Later, Ms. Xu hired a lawyer. The lawyer tried to bail her out but was told Ms. Xu would have to write a guarantee letter renouncing Falun Gong. Since Ms. Xu refused to do so, the bail was rejected.
Ms. Yang Xiaohua Awaiting Trial
Officers from the Changyi City Domestic Security Department also arrested Ms. Yang Xiaohua on April 24. Her case was approved by the local procuratorate, and she is awaiting trial.
Her husband had suffered a stroke and could not take care of himself. Her granddaughter is in kindergarten and lives with her, too. Her son, who works in another city, had to try to come back to care for the two family members.
Main perpetrators from the Changyi City Domestic Security Department:
Director Pu Songling;Division Chief: Liu Chang'en, in charge of persecuting Falun Gong practitioners, 86-536-13853675110