Raising Awareness of the Persecution of Falun Gong in Switzerland, Greece, and a French Island in the Caribbean
July 29, 2018 | By Falun Gong practitioners in Switzerland, Greece, and French Guadeloupe
(Minghui.org) Falun Gong has been persecuted for 19 years in China since the former Chinese dictator Jiang Zemin, former head of the Chinese Communist Party (CCP), perceived the spiritual discipline's growing popularity as a threat to the CCP's atheistic ideology, and issued an order to ban Falun Gong on July 20, 1999.
The Minghui website has confirmed the deaths of over four thousand Falun Gong practitioners in the persecution over the past 19 years. The actual number is believed to be much higher. More have been imprisoned and tortured for their faith. Evidence shows that the CCP conducts state-sanctioned organ harvesting from detained practitioners, who are killed in the process, to supply the organ transplantation industry.
Falun Gong practitioners around the world participate in various events to raise awareness on the CCP's brutal persecution. The following reports come from Switzerland, Greece, and French overseas regions.
Awareness-raising Events in Switzerland
Falun Gong practitioners held a series of events in Bern, the capital of Switzerland on July 21, 2018 to call for an end of the persecution in China.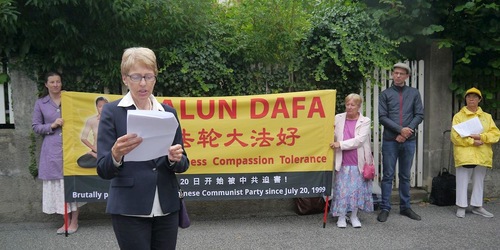 Falun Gong practitioners held a rally in front of Chinese Embassy in Switzerland on the morning of July 21, 2018.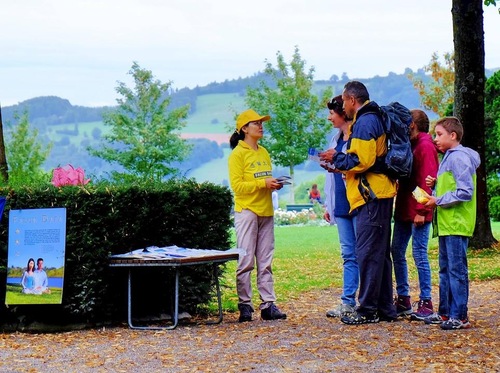 Introducing Falun Gong to tourists in Rosen Garten.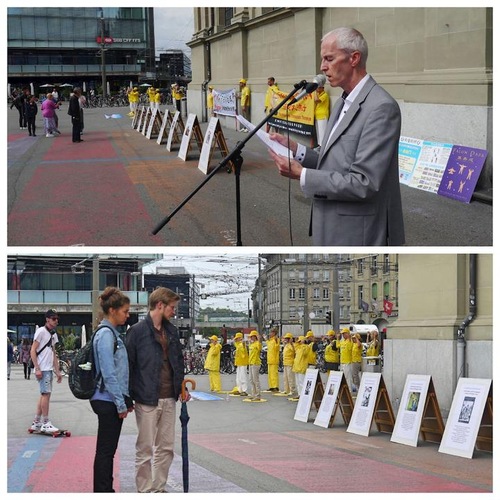 Practitioners set up posters with Falun Gong information at the train station square. Some practitioners demonstrated the exercises, and some collected signatures. Many people stopped to learn more.
The practitioners went to the train station square in the afternoon. Many passersby paused to inquire, learn the facts, and sign the petition opposing the persecution.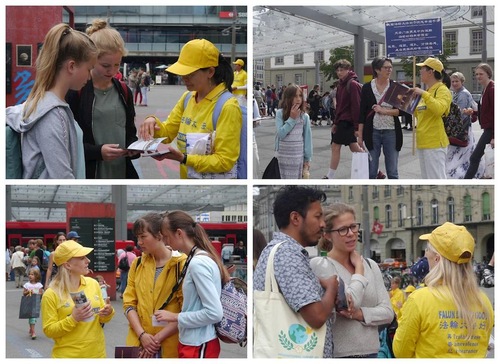 Many passersby pause to learn about Falun Gong and sign the petition opposing the CCP's persecution.
"Falun Gong Practitioners Have Great Courage to Uphold Their Belief."
Ms. Marlies said she saw reports of Falun Gong practitioners in a magazine a long time ago. She said, "This (Falun Gong) is a very special group. They have great courage to uphold their belief."
"I have known for some time that they have been subjected to extremely cruel persecution." Maris said, "This persecution is very bad. I can't say anything more..."
She continued, "I think Falun Gong practitioners are very good at organizing such activities. It is important to let people know about it." She said she hopes that the signature would help prompt the Swiss Federal Council to take action to help stop the persecution.
"Truthfulness-Compassion-Forbearance Should Be the Norms of Life."
Mr. Kumar from India read the panel of the Nine Commentaries on the Communist Party and carefully read the leaflet about Falun Gong. He later not only signed the petition but also asked his family to sign.
He said, "Many people in India have their own beliefs. But there are very few in China, which also affects the moral standards of society. Truthfulness-Compassion-Forbearance should be the norms of life. I am very grateful for such words, which I will also follow. (Falun Gong practitioners) do very well. Excellent, remarkable."
He said, "The persecution is very bad. They should not be persecuted." Before he left, he said to the practitioners, "We support you!"
The Persecution Must Stop Immediately
Heinz is a business analyst. After signing the petition, he said, "I think the persecution should not exist at all and should stop immediately." He said he hopes through the signatures, "to stop the persecution immediately and let (Falun Gong practitioners) regain their freedom of belief."
He also talked about passing on the message to more people, "I can't tolerate such persecution. I should let more people know about this persecution." Because he himself also practices qigong, and it was his first time hearing about Falun Gong, he then chatted with the practitioners for a long time.
Ms. Rosa, who was in high spirits, is over 80 years old. When she passed by riding a bicycle, she signed the petition to express her support for Falun Gong. She had heard of the persecution of Falun Gong before, "It's terrible. I can't tolerate such a thing happening. All this (persecution of Falun Gong and the CCP's live organ harvesting) should not exist at all. It should stop. We should stand for the truth."
She said she appreciated Falun Gong practitioners' efforts in opposing the persecution, "What you are doing is very good. I think if everyone is aware of this, people will start to wake up. More and more people are awakening."
"Stopping the CCP's Live Organ Harvesting is Important. I Hope More People Learn About It."
Franziska, who works in the special education of children, heard that the CCP had been conducting state-sanctioned organ harvesting from living Falun Gong practitioners. She was deeply touched and said with tears, "I am very grateful to the young man who talked about this to me. This makes me deeply touched, because it is so cruel. I hope to stop this crime and hope that my signature will help."
She was very interested in meditation and said she planned to learn more about Falun Gong. She said, "I will tell others because I know this is a very good exercise for people."
Nurse Ines saw the signature collection of Falun Gong practitioners on her way to catch a train. She learned more about the persecution and signed the petition. She said, "The crime must be stopped. The CCP government can no longer cover it up. I object the forced organ removal. This is very bad and should be stopped immediately."
Finally she said, "It is very important to stop the live organ harvesting. I hope more people learn about it."
Christian, a businessman, expressed his point of view in a concise manner, "I oppose the live organ harvesting and hope to stop it by signing the petition. The existence of the live organ harvesting makes people be indignant. I will tell more people, hoping to have more people oppose the persecution and put pressure on the Chinese government."
Introducing Falun Gong in Thessaloniki, Greece
Falun Gong practitioners held events at the famous waterfront Lefkos Pyrgos in Thessaloniki, the second largest city of Greece on July 21, 2018. They held a large banner worded "Falun Dafa," set up a table to collect signatures, and Falun Gong posters, and demonstrated Falun Gong exercises on the spot.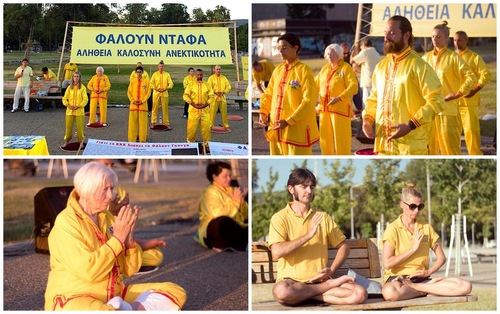 Falun Gong practitioners introduce Falun Gong in well-known waterfront Lefkos Pyrgos in Thessaloniki, Greece.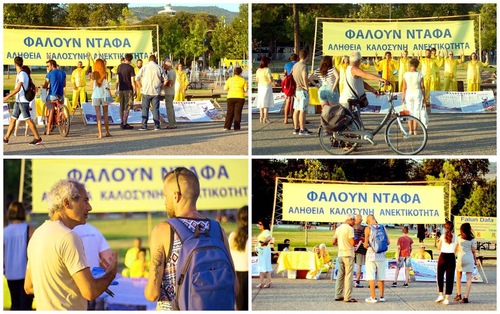 People pause to learn about Falun Gong.
Introducing Falun Gong on a French Island in the Caribbean
Falun Gong practitioners from Guadeloupe, a French overseas province in the Caribbean, took an hour boat trip to visit Marie-Galante on July 14-15, 2018. In the city of Grand Bourg, they demonstrated the exercises and held awareness-raising events.
Located on the Caribbean, Marie-Galante is about 30 kilometers (18.6 miles) southeast of Guadeloupe and covers an area of 158 square kilometers (61 square miles). There are many beautiful beaches.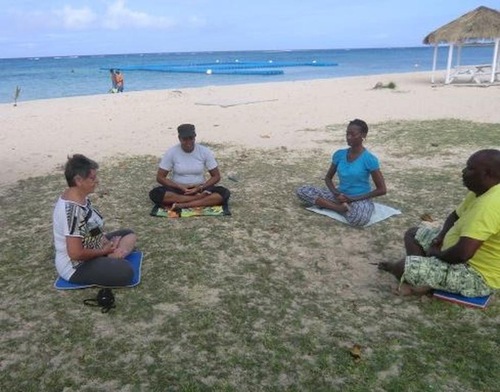 Group Falun Gong practice on the beach in Marie-Galante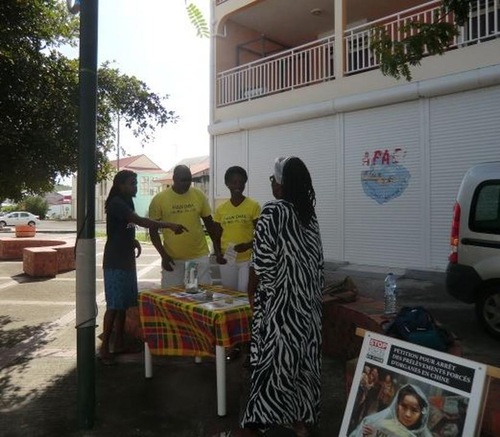 Raising awareness of the persecution in a market.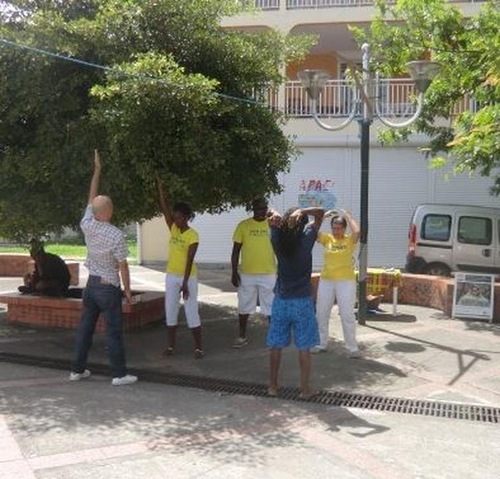 Demonstrating Falun Gong and free instruction.
Related articles in Chinese:Awareness-raising in Greece and a French island.