Falun Dafa Practitioners Persecuted in Zhoukou Detention Center
July 29, 2018 | By a Minghui correspondent in Henan Province, China
(Minghui.org) Falun Dafa practitioners are being viciously tortured by guards in the Zhoukou Detention Center in Henan Province for their belief.
New Mother Beaten and Chained
Ms. Li Qiuling, 32, is from Songzhuang in Taikang County. She was arrested by police from the Heshan Police Station in Xiaman City, Fujian Province on May 25, 2018. She was later escorted back by officer Wang Fengwei from Zhuko Town Police Station and sent to the Zhouko Detention Center.
Ms. Li had recently given birth to a baby girl and was still breastfeeding her daughter at the time of the arrest. Her grandmother-in law, over 80 years old, had to take care of Ms. Li's daughter after her arrest.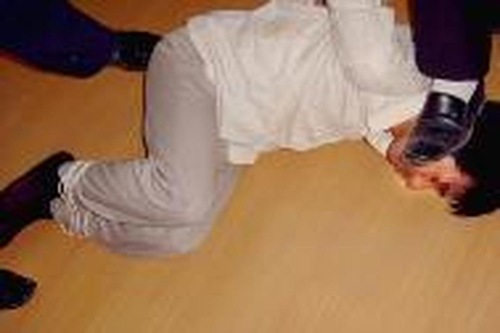 Torture reenactment: Beaten up
In the detention center, the young mother was brutally beaten for refusing to wear the prison uniform, and she was forced to do hard labor. The guards slapped her in the face using the soles of their shoes until she fell to the ground. Then they kicked and stomped on her.
Afterward, she was tortured with the "hugging the chains" method—her ankles were shackled and her wrists cuffed. The handcuffs were then chained to the shackles, forcing her to remain in a bent over position. The guards refused to remove the handcuffs when she had to use the restroom.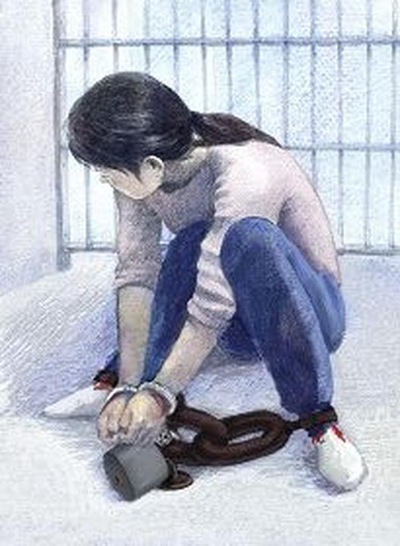 Torture illustration: Hugging the chains
Ms. Li also suffered the "carrying a sword on one's back" torture method, where she was handcuffed from the back with one hand behind the shoulder and the other one from below.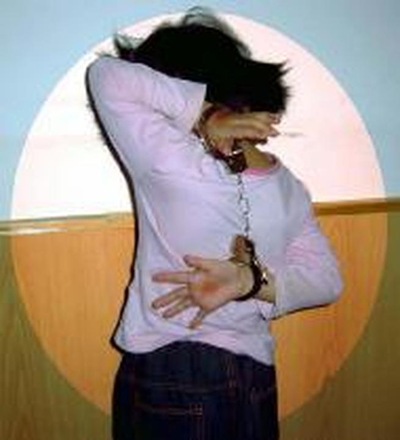 Torture Re-enactment: "Carrying a sword on one's back"
Although she suffered such maltreatment, Ms. Li still talked to the guards with kindness, explaining why the persecution of Falun Dafa was wrong. The guards eventually stopped torturing her.
Ms. Wang Sentenced
Ms. Wang Yuxi, 60, is from Taikang County. She was arrested on January 22, 2018, by officers from the Fucaolou Police Station for distributing informational flyers about the practice. She was then sent to the Zhoukou Detention Center and held in the No. 402 cell.
One day in February 2018, inmate Li Jingmei pushed Ms. Wang so hard that she fell down. She injured her head and lost consciousness. When she came to, her legs felt numb and there was pain in her lower back. She now has difficulty walking and relies on others for help every day. Her right leg and lower back has never recovered from the fall.
Ms. Wang's health has deteriorated tremendously since her detention. She is suffering from various illnesses including high blood pressure, cerebral thrombosis, and coronary heart disease.
She was secretly tried on May 16, 2018, in the Weiyang County Court. Her lawyer and family members were never informed of the trial. She was sentenced to three-and-a-half years in jail.
Prior to her recent arrest, Ms. Wang was sentenced to 3.5 years in jail in 2010 and to three years in 2014.
Individuals participating in the persecution:Li Genchuang (李根闯), head of Taikang Police Department: +86-13838672761Wang Fengwei (王丰玮), director of Zhukou Town Police Station: +86-13838672761Liu Yuzhong (刘玉忠), deputy of Fucaolou Police Station: +86-13903876067Li Shilong (李世龙), head of Taikang County Procuratorate: +86- 13603949898