Documentary "Letter from Masanjia" Screened in Toronto Theater
July 29, 2018 | By Minghui correspondent Zhang Yun
(Minghui.org) The documentary Letter from Masanjia was publicly screened at Hot Docs Ted Rogers theater in Toronto, Canada on July 21-26, 2018. Toronto is the first stop of the film's global release in theaters.
The documentary begins with a handwritten letter found in a box of Halloween decorations purchased in a U.S. department store by Julie Keith, a woman in Oregon. The letter was a plea for help by a prisoner of conscience at the notorious Masanjia Forced Labor Camp in Shenyang, China. Keith posted the letter to social media, which soon led to worldwide media exposure of the story and set off a chain reaction that led to China's re-education through forced labor system being abolished, at least in name, in 2013.
The author of the letter, Mr. Sun Yi, had been detained at the labor camp for his belief in Falun Gong. He risked his life to get his story out to the world through the secret letter, and more recently risked his life again during the making of this documentary to further expose what has been happening in China.
While under surveillance by the Chinese authorities, Sun Yi took video footage of his life in China, and interviewed other former Masanjia inmates. Along with his story, Sun Yi shared his drawings depicting the abuse he suffered and witnessed at the Masanjia Labor Camp.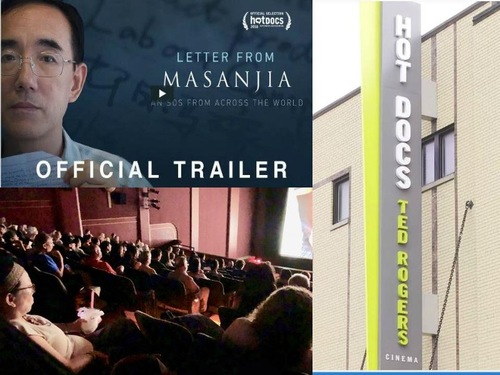 Documentary film Letter from Masanjia screened six times in Hot Docs Ted Rogers theater from July 21 to 26, 2018.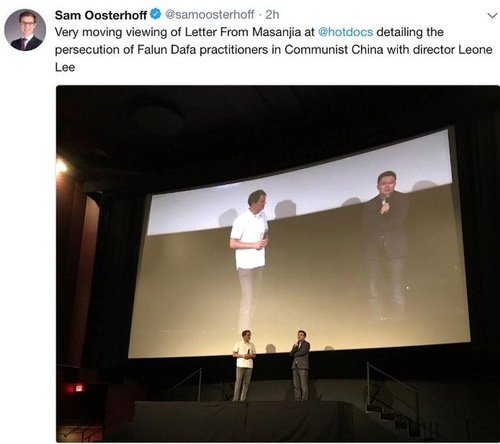 Director Leon Lee answered questions from audience after the first three screenings
Member of Provincial Parliament Attends Screening to Support Falun Gong
Sam Oosterhoff (third from left), the Member of Provincial Parliament (MPP) for Niagara West, takes a group photo with Falun Gong practitioners and Director Leon Lee (second from left).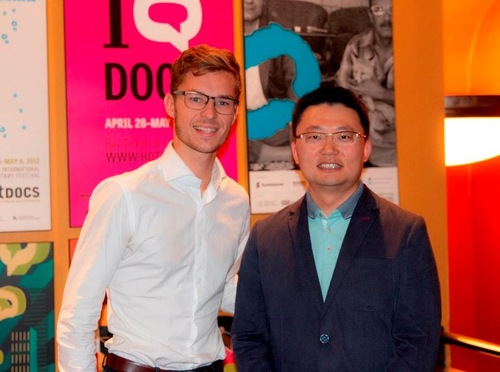 MPP Oosterhoff and Director Lee
Sam Oosterhoff, the youngest MPP in Ontario, Canada, attended the screening to show his support. He said, "The values of Falun Dafa, Truthfulness-Compassion-Forbearance, deserve to be celebrated, not persecuted."
During the Q&A session following the film, MPP Oosterhoff asked Director Lee: "How were you able to get such footage [showing things the CCP wants hidden]?"
Lee replied, "This is the most difficult movie I have ever produced, because I couldn't go to China myself, and Sun Yi didn't know how to use the camera."
Lee talked about how he communicated with Sun online and trained him to use the video equipment. He added, "At the time of shooting, Sun himself was still in China. He was under great pressure and took great risks. Many viewers responded that they were moved by Sun's courage. Because no matter what kind of background or belief you have, when you see the story of Sun, I think you will be touched by his courage."
Audience Reaction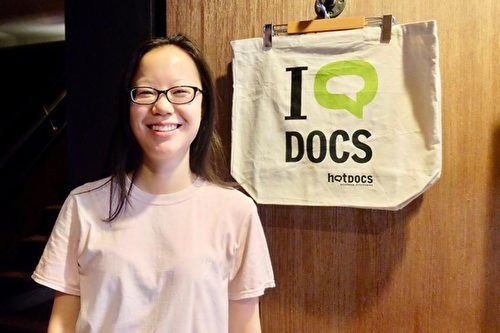 Audience member Susan Yang
Susan Yang, a member of the Toronto Asia International Film Festival, said after watching the film: "The film's protagonist is a very kind, strong, and selfless person. After he was released, he even helped others regain their freedom. And despite the hardships, he always held to his beliefs."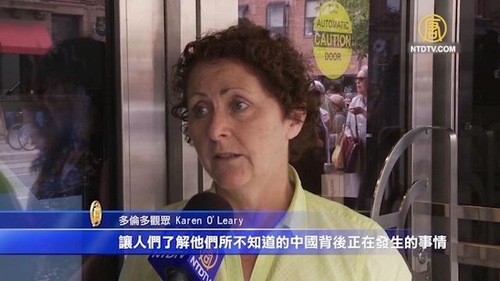 Audience member Karen O'Leary
Audience member Karen O'Leary was also impressed by Mr. Sun's character. She said, "He seems to be a low-key person, but he had the ability to change one thing in China (abolish the system of re-education through labor), which is very difficult to change. Therefore, under any circumstances, his heart is moving forward. So I think people can change the world, even though the world is unfriendly to him and his family. But I think his power is amazing."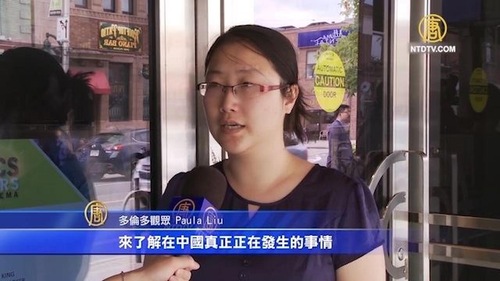 Audience member Paula Liu
"This movie is really heartbreaking," said Paula Liu, another audience member who was moved by the film. "More people should come and watch what China is really doing. I think many people should know this and help those being persecuted."
Founded in 1913, the Hot Docs Ted Rogers Theatre is located in Toronto, Canada, and is the world's largest documentary theater with 650 seats. Hot Docs Canada International Documentary Film Festival is the largest documentary film show in North America. In the 25th film festival held in Toronto in April this year, Letter from Masanjia stood out among the 247 films, and was in the top 20 of the audience's favorite films of the festival.