Recalling the Precious Time When Master Lectured in Hong Kong (Photo)
July 26, 2018 | By Falun Dafa practitioners in Hong Kong
(Minghui.org) Master visited Hong Kong and gave lectures several times. His first lecture in Hong Kong was recorded in "Teaching the Fa at Lantau Island" (Zhuan Falun Volume II). The practitioners who listened to Master's lectures in person miss Master very much and express their deep gratitude to him.
Master lectured on Lantau Island on May 13, 1995. About 20 practitioners attended. Ms. Gu, now 84 years old, was one of them. She said that after they finished their vegetarian lunch, Master walked with them and led them through a dense forest and onto a winding mountain trail to an old monk's tomb at the back of the mountain. They wondered how Master knew about such a place, since this was the first time he'd been there.
She recalled Master saying that many beings, including those deceased monks, were listening to his lecture. Practitioners couldn't see them, but could sense that many beings around that area came to listen to Master lecture. In the photos taken by practitioners, many little Buddhas can be seen sitting on branches in nearby trees; they too were listening to Master's lectures.
Practitioners Amazed by Master's First Visit to Lantau Island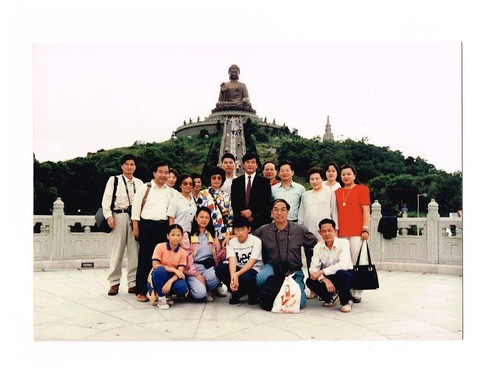 Master with practitioners on his visit to Lantau Island, Hong Kong on May 13, 1995
"Master is not an ordinary person," Ms. Gu recalled, "He is a great man." When Master led them to the back of the mountain, they passed a lotus pond. Master said that there were Cultivated Infants (yinghai) in the pond who were running and jumping.
"I was curious." she said. "Master took us to a high place facing the ocean. He said that many, many sea Gods held banners welcoming Master." But she couldn't see them and dared not ask more about it.
Then they came back to the memorial arch in front of the temple entrance. It was cloudy, with thick layers of clouds hanging in the sky. Vaguely, she could see dragons in the clouds but couldn't see them clearly. Master said that was the case. Master and the practitioners came back by boat, and Master said that dragons escorted the boat.
Ms. Gu is from a wealthy family and is an intellectual. She started practicing Falun Dafa after she had attended Master's lectures in Guangzhou, China in 1994. She feels that Master has been looking after her for the past 20-plus years. One day when she was in her kitchen, she felt dizzy and her heart was not beating right. She couldn't stand. With no one else in the house to help, she shouted, "Master, please help me!" Instantly, the symptoms disappeared.
At that time, she believed that the condition was life threatening. She knew that Master saved her. She said with tears in her eyes, "I knew that it is very dangerous for elderly people to encounter such symptoms. Master saved me and gave me a second life."
Master Lectured in Hong Kong Several Times
Master visited Hong Kong again in 1996 and 1997. Mr. Ren arranged the venues for each visit.
Mr. Ren, in his 70s, recalled that Master arrived at the auditorium of the high school at 7 p.m. after he came to Hong Kong in mid-July 1996. He said, "When I saw Master, I went up to him and knelt down to shake hands. Master asked me not to kneel down."
This was the first time that Master lectured to Hong Kong practitioners. Over 70 practitioners attended the sessions. In addition to the lectures, Master demonstrated the Great Hand Gestures for practitioners. Master also said that from high above, the earth looked like a black ball of thick karma, and waves of karma were rolling backward and forward.
Mr. Ren started practicing Falun Dafa on March 17, 1996. He feels very fortunate that he saw Master four months later. He still has a vivid memory of meeting Master for the first time. "I saw Master very clearly." he said, "Master was handsome, with rosy skin."
Two weeks later Master met practitioners again in a small meeting room at a local school. About 20 practitioners attended the meeting. Mr. Ren saw Master for the third time in mid-July 1997. Master gave his lectures at the auditorium of the same school. About 200 practitioners attended the lectures.
Master Answered My Three Questions
Sixty-year-old Ms. Hu was introduced to Falun Dafa by her family in China and began practicing in 1996. She saw Master for the first time in Hong Kong in July 1997. She was told that Master was going to lecture at the school that night. So she bought bread for dinner after work and rushed to the school.
"We didn't have many practitioners back then," she recalled. "I waited there and heard applause. I stood up and saw Master coming in. Master looked young, and his skin was transparent. He was very righteous."
As Master started to lecture on the stage, she saw Master sitting above a large green lotus pond with white clouds around. She said it was beautiful.
"There were not many practitioners in Hong Kong at that time. After the lecture, Master said that we could raise our hands if we had any questions." Ms. Hu had just started practicing and didn't understand many of the Fa principles. She raised her hands three times, and Master called on her each time.
She asked, "Master, why do golden beings keep coming out one after another from behind you?" Master said that they were him.
She raised her hand for the second time and said, "Master, I have [two statues] a porcelain boy and a Guanyin Bodhisattva. Golden balls came out of the boy's head, while smoke came out of the Bodhisattva statue. Master, I don't know what that means." Master said that he kept the good part and threw away the bad part.
Ms. Hu then asked Master why his skin was transparent. Master said that what she was seeing was in another dimension.
Master shook hands with every practitioner after he finished his lecture.
Twenty years have passed. The practitioners who attended Master's lectures or accompanied Master in Hong Kong treasure that precious time. They thank Master for his boundless compassion.
(Note: This article was written to commemorate The 18th World Falun Dafa Day and 25th anniversary of Falun Dafa's introduction to the public on May 13, 2017)