New Zealand: Rally and Parade Call for Ending Persecution of Falun Gong
July 25, 2018 | By a Falun Gong Practitioner in New Zealand
(Minghui.org) Falun Gong practitioners and supporters in Auckland, New Zealand held a rally and a parade in downtown Auckland on July 14, 2018, marking the 19th anniversary of Falun Gong's peaceful resistance to the Chinese Communist Party's (CCP) persecution and calling for its end.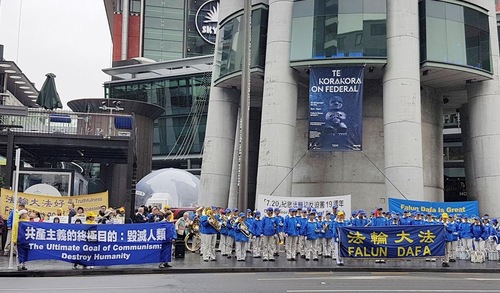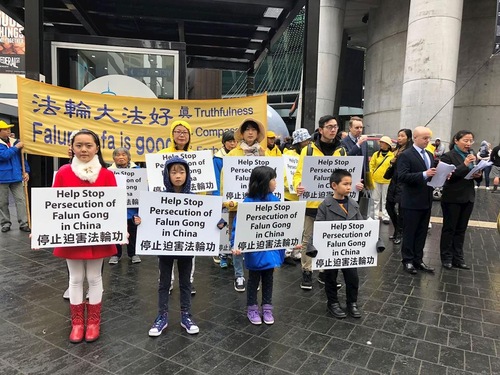 Falun Gong practitioners held a rally in Auckland, New Zealand.
A Falun Gong practitioner who had escaped China recounted her personal experience with the persecution. Many guests gave speeches and called for a collective effort to end the persecution.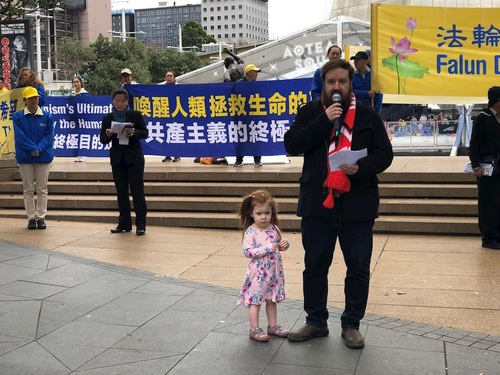 Dr. Steven Noakes of the University of Auckland gives a speech at the rally.
Dr. Steven Noakes of the University of Auckland is a senior expert on Politics and International Relations and Asian Studies. His scholarly work includes Chinese politics, religions, criminal law and social movements.
Dr. Noakes said during his speech at the rally, "Too often, calls for redress of human rights abuses are dismissed as anti-China. I don't believe any single person here is anti-China. Indeed, it is patriotism, a love of their country, that has motivated Falun Gong practitioners around the world to continue demonstrations, just like this one, for the last 19 years."
He continued, "We are anti-injustice. Justice knows no borders. There has been and continues to be injustices and abuses committed in China, just as there are in every other country. Human rights are not just Western. All countries and all governments are guilty of abuses. I believe that people of all nationalities can ensure support of each other in working towards preservation and protection of human dignity, whether in the form of freedom from violence or freedom to worship."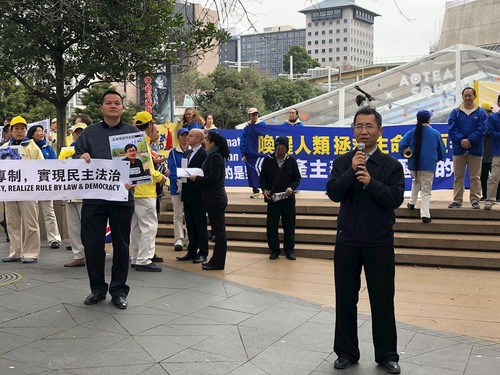 Mr. Yu Henmeng, a democratic activist, gives a speech.
Mr. Yu Henmeng, a democratic activist, said the CCP has committed huge crimes against Falun Gong these past 19 years. He called on public attention to the situation of attorney Wang Quanzhang, who had been imprisoned for 1,100 days for defending Falun Gong practitioners.
He also warned about the CCP's infiltration of New Zealand, and its censorship of overseas Chinese media. He called for the New Zealand government to take action against the CCP's influence.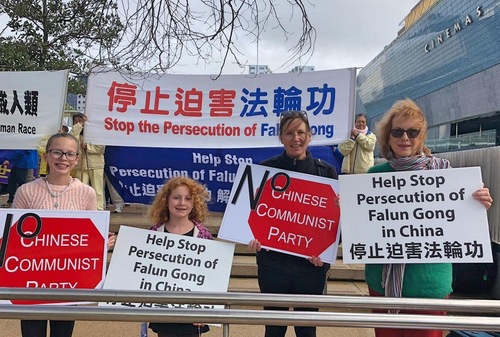 Kate (second from right), her daughters and her mother (first from right) stand with Falun Gong practitioners to show their support.
Kate had heard about the CCP's organ harvesting of living Falun Gong practitioners for profit. She said the CCP had committed many crimes because of their lack of concern about people's lives. Kate, her daughters and her mother stood together with Falun Gong practitioners while holding signs stating, "Help Stop Persecution of Falun Gong in China" and "No Chinese Communist Party."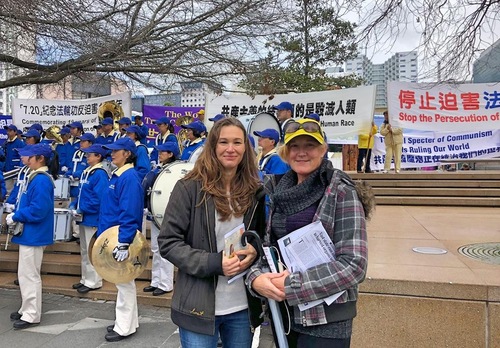 Carolyn and her friend express their support.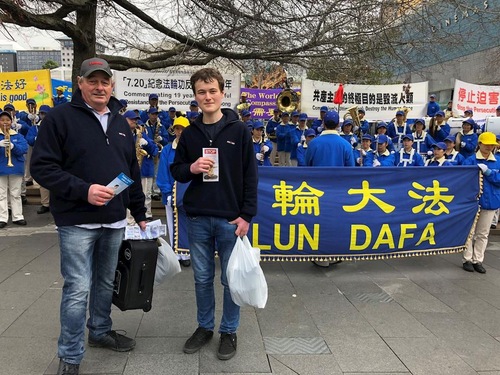 Mr. Hugst and his son Matthew attend the rally.
Mr. Hugst and his son Matthew listened to the speeches at the rally. Mr. Hugst said he had heard about the persecution and agreed with the speeches. He had known the CCP was brutal, but he didn't know it was so serious. He praised Falun Gong practitioners' activities and encouraged them to keep it up.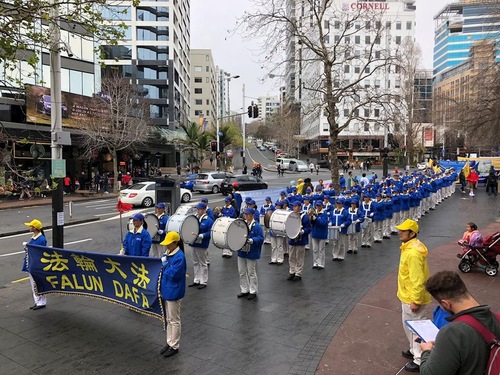 Falun Gong parade in Auckland
Headed by the Tian Guo Marching Band of over 100 members, practitioners held a parade on Queen Street after the rally. Their powerful music touched people's hearts. Many people learned about the facts of Falun Gong and signed a petition calling for an end to the persecution.