Ms. Wei Wenying from Shandong Province Sentenced to Five Years In Prison
July 02, 2018 | By a Minghui correspondent in Shandong Province, China
(Minghui.org) Ms. Wei Wenying, in her 40s, from Jinan City, Shandong Province, was recently sentenced to five years in prison for her faith in Falun Gong. She was previously detained at the Jinan Detention Center for one year and five months. Ms. Wei has appealed her sentence to the Jinan Intermediate Court.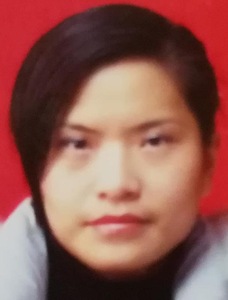 Ms. Wei Wenying
Arrest
Ms. Wei was arrested at home around 3 p.m. on January 8, 2017. When her mother returned from shopping, twelve officers from the Quanchenglu Police Station followed her and stormed into their home.
The officers searched the home and took videos and pictures of the house and contents. They seized Falun Gong books, pictures of the founder of Falun Gong, computers, printers, printer paper and more than 70,000 yuan in cash. They also went to the home of Ms. Wei's sister that evening and spent over 3 hours searching and videotaping. Ms. Wei's sister is not a Falun Gong practitioner.
Ms. Wei Wenying and her mother were taken to the Quanchenglu Police Station. They were interrogated separately. Afterwards, Ms. Wei was illegally detained in the Jinan Detention Center.
The arrest was directed by the Jinan City 610 Office and the Jinan Domestic Security Division. An officer who participated in the arrest said that they had planned to seize Ms. Wei in early 2015, but then held off because their intentions were leaked out.
Prior to the arrest, staff from the Jinan City 610 Office and the Jinan Domestic Security Division had spent a long time tapping Ms. Wei's cell phone, monitoring her home and following her family, including her husband who doesn't practice Falun Gong.
Illegal Sentencing
Ms. Wei's case was sent to the Lixia District Procuratorate who filed criminal charges against her. When Ms. Wei's attorney went to the Procuratorate to review her case, he was told to persuade Ms. Wei to plead guilty, but her attorney refused.
During the trial, the judge and prosecutor pressured Ms. Wei to plead guilty. After the trial, five persons, including the prosecutor took Ms. Wei into a room. The prosecutor said, "I've asked you three times. If you plead guilty and give up Falun Gong, you will get a lighter sentence and be released on probation."
Ms. Wei was silent when the prosecutor asked her the first and second time. When she was asked the third time, she replied, "I want to practice Falun Gong." Then she burst into tears.