Oxford, UK: Introducing Falun Gong at the Cowley Road Carnival
July 15, 2018 | By a Falun Gong practitioner in UK
(Minghui.org) Falun Gong Practitioners participated in the annual Cowley Road Carnival in Oxford, UK at the beginning of July 2018. Local practitioners have participated in this popular multi-cultural community event every year for the past five years. The carnival has grown in popularity over the years, and this year, the event hosted an estimated 50,000 visitors.
Practitioners set up a stand and demonstrated the Falun Gong exercises. They publicized an upcoming free Falun Gong workshop scheduled for later in the summer. Many people paused to watch the exercise demonstration and learn about this mind-body cultivation practice from China. A number of visitors expressed an interest in joining the group practice on the weekend.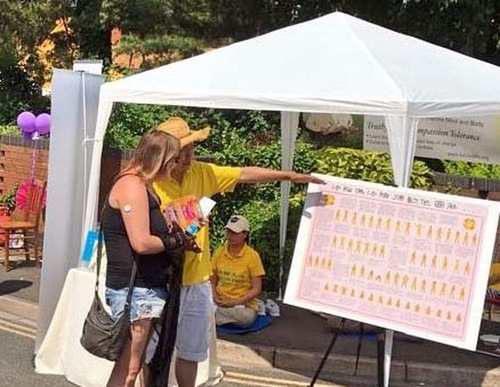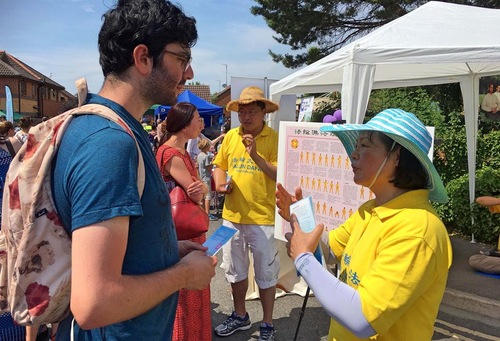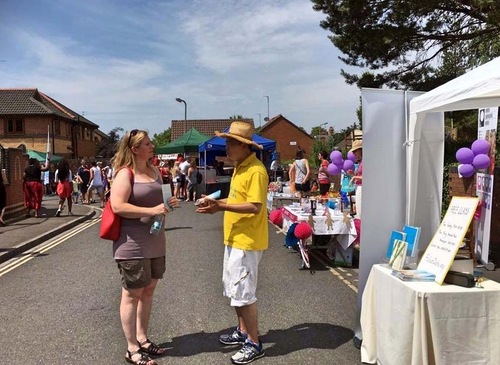 Practitioners introduce Falun Gong to visitors at the Cowley Road Carnival in Oxford.
The Falun Gong teaching session has been held every summer for the past five years. The number of people learning the exercises is generally from 50 to 60, sometimes up to 100 participants. Workshop participants range in age from 20-somethings to people in their 70s.
A woman in her 70s accepted a flyer about the workshop as she passed by the Falun Gong stand and said delightedly, "Oh, I received this flyer in my mailbox. I'd planned to participate, and this reminded me about it."
After listening to a practitioner's explanation of Falun Gong, she said, "I'd really like to be a Falun Gong practitioner." Later on she and the practitioner became good friends.
A middle-aged man wrote to the practitioners after participating in the teaching session, sharing that he felt strong energy. He described the warmth of energy starting from the bottom of his feet and said that he wished to continue practicing Falun Gong.