Toronto, Canada: Young Practitioners at Minghui Summer Camp Tell People about Falun Gong
July 14, 2018 | By Minghui correspondent Zhang Yun
(Minghui.org) Toronto's Minghui summer camp started last week. This Wednesday, a group of 8- to 10-year-old Falun Gong practitioner campers went to Queen's Park and a group of 11- to 13-year-olds went to Chinatown. They demonstrated the exercises and told people about this self-improvement practice.
College Students Learn the Exercises from Young Practitioners in Queen's Park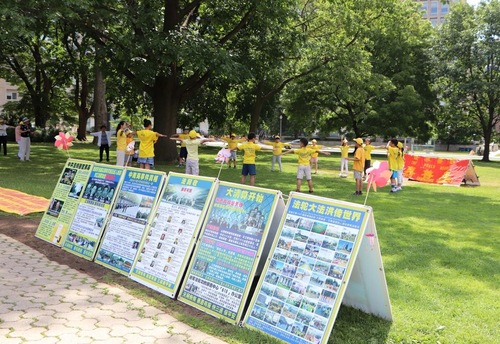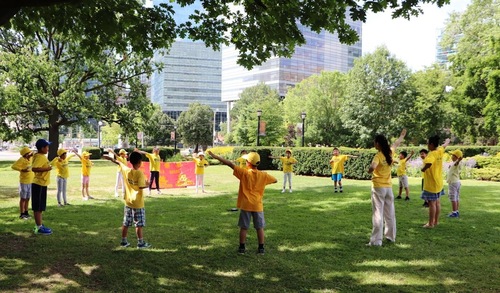 Young practitioners doing the exercises in Queens Park
In Queen's Park, 47 students from another summer camp at St. Thomas of Villanova College learned the five exercises and joined the young practitioners.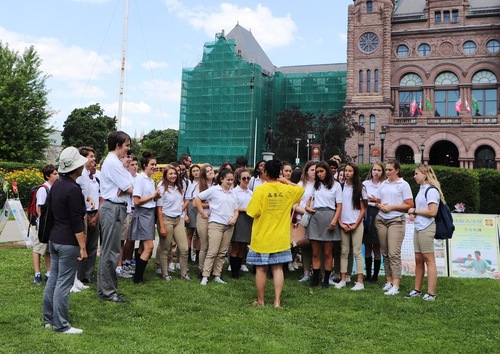 Minghui summer camp teacher Sonia (in yellow T-shirt) introduces Falun Gong to the students from St. Thomas of Villanova College.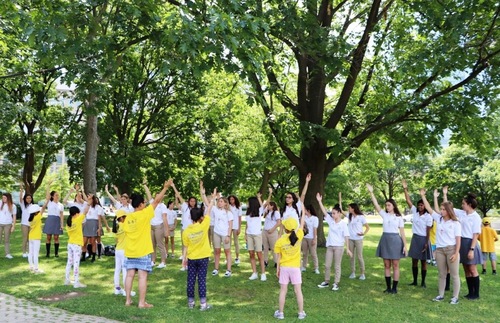 College students doing the exercises with the young practitioners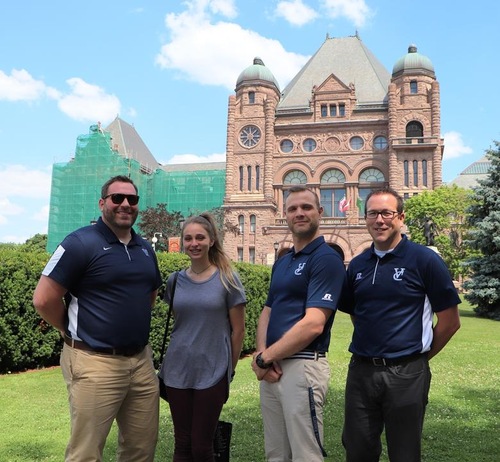 Teachers from St. Thomas of Villanova College were glad that their students had a chance to learn the Falun Gong exercises.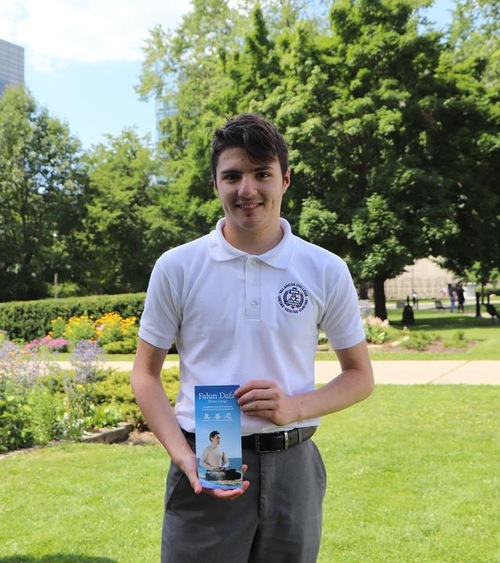 Fabio said the young practitioners taught the exercises well: "I felt peaceful after doing the exercises. It was comfortable and exciting. I will continue."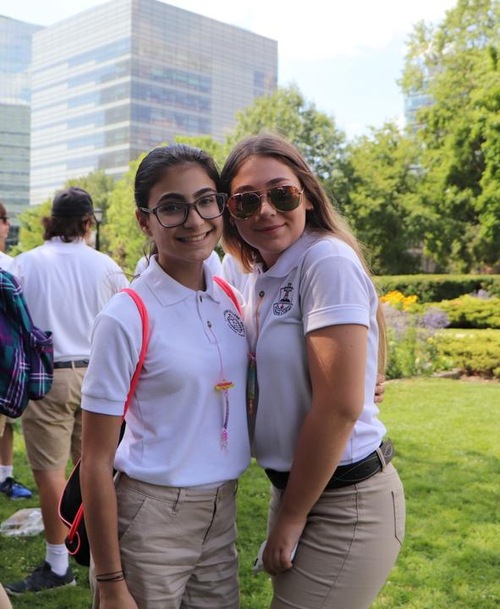 Vanessa (right) felt calm and happy after doing the exercises. When she was told about the persecution of Falun Gong in China, she said that everybody should have freedom of belief.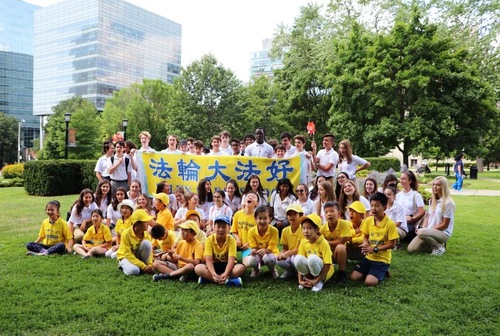 Young practitioners and the college students have their picture taken together after doing the exercises. The banner reads: "Falun Dafa Is Good."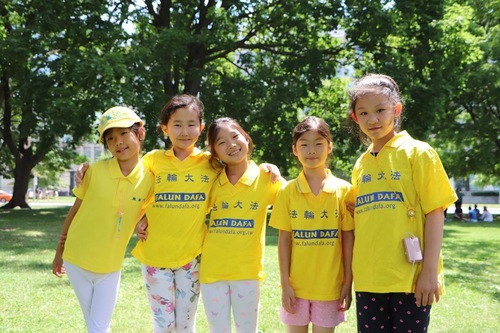 Young practitioners
Angelina (first on the right in the picture above) was excited that so many people learned the exercises with them. "It is encouraging that everybody was seriously learning. We will come to more events like this," she said.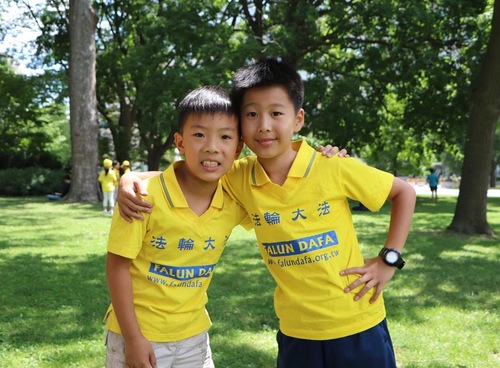 Ten-year-old Tommy (right) and 9-year-old Austin (left)
Austin, who is 9, said many people thanked him. "Some of them felt strong energy," Austin smiled. "I think we did well, too."
Telling People about Falun Gong in Chinatown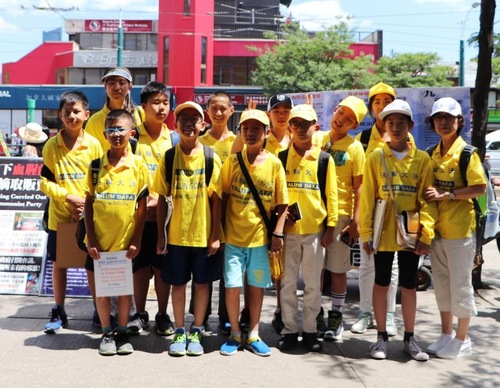 Young practitioners in Toronto's Chinatown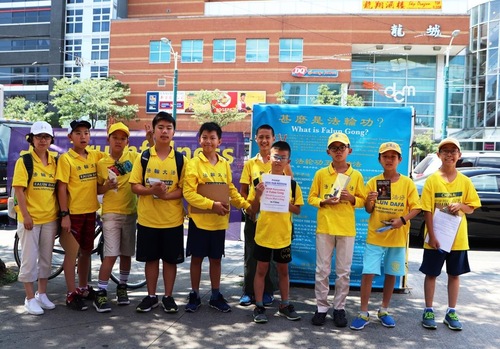 Passing out flyers and collecting signatures in Chinatown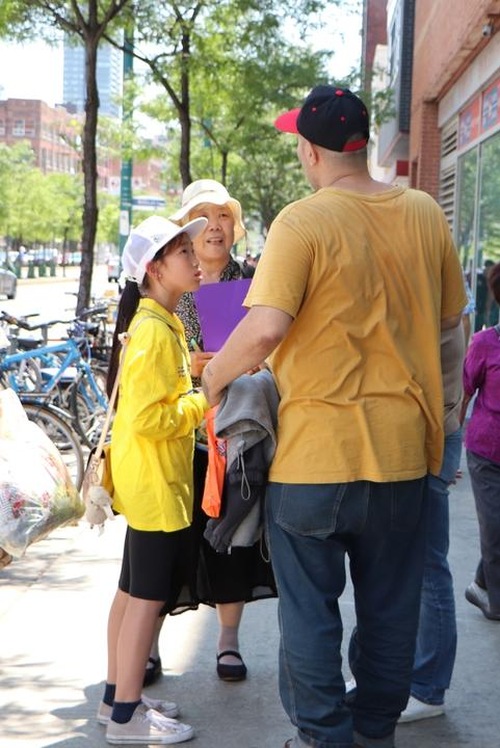 John was shocked when the young practitioners told him about the state-sanctioned forced organ harvesting in China. He was moved to tears and signed the petition to condemn the persecution.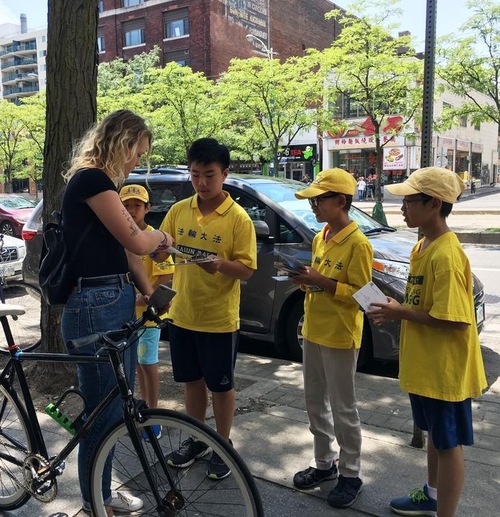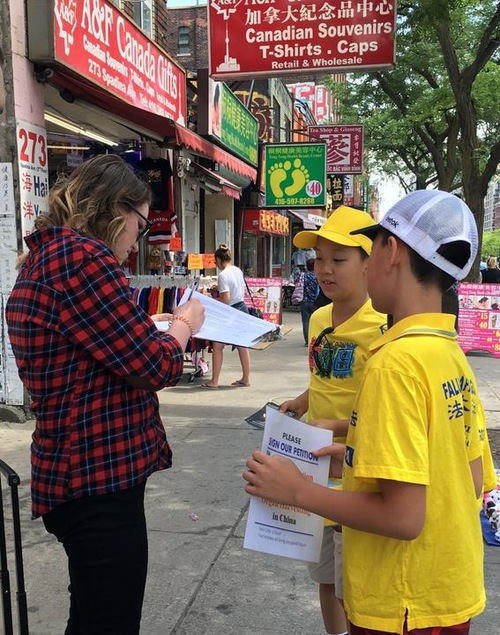 Young practitioners collecting signatures
Twelve-year-old Lisa said she was afraid at first. "Holding the flyers, I didn't know how to talk to people," she said. "Then I talked to two other practitioners. We encouraged each other to eliminate our fear.
"One Chinese woman cursed me with bad words. I was angry. But then I thought I was being competitive, which is an attachment I should abandon.
"After a while, a lady took a flyer from me. After she read it she asked for more. She wanted to help us pass them out. That encouraged me.
"Without fear, we handed out a lot of flyers. When somebody was rude to us, we no longer felt fear or anger.
"I told those who yelled at me, 'Please calm down and listen to me. We have benefited from this practice, and we believe you will benefit, too, if you listen,'" Lisa said. "I discovered that when I don't have fear or anger, more people like to hear what I have to say."