Mudanjiang Woman Bedridden after 13 Years of Imprisonment and Torture
July 14, 2018
|
By a Minghui correspondent in Heilongjiang Province, China
(Minghui.org) Ms. Chen Jinfeng suffered a rapid decline in health and is now bedridden after spending 13 years in prison and being subjected to relentless torture.
Ms. Chen, 68, from Mudanjiang City, Heilongjiang Province, was sentenced three times for practicing Falun Gong after the communist regime launched the all-out persecution against her faith in 1999.
After she was released from her latest six-year prison term in April 2015, her condition soon deteriorated. She lost strength in her back and legs and was unable to stand or walk. She often vomits after eating. Her teeth fell out, and her memory is fading.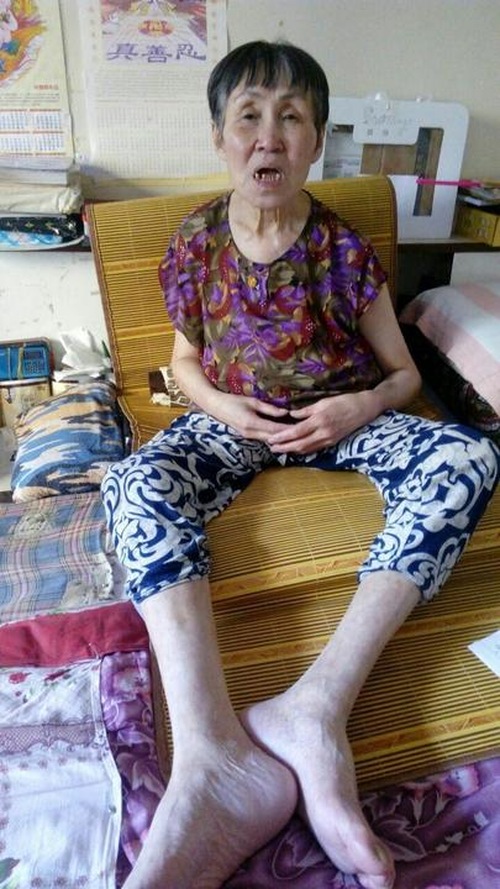 Ms. Chen Jinfeng
Despite practicing Falun Gong, which helped her to recover from many diseases, the persecution and torture she suffered took a heavy toll on her health.
Relentless Torture
Ms. Chen told a Minghui correspondent that, during her latest arrest in 2009, she refused to wear a prison jumpsuit so a detention center guard kicked her in the head until she lost consciousness. In another incident, one officer hit her on the heart with his elbow, resulting in intense chest pain and difficulty breathing.
After four months of detention, she was secretly sentenced in 2009 by the Aimin District Court to six years in prison. The hearing was held in a makeshift courtroom inside the detention center. She served her term at Harbin Women's Prison and was released on April 29, 2015.
In an earlier arrest in 2003, because she had posted information about the persecution, the police force-fed her with mustard oil, wrapped her head in a plastic bag, and almost suffocated her during an interrogation. They repeated the torture several times. She suffered from intense internal pain afterward.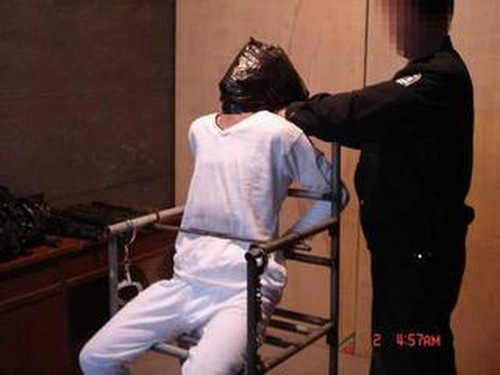 Torture reenactment: Wrapping a plastic bag around one's head
The police attempted to force her to give them information on other Falun Gong practitioners. When she refused, the torture escalated.
The police tied her to a chair and pulled her limbs in different directions. One officer shocked her hands with an electric baton at the same time. She lost consciousness.
The police continued to torture her after she came to. One officer hit her arms with the side of his palm. Her arms became black and blue and she could not lift them.
She had difficulty eating or lying down after being taken to the detention center. She later developed scabies. Instead of taking her to the hospital for treatment, the guard restrained her on a bed in a spread-eagle position for days. Her condition quickly deteriorated.
After 18 months of detention, she was sentenced to five years in prison on September 4, 2004, and continued to be tortured at the prison.
She was near death when she was released in 2008.
Repeated Arrests and Two Years of Forced Labor
Her torture began soon after the persecution commenced in 1999. Ms. Chen was repeatedly arrested and had her home ransacked between 2000 and 2001 for speaking out for Falun Gong.
After she was arrested in October 2000 for appealing for Falun Gong in Beijing, the police forced her to remain bent over for six hours and stepped on her hand. They also extorted thousands of yuan from her and spent it on personal vacations.
Ms. Chen was arrested again during the 2001 Chinese New Year and sent to a forced labor camp for two years. After she returned home in October 2002, the police attempted to send her to a brainwashing center. She protested, and the police eventually let her go.
In addition to the imprisonment and torture she endured over the years, her employer, the Forestry Radio and Television University in Mudanjiang, fired her and withheld her pension, which was in line with the persecution policy to "devastate them financially" set forth by former communist Party leader Jiang Zemin.
While she was imprisoned, her son struggled to live on his own and was malnourished. Although the school suggested he take medical leave, he continued to take classes and did odd jobs to support himself. But due to the lack of financial support, he eventually dropped out and never finished college.
Previous report:Ms. Chen Jinfeng and Mr. Lin Chuan Detained at Mudanjiang Detention Center