Fremont, California: Learning Meditation at a Public Library
July 13, 2018 | By Minghui correspondent Wang Ying
(Minghui.org) Several dozen residents of Fremont in Northern California learned the Falun Dafa exercises at a local library on the evening of July 7, 2018.
According to May, a practitioner who organized the event, she did not know how many people would come, so she only placed 10 chairs in the room inside the Fremont Library. "People started to show up around 10 minutes before the workshop. More and more people then came and in the end, we had about 50 chairs," she said.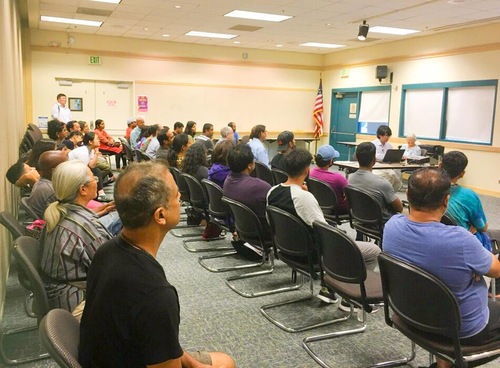 Residents learn about Falun Dafa at a public library in Fremont, California.
Relaxed and Serene
The workshop has been going on for the last few weeks and many attendees said they could feel the improvement. "My mind became pure. I felt relaxed and happy. It is wonderful," said Gayathri. After a day of busy work, she found the one-and-a-half hours of exercise and mediation had helped her with a feeling of serenity.
"I could sense energy, especially when I stretched. When placing hands in front of my lower abdomen, I could feel warmth. The results are obvious and I will absolutely continue learning it," she said.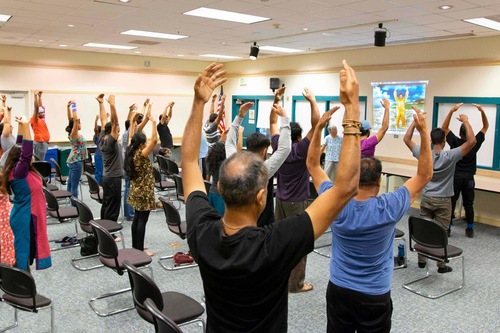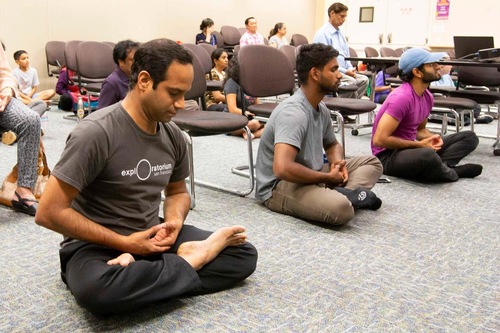 Workshop participants learn the exercises.
Spirituality and Wisdom
Another new practitioner, Neel, said the exercises "are very powerful and extremely wonderful." When moving the hands up and to the side, he said that he could feel the energy. He commented that he would like to read Zhuan Falun.
Zubin came here right after work, and he was impressed by the spiritual aspect of it as well as the wisdom of this meditation system. "I will find the time to do it in the morning and I will continue," he added.
Sudse said he also noticed the difference, "The slow movements helped me relax. It works very well and I like it."
This is the first time for Suresh to learn the exercises. He plans to do it often and he is especially interested in following the principles of Truthfulness-Compassion-Forbearance.