New York: Falun Dafa at Manhattan Summer Street Festival
July 12, 2018 | By a Falun Gong practitioner in New York
(Minghui.org) With hundreds of booths lining the streets for as long as 20 blocks, the annual Manhattan Street Festival was held June 30 on Bleecker St, on Lafayette Street on July 7, and at Midtown West on 8th Avenue in Manhattan, near New York University in Lower Manhattan, on July 7, 2018.
Of the many booths, Falun Dafa practitioners' golden canopy stood out. Many locals and tourists stopped by to learn about this ancient Chinese spiritual practice.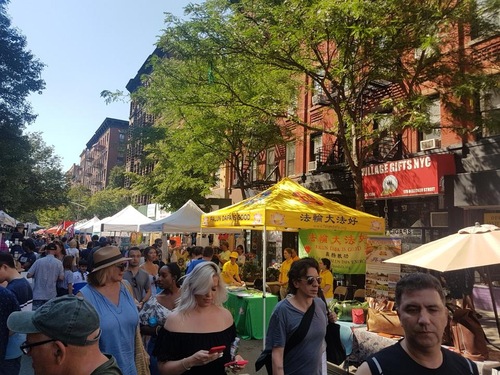 Falun Dafa booth at the Manhattan Street Festival
The practitioners demonstrated the five exercises to the peaceful music at their booth. Some of them talked with the passersby about Falun Dafa, sharing their physical and mental improvements and their experiences in following the principles of Truthfulness-Compassion-Forbearance to become better people.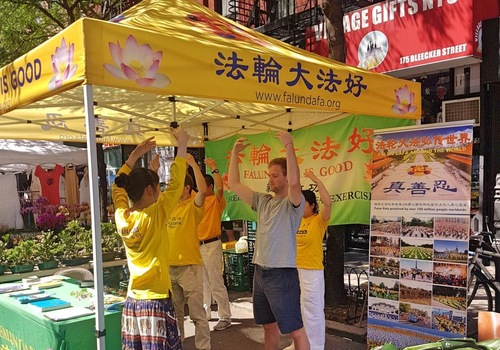 Ajoey learning the Falun Dafa exercises
A young man named Ajoey listened to the practitioners and then learned the second Falun Dafa exercise. He said that he felt a strong energy.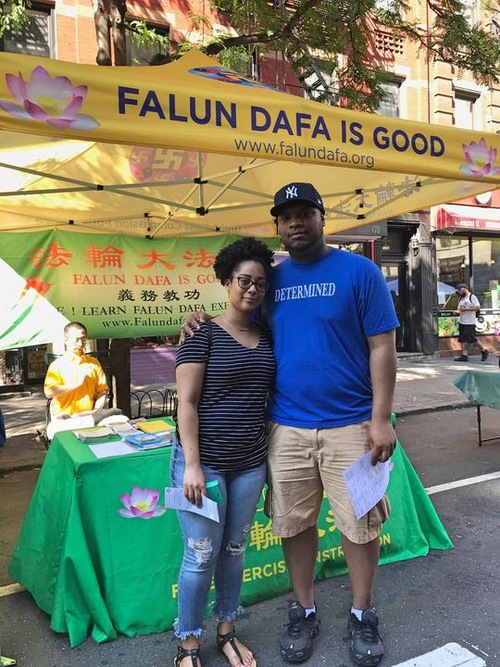 Posing for a photo in front of the Falun Dafa booth
One young man, Rasheed, said that he studied at Skidmore College and that his teacher had talked about Falun Dafa being persecuted in China. He first heard about Falun Dafa when he was in high school in Brooklyn. He asked about the practice and, with his companion, spoke with practitioners for a quite a while, then asked to have a photo taken in front of the booth.
In the past Ellyn from Canada practiced Falun Dafa for half a year, but she did not formally study Falun Dafa's main book, Zhuan Falun. She said that, after coming to the United States, she found many people practicing Dafa. Every time she encounters it, she feels she is being reminded to keep up with her cultivation.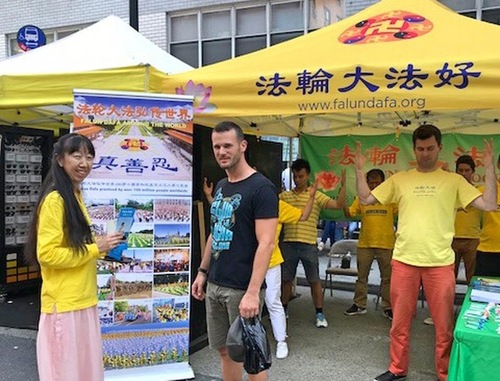 Tim from Spain said the practitioners seemed so warm, almost like family.
Tim, a Spanish pilot, said he likes to come to the street festivals every time he is in New York. He said, "I saw the golden Falun Dafa canopy from far away. It was very conspicuous, and I rushed over. I think very favorably of you, because my girlfriend practices Falun Dafa."
An Indonesian girl tending a a small jewelry booth next to the practitioners saw the visitors consulting the Falun Dafa practitioner and also asked for the website of the practice. "I want my mother, who is ill and weak, to learn Falun Dafa and hope that she will be healthy and strong," she said. She wrote down the address of the Falun Dafa website: www.falundafa.org.
Three young girls studied pictures of the practice and the persecution on the display boards at the booth. They were impressed that Falun Dafa has been embraced by people all over the world. One of them said, "So many people [are practicing it]. I want to know where I can learn it." Practitioners told her that the Tianti Bookstore holds free teaching sessions every month and that a new class started on July 9.
She said, "Today is my birthday, and I seem to have gotten a special gift." The three girls exchanged Facebook addresses with the practitioners and accepted small handmade lotus flowers printed with the message "Falun Dafa is good" printed on them.