Philadelphia: Chinese Officials Fail in Bid to Spread Hate Propaganda at International Forum
July 11, 2018 | By a Falun Gong practitioner in Philadelphia
(Minghui.org) When Chinese Communist Party officials attempted to defame Falun Gong in the guise of scholars at an international conference held in Philadelphia, local Falun Gong practitioners and a lawyer explained the Chinese regime's persecution of the spiritual meditation discipline. As a result, the defamatory posters were removed from the forum, and the organizer instead invited practitioners to tell attendees about Falun Gong and the persecution.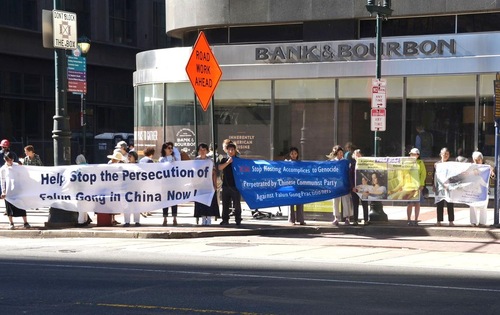 Falun Gong practitioners hold a rally outside the conference protesting the Chinese regime's spread of hate propaganda against the spiritual practice.
Defamatory Posters Removed
The July 7 forum was organized by International Cultic Studies Association (ICSA). Nearly 10 communist officials from China attended this annual event. They came from the University of Chinese Academy of Sciences, People's Public Security University of China, and Beijing Union University.
According to the meeting agenda, these officials would present an oral presentation along with posters. The content would include fabricated lies and hate propaganda against Falun Gong.
Local Falun Gong practitioners held a rally outside the conference venue in protest and called on the organizer not to provide a platform to justify the persecution in China.
Human rights attorney Terri Marsh had a phone conversation with the organizer prior to the meeting. She said that since Falun Gong is considered a religion as a result of a court ruling, it should be protected by American law like other religions. The Chinese officials' defamation of Falun Gong violated American laws that protect religions, and individuals involved could face legal consequences, she warned.
The organizer subsequently asked the Chinese officials to remove their posters. Their three speeches in the morning also became forum discussions. The organizer also allowed practitioners to enter the venue to explain the facts of Falun Gong and put up posters.
Denying a Platform for the Persecution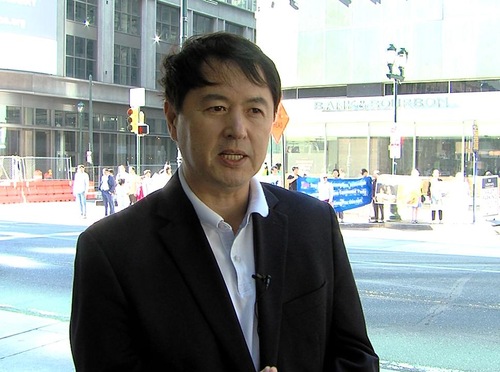 Falun Gong spokesperson Erping Zhang
Erping Zhang, spokesperson for Falun Gong, explained why the practitioners made such a request. "These communist officials are not scholars with independent thinking. Rather, they are mouthpieces of the Communist Party, and they are here to spread lies against Falun Gong."
Zhang said Western society should not provide a platform for the Communist Party to persecute Falun Gong, adding that the persecution has been well documented in human rights reports of the Department of State. In addition, both the U.S. Congress and the European Parliament have passed resolutions condemning the persecution.
"We hope the U.S. justice system, law enforcement agencies, and news media will pay attention to this so that the human rights violations of the Chinese Communist Party and its infiltration of the U.S. can be exposed," Zhang said.
Zhang added that the U.S. Congress is considering a bill to strengthen the enforcement of a law requiring the registration of agents acting on behalf of foreign governments.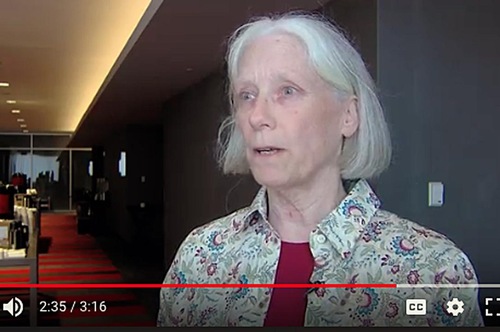 Dr. Ann Corson, a physician in Philadelphia
Dr. Ann Corson, a physician who has practiced medicine in Philadelphia for 36 years, expressed concern upon hearing that Chinese officials would speak at the ICSA conference. She said, "Falun Gong is well received around the world, and it is suppressed only in China. These officials are doing a bad thing. Their defamation could lead to legal consequences of participation in genocide."
Psychologist Jessica Russo said she considers the Chinese Communist Party a cult, adding that those who work for the regime are also in danger. "As a psychologist, I know the effects of such hate propaganda. Such propaganda is a key characteristic of a cult. In China, the Party controls all media. As a result, people have no access to free expression and have no understanding of what Falun Gong is. Such brainwashing misleads people and destroys moral values," she said, "We need to protect Americans, Falun Gong practitioners, and all Chinese citizens."
Chinese Officials: "We Are Being Controlled"
One conference organizer said he was surprised by the Chinese officials' presentations. Because these officials had labeled themselves as scholars, they were allowed to make the presentations, he explained.
Yang Jingduan, a psychiatrist and Falun Gong practitioner, talked with the Chinese officials, one of whom said their presentations should be considered their own opinions instead of that of the Chinese government.
When Yang asked whether any of them were members of the Chinese Communist Party, one official immediately said yes. He then asked about the source of funding for research and travel. The officials said the travel expenses come from their employers. Yang rebutted that since the totalitarian communist regime controls everything, including those employers, they could not justify the independence of their work.
One of the officials, Hong Fan, is an associate professor at the People's Public Security University of China. He said in an interview, "We are being controlled. As an individual, I cannot change anything [related to the persecution of Falun Gong]."
Yang said that in the past ten-plus years in which Chinese officials have attended ICSA conferences, many of them have been studying Marxism instead of psychiatry. They spread defamation overseas, which is later used to intensify the suppression inside China, he said.
Yang observed that these officials sometimes say things against their will in order to make a living. "You may not have to oppose or rebut it, but you can always choose to stay silent or not to cooperate. Otherwise, if you stand with the Communist Party in the persecution, it will tie you to the most vicious regime and the most hideous crime."
One official, who wished to remain anonymous, said he knew many people now have a different attitude toward Falun Gong and that the 610 Office has been disbanded. "I know many high-level officials in the Chinese government practice Falun Gong," he said, "I also know it's getting more and more difficult for people like me to obtain visas to come to the U.S. In fact, several of us were denied visas this time. I don't know if I will have opportunities to come out again in the future."
Attendees: More People Need to Know About the Persecution
Two Chinese officials did not appear for their scheduled speeches in the afternoon session. The organizer canceled their sessions and, as requested by meeting participants, invited two Falun Gong practitioners to testify about how they were mistreated in China for their faith. They were severely tortured and almost became victims of forced organ harvesting.
One of the conference attendees, Ellen Barker, is a sociologist from the United Kingdom. She has been to China over ten times as a tourist, researcher, and lecturer. She had been told that Falun Gong was against the Communist Party and other negative propaganda. She said she was glad to hear practitioners sharing their own experiences at the Philadelphia conference.
"I'd heard about the forced organ harvesting in the past, and I believe what the practitioners said today is true," she said, "I don't think Falun Gong is bad. It is wrong for practitioners to be persecuted based on their belief." She often participates in ICSA conferences and noticed that more representatives of the Chinese Communist Party have attended in recent years.
Arthur Buchman, a psychiatrist from Denmark, said he knew about the suppression in China but was shocked by the practitioners' testimony. "Forced organ harvesting from Falun Gong practitioners is not new to me. The ICSA board should also know about it already. More people need to know about this, including those outside ICSA. We need more coverage on it in the news media, including an in-depth report."
Mr. Langone, the executive director of the conference, said the association would implement a stricter process starting next year to prevent Chinese officials from using the conference to spread propaganda. Upon hearing the practitioners' testimony, he expressed interest in learning how the Chinese Communist Party controls ideology and hopes practitioners can attend next year's conference in the United Kingdom to discuss the topic.