Woman Sentenced to 9 Years for Seeking Release of Husband, Who Was Punched by Police and Suffers Broken Eye Socket
July 11, 2018 | By a Minghui correspondent in Jilin Province
(Minghui.org) Ms. Wang Songhua's family and lawyer learned recently that she was sentenced to nine years in prison, but they were never notified of her court appearance (if any) or given a copy of her verdict.
The Songyuan City resident's ordeal was triggered by her efforts to rescue her husband, Mr. Li Guojun, who was arrested less than ten days after he moved to Changchun City to find a new job.
Mr. Li had just stepped inside his rented apartment unit at 8 p.m. on September 13, 2017, when about seven officers from Minkanglu Police Station in Changchun broke in and arrested him.
An officer took Mr. Li to the kitchen and punched him in the face. Blood immediately poured from his right eye and dripped to the floor.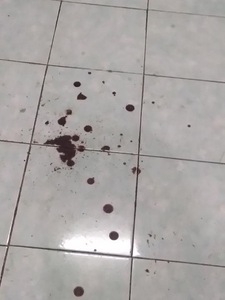 Blood stains on the kitchen floor in Mr. Li's apartment
Mr. Li became disoriented, but it wasn't until 3 p.m. the next day that police brought him to Jilin University Affiliated Hospital for a CT scan. The Changchun City Third Detention Center declined to admit Mr. Li when they noted the CT scan indicated his right eye socket was broken.
Instead of releasing Mr. Li, police took him to Xinkang Prison Hospital. They told doctors there that Mr. Li was injured while trying to run from police.
Ms. Wang, who still lives in Songyuan City, was not informed of his arrest. Having heard nothing from her husband, she looked everywhere and eventually located him in the prison hospital.
Ms. Wang was denied visits with her husband. She learned from her lawyer, who was allowed to see Mr. Li, that he had been injured.
Mr. Li's sister and Ms. Wang traveled to Changchun on October 12 to seek his release, but they were detained for two days at Minkanglu Police Station. Mr. Li's sister was released afterward, and Ms. Wang was detained for an additional 15 days at Weizigou Detention Center. The two women's cell phones were confiscated.
Ms. Wang was arrested again outside the detention center on October 28, her scheduled date of release. The arresting officers included agents from Changchun and her hometown of Songyuan. Ms. Lan Yaqin, a Falun Gong practitioner in Songyuan who accompanied Ms. Wang's relatives to pick her up, was also seized by police.
Officers proceeded to ransack Ms. Lan's home and arrest her son, Mr. Yang Dibo. Both mother and son were driven to Changchun City for interrogation. The young man was released that night, but his mother was detained for 10 more days.
Songyuan Police also ransacked Ms. Wang's home. She was issued a formal arrest warrant in late December 2017. In the meantime, her husband's case has been forwarded to Nanguan District Procuratorate, and he faces indictment for his faith.
Ms. Wang's lawyer went to Songyuan City Detention Center on February 9, 2018, but he was denied a meeting with his client. He was instructed to get a series of paperwork done at Songyuan Judicial Bureau. He went, only to be told that people who were not members of the Chinese Communist Party were not allowed to visit their clients. He has since heard nothing from the local police, procuratorate, or the court regarding the case.
The lawyer and Ms. Wang's family learned recently that she was sentenced to 9 years and taken to Lanjia Women's Prison on June 4, 2018.
Related Report:Jilin Man Punched by Police and Suffers Broken Eye Socket, Wife Arrested for Trying to Seek His Release