German Falun Gong Practitioners Call on Visiting Chinese Premier to End Persecution
July 11, 2018 | By Minghui correspondent Xue Li in Germany
(Minghui.org) During Chinese Premier Li Keqiang's visit to Berlin on July 9, 2018, Falun Gong practitioners assembled in front of the Chancellery in a peaceful protest to call for an end to the 19-year-long persecution of the spiritual and meditation discipline in China.
The practitioners demonstrated the Falun Gong exercises and held banners showing facts about the persecution.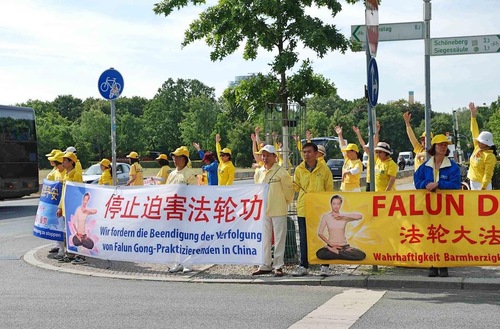 Demonstrating the exercises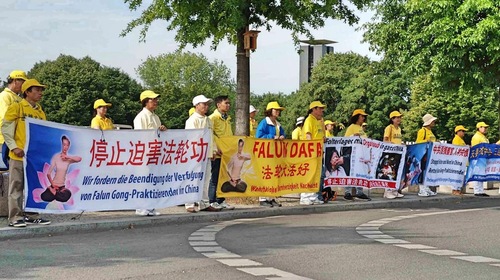 Banners calling for an end to the persecution in China
Ms. Zhou Lei, a spokesperson for Falun Gong in Germany, said, "We are asking for freedom of belief in China, which is constitutional. We have never changed our request in the last 19 years. We clearly know that the persecution was launched and maintained by the former Communist Party leader Jiang Zemin and his followers."
Ms. Zhou believes that protests like this one are helpful for improving the human rights environment for practitioners in China.
"A significant component of the Communist Party's foreign policy is fighting against Falun Gong overseas. Without our protests, people, including the Chinese government, may think that Falun Gong has been eradicated and that nobody supports Falun Gong in the international community," Zhou said.
"We have seen that at the beginning of every year, the Chinese government issues a few announcements and policies regarding the 'fight' against Falun Gong. This means that Falun Gong has been a focus of their policies. Our protests overseas have exerted a tremendous amount of pressure on them."
"So, I believe that these protests are helpful. If it wasn't for the 19-year peaceful resistance and the efforts of telling the public what Falun Gong is, very few people would know the truth and the brutal facts of the persecution, not to mention the movement to quit the Chinese Communist Party."
Couple Calls Attention to Son Killed in Brutal Campaign
Among the protesters on Monday were an older couple whose only son, Tian Shichen, lost his life in the persecution.
Tian worked for the Futian Automobile Corporation in Beijing. He started to practice Falun Gong in 2010 before he was sent to work in Nigeria.
Tian once talked about Falun Gong to a friend in a Chinatown in Nigeria without knowing he was being spied on by Chinese embassy staff. After an investigation, he was recalled to Beijing in 2011 and taken away at the airport upon his landing in the Chinese capital.
Officers from his company had a four-hour conversation with him that resulted in his forced resignation. Sixteen days later, he died for an unknown reason. His bone ash was found to be red. It was suspected that he was poisoned.
Tian's parents, both Falun Gong practitioners, escaped to Germany in 2012 and began a long-term protest in front of the Chinese Embassy.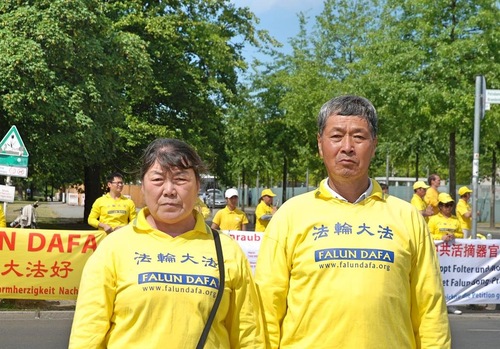 Tian's parents in the protest on Monday.
His father, Tian Mingjun, said on Monday, "Our goals are clear: to bring the main perpetrator of the persecution, Jiang Zemin, to justice; restore the reputation of Falun Gong; and give us an environment to practice freely."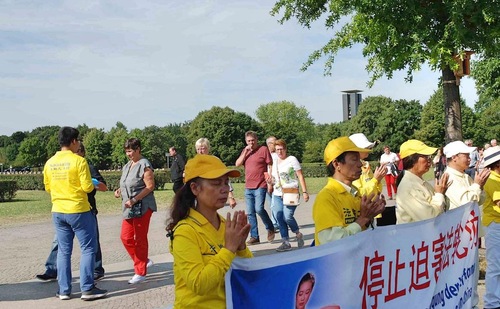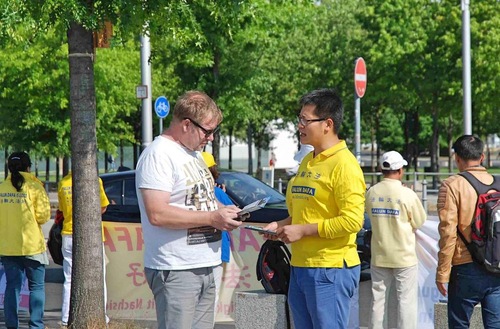 Practitioners talk to the public and ask for help to end the persecution in China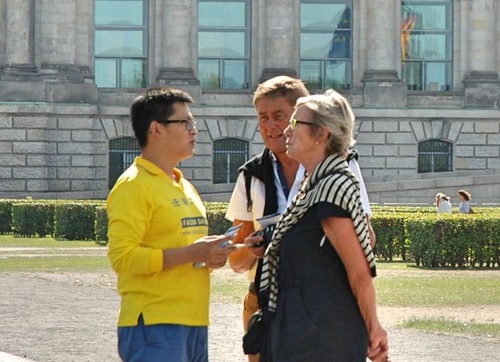 A couple from Dusseldorf was shocked upon hearing about the state-sanctioned harvesting of organs from living Falun Gong practitioners in China. The wife told a practitioner, "It is great that you are so peaceful in the face of such cruel persecution."