London: Spectators Find Falun Gong Parade 'Powerful' and 'Meaningful'
June 09, 2018 | By a Falun Gong practitioner in the United Kingdom
(Minghui.org) Falun Gong practitioners held a grand parade in London on June 3, 2018, to showcase Falun Gong's principles of Truthfulness-Compassion-Forbearance and expose the Chinese Communist Party's (CCP) persecution of innocent practitioners.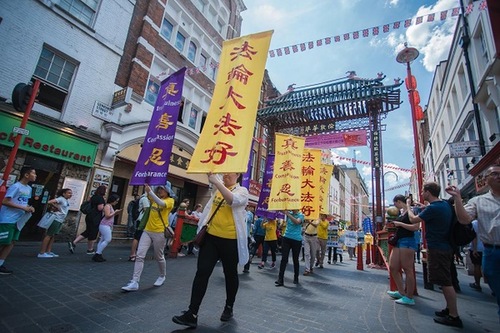 Falun Gong grand parade in London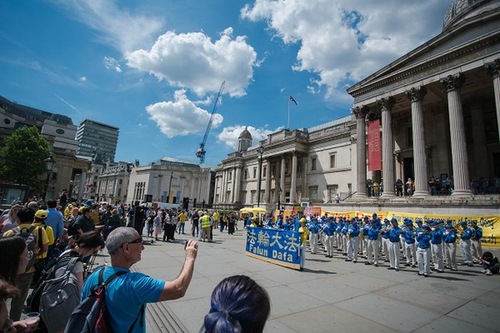 A large crowd watches the Tian Guo Marching Band perform in front of the National Gallery.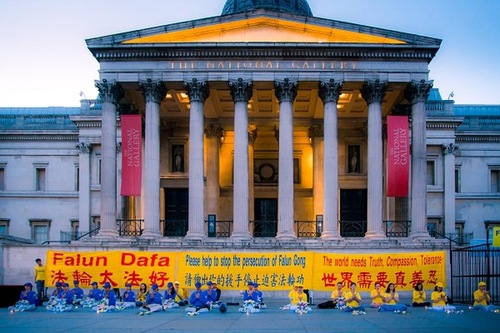 A candlelight vigil was held on Trafalgar Square to mourn Falun Gong practitioners who have died due to the CCP's persecution.
The Tian Guo Marching Band headed the parade, followed by Falun Gong practitioners holding banners and display boards. The procession passed Chinatown and went down Oxford Street as many spectators lined the route.
Ms. Li from Beijing told the reporter, "I happened to be having lunch in a restaurant and hurried out to watch the parade. I didn't know that this group, which is suppressed in China, had grown so large outside of China. And so many Westerners are practicing it, too! I'm totally surprised!"
Ms. Li said that her father used to practice Falun Gong, too. She had heard something about the practice from him. She commented, "Those who follow Truthfulness-Compassion-Forbearance should be supported."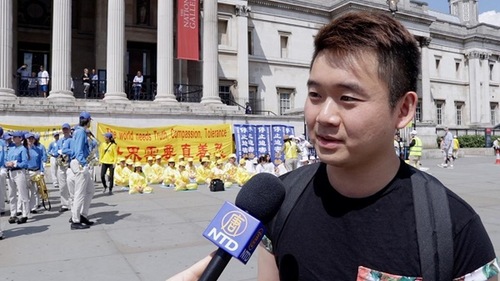 Professor Lin from Taiwan
Professor Lin from Taiwan teaches at a British university. It was the first time he had ever seen a Falun Gong parade. He said, "I don't know much about Falun Gong, but I think it's great for Chinese culture to receive widespread attention around the world." He recognized Falun Gong practitioners' persistent work on improving human rights. "It not only concerns China, but also the whole world. Human rights is a very important issue." He was happy to see Western practitioners in the parade and was interested in learning more about Falun Gong.
Mr. Xiao Dasheng from New York said he had seen many Falun Gong activities in New York and knew some practitioners personally. He said, "This is a group of very inspiring people. I think their beliefs would make our society more optimistic and have a great impact overall."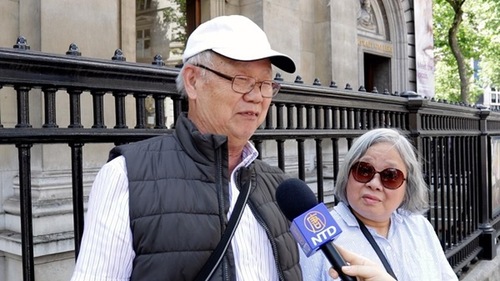 Mr. Lin (left) being interviewed
Mr. Lin, an immigrant from Hong Kong, was happy to see the Falun Gong parade. He said, "It's great. More people should join Falun Gong. The Chinese Communist Party should improve its human rights and treat its people better." He was very proud of his Chinese culture when he saw Western people also practiced Falun Gong.
Christy from Scotland
Christy from Scotland had been touched by the documentary "Candlelight Across the Street," which is about Falun Gong practitioners' ongoing peaceful protest in front of the Chinese Embassy in London. She made a special trip to see the Falun Gong parade. "It's so touching!" she said. "The persecution [of Falun Gong] is so terrible. I can't understand how anyone could ignore it. The persecution is a shame. Everyone should work together to stop the persecution of such a peaceful group."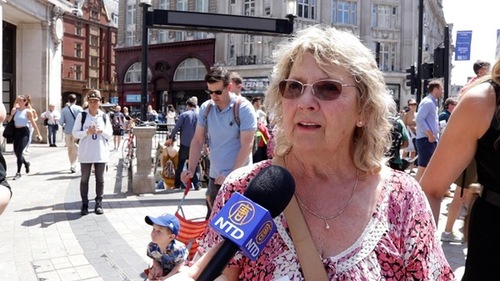 Jum from Milton Keynes
For Jum from Milton Keynes, a town in southern England, it was the first time she'd ever seen a Falun Gong parade. She said, "It's great! I get the message. It's an interesting issue to follow." She realized she hadn't known about these problems in China. "It's important for us to know what's happening in the countries where information is controlled."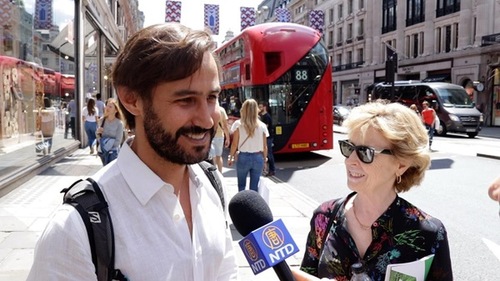 João from Portugal praises the Falun Gong parade.
João, a Portuguese who works in England, had seen Falun Gong practitioners doing the exercises in front of the Chinese Embassy. He said the parade was very meaningful. "No doubt about it! Anything that can get people's attention is important. It should bring people of other countries together to stop the persecution.
Annaly, a tourist from Switzerland, remarked, "It's so powerful! Such activities will bring changes. If more of us would stand up, our voices calling for justice would be louder!"