Michigan Falun Gong Practitioners Participate in Memorial Day Parade
June 03, 2018 | By a Falun Gong practitioner in Michigan
(Minghui.org) Falun Gong (also called Falun Dafa) practitioners in Michigan participated in the 94th Memorial Day Parade in Dearborn Michigan on May 28, 2018. Falun Gong was the only Chinese American group invited to the parade, one of the largest in the United States, and the oldest ongoing parade in Michigan.
Falun Gong contingent at the Dearborn City 2018 Memorial Day Parade.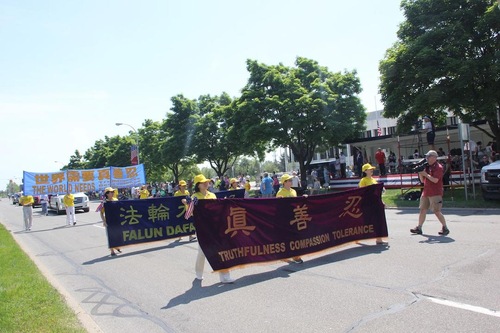 Falun Gong procession passes the central stage and a videographer from City of Dearborn Television.
The Falun Gong procession included a flag alignment, a Tang Dynasty drum troupe, a large lotus flower float, and an exercise-demonstration team. Their flags read, "Falun Dafa," and "Truthfulness-Compassion-Tolerance" in both Chinese and English. Spectators rewarded practitioners with warm applause and cheers. Some people asked, "What is Falun Dafa?" Practitioners distributed introductory brochures to people along the parade route, and answered their questions.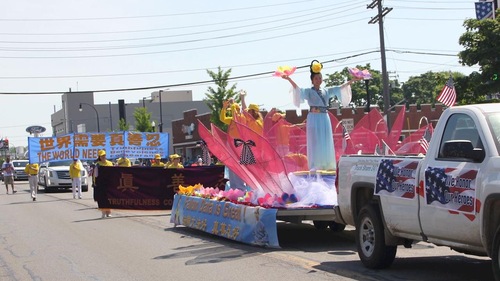 Falun Gong practitioners demonstrate exercises on the float.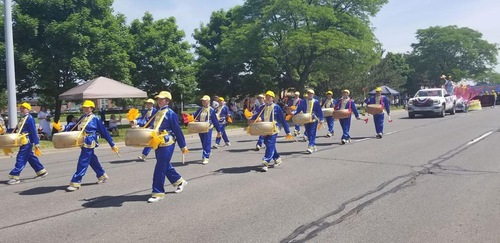 Tang Dynasty drum troupe.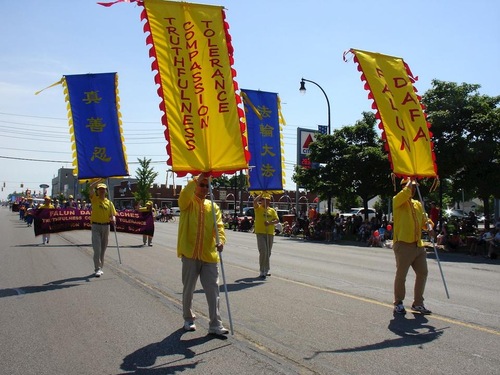 Falun Dafa flags in Chinese and English.
A Falun Gong practitioner distributes introductory brochures to parade spectators.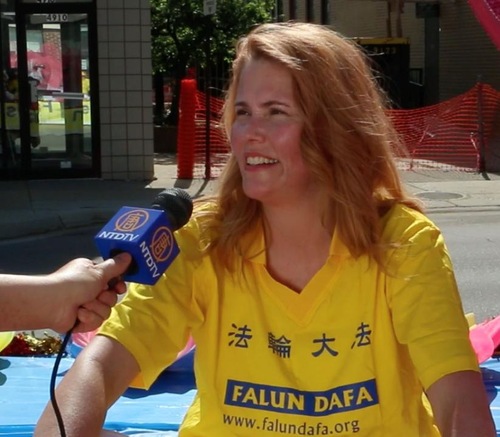 Mary Manthey, a Falun Gong practitioner from Ann Arbor, demonstrated the third exercise on the float. She was happy to see spectators enjoyed the Falun Gong procession.
World War II veteran Mr. Peter Reckinger and his wife Mary watched the parade with their granddaughter Julia. Mary praised, "They [Falun Gong practitioners] look beautiful!" Peter added, "I was impressed with their message of peace. We need more things like this. The spiritual teachings [of Falun Gong] are my favorite. Every one of them looks so peaceful." Julia also said, "Falun Gong is my favorite. It's pretty and relaxing!"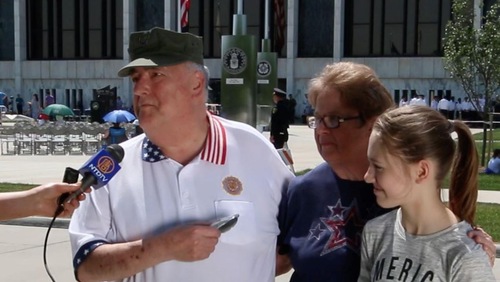 World War II veteran Mr. Peter Reckinger, his wife Mary, and granddaughter Julia.
Local resident Kevin kept waving at the Falun Gong practitioners on Michigan Avenue. He said, "I remember this group from last year. That's how I heard about Falun Gong. It's good for your health and mind."
A Chinese lady said to a practitioner who was distributing brochures, "Ma'am, you have been working hard. All of you did a great job!" The practitioner replied, "Thank you! Watch for more of our procession. They are coming." When Falun Gong practitioners passed the central stage, the Chinese lady saw the practitioner again, and said, "Falun Gong is marvelous! I admire you for your persistence for so many years!"