Washington D.C.: Truthfulness-Compassion-Forbearance Brings a Brighter Future to Young Practitioners
June 29, 2018 | By a Falun Dafa practitioner outside of China
(Minghui.org) Several Falun Dafa activities took place in Washington D.C. recently, including a parade on June 20, an experience-sharing conference on June 21, and a character formation and a candlelight vigil on June 22. Young practitioners who participated in these events talked about what the practice of Falun Dafa has meant to them.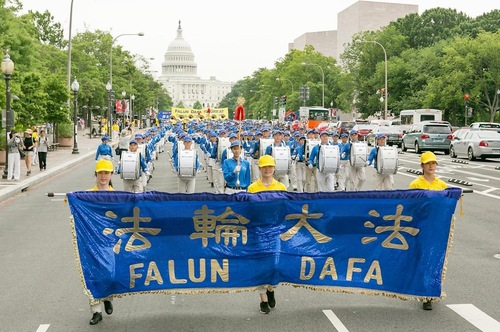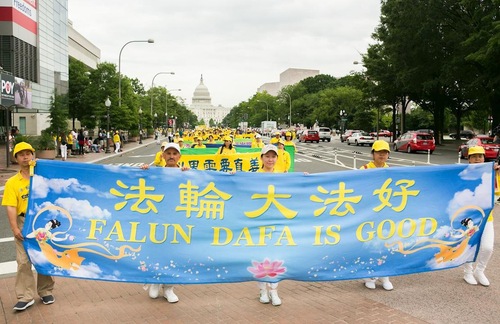 Practitioners from around the world participated in the march on June 20, 2018.
Waiting for the Day When the Persecution Ends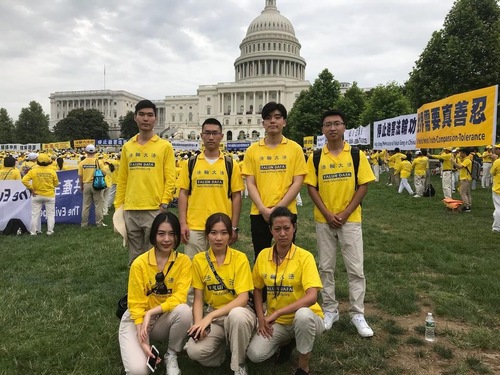 Many young practitioners attended the events including (starting from the left of front row) Liu Yuchen, Feng Jiayi, Zhao Yilian, and (starting from second left in the back row) Lin Yushan, Jia Ning, and Luan Junzheng.
Jia Ning, 22, is studying IT at Carnegie Mellon University. He began to practice Falun Dafa in 1997, following his mother, when he was two. "Before that, Mother often got sick and Falun Dafa brought her good health. She has practiced it ever since," said Jia.
Ever since the persecution started in 1999, however, his family has suffered tremendously. "Because police officers also came to my school asking me where my mother was, I had to switch schools often, almost every year." Because of that and being harassed, Jia became introverted and he wondered why his family was different and had to avoid the police.
"But mother told me that Falun Dafa is righteous and it gave our family a new, happy life. It is our responsibility to step forward and speak the truth," he recalled. Looking back, he now understands what she meant. In fact, so many practitioners were forced to leave their homes, with some tortured to disability or even death. They did it for a better society.
Deeply impressed by Falun Dafa's principles of Truthfulness-Compassion-Forbearance, Jia is grateful for its founder, Mr. Li Hongzhi. "Being here and seeing practitioners coming from around the world to oppose the persecution, I am very touched. Everyone has his or her story. Because of their belief, some of them were severely tortured, some lost their jobs, and some were separated from their families. I always admire their determination and I am waiting for the day when the persecution ends," he added.
"The Day I Will Not Forget"
Zhao Yilian, a student in an art program at State University of New York at Purchase, began to practice Falun Dafa with her mother. Together with practitioners from around the globe, she joined the candlelight vigil on the evening on June 22.
In front of the Washington Monument, Zhao recalled the mistreatment she and her mother suffered in China. Her mother has been arrested numerous times since she was five. "Every time, I cried to my grandma asking for my mother. One time, I was able to visit her after going through one metal door after another. When Mother hugged me, I saw her hair had been hacked off. She looked pale, dull, and emaciated. Even her fingers were cold and stiff. Despite the freezing winter, she wore only thin clothing and sandals with her toes exposed. I was curious what had happened and wondered why she had been beaten. The visit was short and a guard took her away in a few minutes. It was the day I will not forget," she said.
After learning that the Communist Party was responsible for the suppression, Zhao stopped attending the weekly flag ceremony and renounced her membership in the Party's Young Pioneers. She knew practitioners were doing the right thing and decided to follow them. "In my essays, I often wrote how we have benefited from Falun Dafa and how the slanderous propaganda had misled people," she added.
Since coming to the United States in 2013, Zhao has participated in such events every year and said she is very fortunate to have become a Falun Dafa practitioner.
Mother on Trial in China While Son Outside of China Opposes the Persecution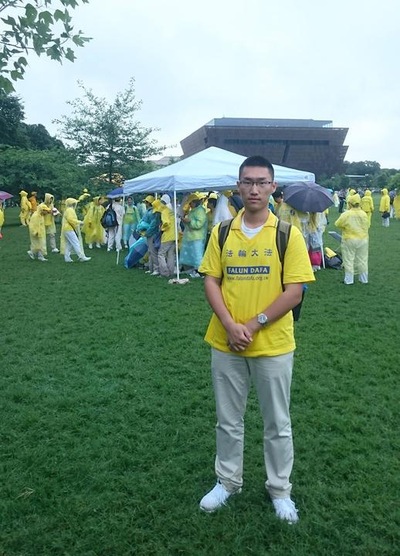 Lin Yushan began to practice in 2007 and his mother went on trial on June 8, 2018.
Lin Yushan from Xinjiang is studying electrical engineering at Milwaukee School of Engineering. "I used to have stomach problems and could not concentrate on classwork because of my stomachache. In the winter, I was often given intravenous injections because of illness. But after starting to practice Falun Dafa wi my mother in 2007, I became healthy and no longer needed the medication," he said.
Besides the physical improvement, Lin found Falun Dafa also helped him improve his personality. His stubbornness and impatience often drove away other children as well as created problems communicating with adults. "The practice of Falun Dafa made me more easygoing and I was able to get along better with others."
Joining thousands of practitioners for the march on June 20 was a special experience for Lin. "The large scale of it struck me and I was filled with energy, happiness, and a sense of mission—I need to tell more people about such an extraordinary practice."
Across the ocean, Lin's mother has been arrested and detained several times for her belief. "The police arrested her again on September 24, 2017, for suing former communist leader Jiang Zemin for persecuting Falun Dafa. She has been held at the Korla City Detention Center since then. Earlier this month, she went on trial on June 8," said Lin.
Uplifting Moral Character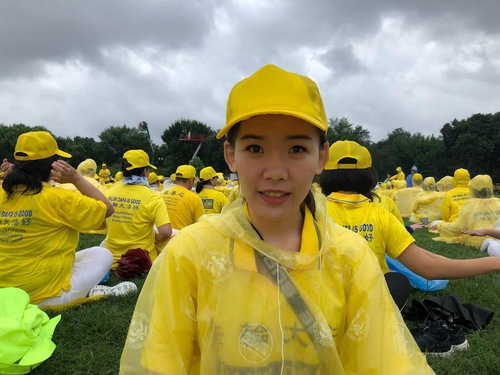 Feng Jiayi in the character formation in the drizzling rain on June 22
Feng Jiayi, a student at Parsons School of Design, is majoring in fashion design. Sitting in the drizzling rain, Feng said Falun Dafa helps her to maintain a positive moral character in society. "Many people in my school are pursuing fashion and money. Classmates around me are smoking, even using marijuana or drugs. I know what is right and what is wrong. One friend said I am probably the only one she knows in school who does not smoke or go to nightclubs."
Despite the rain, Feng felt fortunate to be in the character formation. "Thousands of practitioners dressed in yellow, blue, and white also formed a giant, magnificent pattern. This is a righteous field and we are blessed by Falun Dafa," she explained.
Liu Yuchen is studying business at Baruch College of The City University of New York. Seeing her peers fighting hard for material interests and fame, she feels relaxed and fortunate. "Many students in the business school are harming others for their own benefit. I am glad Dafa has shown me which way to go and guides me with the principles of Truthfulness-Compassion-Forbearance. That is, I am not drifting in this society of moral degeneration," she said.
New Practitioner: Pure Mind and Wisdom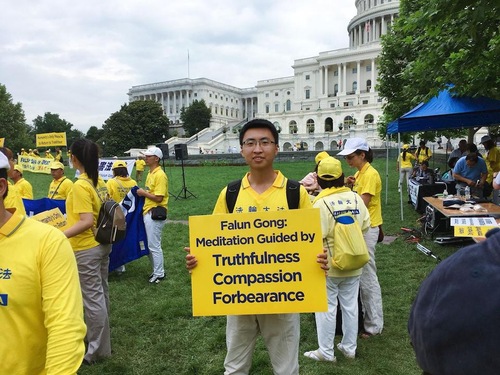 Luan Junzheng said Falun Dafa brings him positive attitude and wisdom.
Luan Junzheng is studying at Texas A&M University with a major in mechanical engineering. During the winter break in January 2015, he saw the book Zhuan Falun on the desk at home and began to read it. That afternoon he finished 8 out of 9 lectures and knew the book was teaching him how to be a better person.
"When I truly followed the principles mentioned in the book, Truthfulness-Compassion-Forbearance, I noticed a lot of miraculous changes. For example, I used to play games or use my phone a lot and could not concentrate. After beginning to practice, I stopped playing games, and my mind became more clear and pure."
As he continued to read the book, Luan found his body and mind being cleansed. "I used to be jealous and resent others. Now I realize it was caused by the Communist Party culture and I began treating people with compassion."
Falun Dafa also brought him wisdom. Now he is no longer worried about exams and he scored first on a final exam shortly after beginning to practice. He also earned the highest level award at the college.
"Coming to the event today makes me feel special, as if I am immersed in peace and compassion," said Luan, "It also reminds me to do better and help more people learn about the practice and benefit from it."