Tourists Voice Support at Washington Monument
June 27, 2018 | By Minghui correspondent Shu Jing
(Minghui.org) To raise awareness of the persecution in China, several thousand Falun Gong practitioners did the exercises together and formed a Falun emblem at the Washington Monument on June 22. It was raining most of the time, sometimes pouring, but the practitioners persevered, demonstrating the same calm resolve seen in their non-violent resistance to the persecution.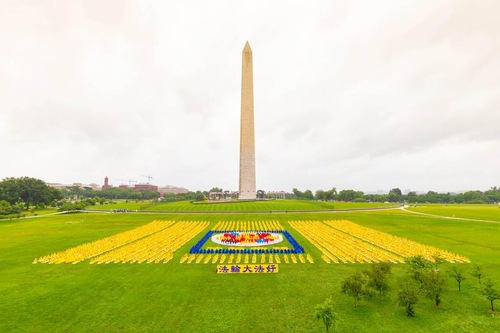 Falun emblem formed by several thousand practitioners
Joshua, a tourist from the Caribbean, asked about the event. He learned that Falun Gong practitioners were forming a Falun emblem to raise awareness of the persecution in China. "Thank you for the information. This persecution is horrible. It's a crime." Joshua said that he would like to find out more about Falun Gong.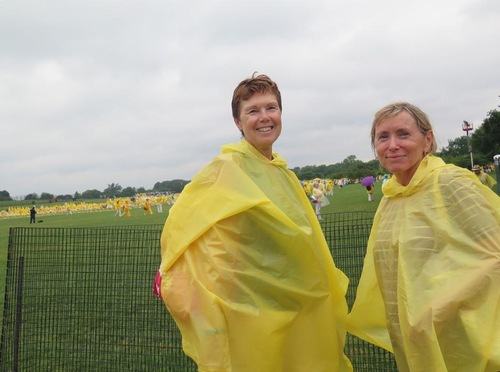 Monica from Canada and Kitty from Florida
Monica from Canada and Kitty from Florida, who were traveling together, saw many people in bright yellow T-shirts at their hotel. When they encountered yellow T-shirts again at the Washington Monument, they were curious and asked about the event. They said it was great that practitioners were raising awareness at the Monument.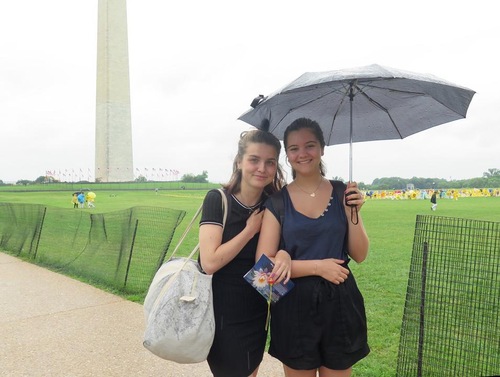 Eva and Jiulia from the Netherlands
Eva studies economics in Holland. Her good friend Jiulia studies politics at a school in Massachusetts. On their way to a museum, they saw practitioners' group exercises. Eva said that an event in DC would impact all of America. Jiulia said, "We need more of this. Truthfulness-Compassion-Forbearance is very good! Washington DC is the best place for such an event."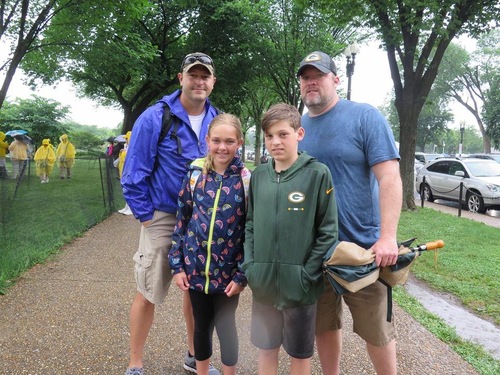 Alec (front left) and her family
Alec is a 5th grader at an elementary school in Delaware. She was visiting Washington DC with her father, uncle, and cousin. Because she is learning Chinese, the family stopped by the Monument to find out what was going on.
They learned about the persecution of Falun Gong in China. Alec's uncle understood that the reason for the persecution is because the Chinese Communist Party can't tolerate values such as Truthfulness-Compassion-Forbearance. They all expressed their appreciation for the information.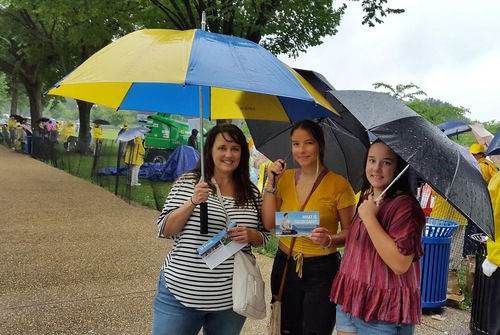 Whytney Barnett and her daughters Hparge and Nataore
Whytny Barnett, a local mother, was at the Monument with her daughters Hparge and Nataore. They thanked practitioners for their efforts to demonstrate Truthfulness-Compassion-Forbearance and giving to the world.
"I'm glad to see Falun Gong practitioners coming from all over the world to bring the news to Washington DC. It's very sad to hear that so many Falun Gong practitioners in China are suffering from such cruel persecution. We hope that this horrible persecution can end soon," said Ms. Barnett.
She said that the Falun emblem formation and group exercises were "spectacular," "peaceful," and "beautiful." "I think that the world needs them at this time. Their principles of Truthfulness-Compassion-Forbearance can help people find their inner peace and kindness. This is so important today. I think nothing stops them, even the heavy rain. Although the rain is nice—it cleans the air and the mind and everything."