Grateful for Master's Compassion and Becoming More Diligent
June 26, 2018 | By Minghui correspondents Lan Ling, Rong Fa, and De Xiang
(Minghui.org) Nearly 10,000 practitioners attended the 2018 Washington DC Falun Dafa Cultivation Experience Sharing Conference on June 21. Many practitioners said they had learned a lot from Master's lecture and stories from other practitioners.
Enormous Compassion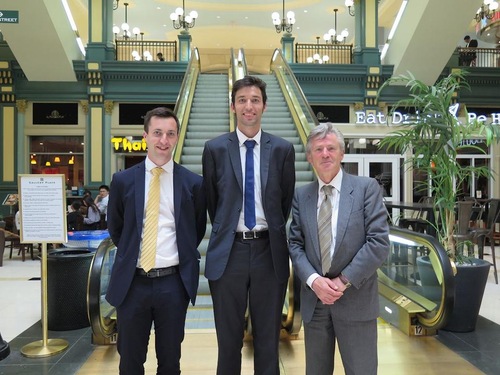 Paul, Michael, and Ian (left to right) are three practitioners from Ireland.
Mechanical engineer Paul, sales manager Ian, and property manager Michael traveled together from Ireland for this event in Washington DC. The long trip, busy activities the day before, and all-day conference did not tire them. Rather, they were filled with joy and excitement.
Michael said he felt strong energy while listening to Master's lecture, "I was immersed in enormous compassion." He said he would study the lecture several times after returning home. Having practiced for ten years and attended such conferences a few times, Michael was very excited. He said he was glad to see the practitioners are even more harmonious this time, just like a big family.
Paul and Ian began to practice in 2014 and 2013, respectively. Paul noticed that several practitioners mentioned eliminating jealousy in their stories. "I also have this problem and sometimes it's deeply hidden. I need to work on it too so that my mind will be pure," he explained.
Ian was impressed by one practitioner's sharing about making cartoons. "That practitioner was determined to follow Dafa principles, especially on the issue of Truthfulness, even if it meant that six years of hard work would end up with nothing. It requires lots of courage to not sign the document with incorrect information." What surprised him even more was that this practitioner's choice did not lead to any loss in the end. From this, he gained a better understanding of the profoundness of Falun Dafa and Master's compassion.
Rectifying Ourselves
Harald Wayer and his wife Beate are from Germany, where they have their own business. Beate said that although she has been practicing Falun Dafa for 19 years, this conference helped her gain many new understandings. "I found that as time continues, I no longer had the feeling that I had before. In Fa lectures, Master mentioned, 'Cultivate with the heart you once had, and consummation is certain.' I think I need to improve in this area. In fact, whether studying the Fa, doing the exercises, or holding an information day, these are as natural as eating or drinking. This is the biggest impression I had from this conference. And every sharing article reminded me about faith in Master," recalled Beate.
Harald became a practitioner several years ago. He said the speeches of other practitioners reminded him to be more diligent. He said, "Sometimes I do well, but after a while, I often slacked off. Some practitioners described situations like this, in which they put more effort into keeping the momentum. I think I need to do the same."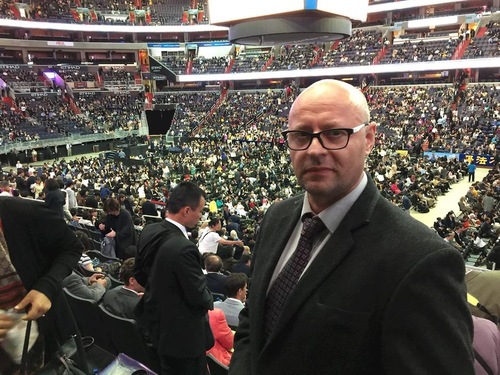 Polish practitioner Tom Ozimek lives in Canada and he learns a lot whenever he comes to Fa conferences.
Polish practitioner Tom Ozimek lives in Canada and attends the Fa conferences in the United States every year. "About six months ago, I resigned from the board of directors of a media company. This allows me to remain truthful all the time and have more time to do news media work helping people to know about Dafa," he said. After coming to New York, he encountered some circumstances similar to what other practitioners described—being assigned to another role shortly after getting familiarized with the work, and this happened several times. He now knows it is an opportunity to improve xinxing and plans to do his best to fulfill his vow as a Dafa disciple.
"I Have Been Waiting for This My Entire Life"
Thomas began to practice Falun Dafa in Canada in 1999. Before that, he studied martial arts and Taichi. One Taichi instructor told him that he could only teach Thomas the movements since he did not know the spiritual side of the practice. The instructor also reminded him to open his mind to find genuine teachings. Therefore, he continued searching. "One day, the instructor called me telling me about a 9-day Falun Dafa lecture. He said this was very good and wanted to make sure I would attend. I took a plane to attend the lecture and found it was very profound. After purchasing a copy of Zhuan Falun, I read it and was really amazed—I knew this was something I had been waiting for my entire life."
Thomas lives in a city with 100,000 residents, and he was the first person there who practiced Falun Dafa. One day, two young women came from Germany to visit their relatives and they wanted to learn the exercises. Thomas did the exercises in a park with them and the group meditation has continued until today.
Strong Energy Field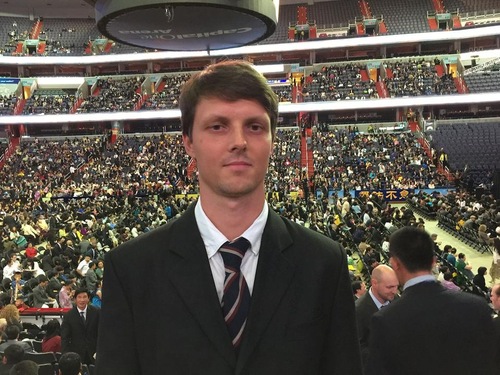 Mikalaz is from Poland. This is the fourth time he has attended an experience-sharing conference.
Mikalaz started to practice in Poland in 2013 and has come to the conferences in the United States every year since. "Like previous years, I found the energy field at the Washington DC conference very strong, and the speeches from other practitioners helped me a lot." He said practitioners talked about how to handle issues encountered while working on projects and how to validate the Fa, all of which were helpful to him. In addition, he needed to plan his time better and improve communication with others to gain better mutual understandings.
Mikalaz also talked about when he started to practice several years ago in a park. "My friend and I went to a park for fitness one day. As we were walking in the park afterward, we saw a group of people meditating. My friend strongly suggested that we join them and learn the exercises. I did not understand why, but I joined anyway. I later knew it was Falun Dafa and a practitioner told me about the book Zhuan Falun." He has practiced it ever since and feels very fortunate to be a practitioner.
The Best Moment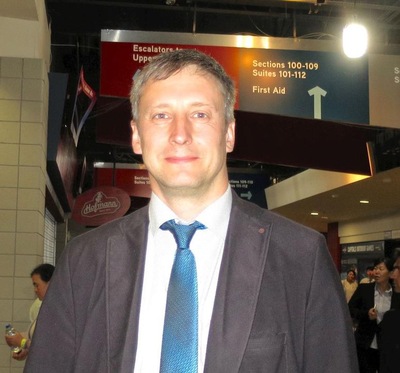 Sergejs Orups from Latvia has been practicing for 18 years and was very happy to attend the conference.
Sergejs Orups from Latvia has been practicing for 18 years. When attending conferences, he was able to identify gaps between himself and other practitioners. This has allowed him to overcome difficulties and remain diligent. "That is why as a practitioner, I found attending Fa conferences is the best moment for me. In particular, I am from Europe and we lag behind practitioners from other areas and have to catch up with Fa-rectification momentum," he said.
He was very excited to hear the lecture from Master. "This is something I have anticipated for a long time. Master gave us lots of encouragement and we need to do better to fulfill our mission," he added.
Since becoming a practitioner 18 years ago, Sergejs has improved significantly both physically and spiritually. "Coming from a country being part of the Soviet Union, I fully understood the communist party would be disintegrated and the key perpetrators would be brought to justice. Whether you live in China or overseas, please stay away from lies spread by the communist regime," he added.