Practitioners Purchase Dafa Books for Their Communities
June 25, 2018 | By Minghui correspondents Zhang Yun and Hua Qing
(Minghui.org) Nearly 10,000 Falun Dafa practitioners from all over the world attended the 2018 Washington DC Falun Dafa Cultivation Experience Sharing Conference at the Capital One Arena on June 21. For themselves and for new practitioners in their communities, many attendees purchased Dafa books at the Tianti Bookstore booth at the conference.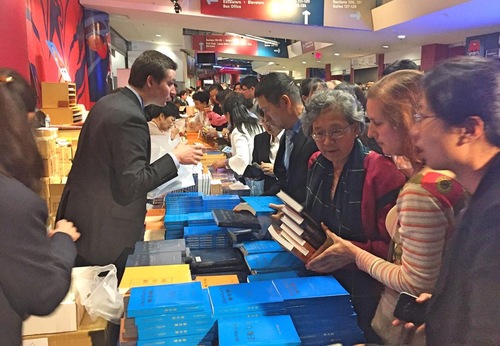 Tianti Bookstore, a specialty store of Falun Dafa books, had a booth at the 2018 Fa conference in Washington DC. Conference attendees surrounded the booth during the lunch break. Many of them were buying books for their communities.
Dafa Books in Demand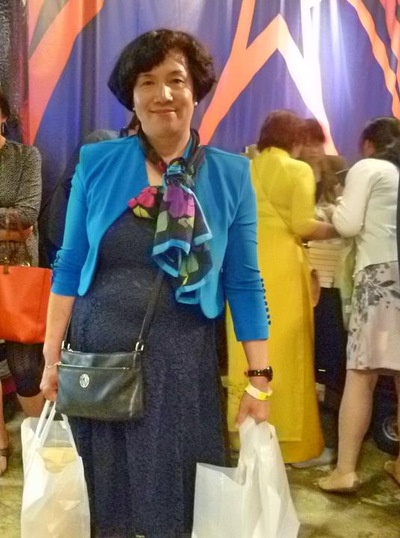 Ms. Chen from Sweden
Ms. Chen from Sweden bought 38 Dafa books. "Many subscribers of the Epoch Times in Sweden read stories of Falun Dafa practitioners in the newspaper. They were curious about Falun Dafa and wanted to have a copy of the book. I have a set of Chinese and English Dafa books, but many have been borrowed by new practitioners. Therefore I'm buying another hardcover set for letting more know about Falun Dafa."
Ms. Chen pointed out that some Chinese from mainland were also curious and wanted to read Dafa books, which are banned in mainland China as a result of the persecution. She purchased the hardcover set as a backup set for people who have predestined connections with Dafa.
Buying Books for New Practitioners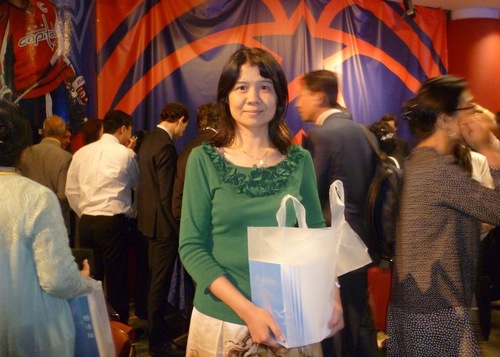 He Hui from Idaho
He Hui from Idaho bought over 10 English copies of Zhuan Falun. She said, "Many Westerners came to our group exercise site to learn Falun Dafa. I recommended them to read Zhuan Falun. Some have downloaded the book from the Internet. Some still would like to have a hard copy. I am getting these copies for them."
She shared how she started cultivation in 1996. Her mother asked her if she believed what's in the book. "I said, 'I believe the book.' Because I have found the answer to my life, I would like to refer this book to everyone I know. This is such a great book!"
Westerner Purchases Chinese Book
Scott Brown has practiced Falun Dafa for 17 years. He started his practice in Portland, Maine. He bought a Chinese Zhuan Falun, four Chinese Hong Yin, and an audio lecture in Chinese. He said he wished to read Zhuan Falun in the language it was written. He wanted to learn better the profound meanings of the Dafa book.
Zhuan Falun Changed My Life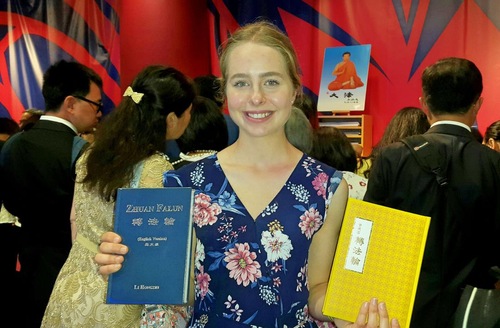 Grace Isabella from New Zealand
This conference is the first one for Grace Isabella from New Zealand. She said that she was very happy to join an international Falun Dafa conference in America and be able to purchase Dafa books.
She recalled, "At the end of October 2017, a friend brought me a copy of Zhuan Falun. He urged me to read the book. When I read the words 'Dafa' in Lunyu. I felt that I had been waiting for this moment since a very ancient time. I knew that Dafa was what I had always been hoping for!"
She smiled as she described her experience, "The principles of Truth-Compassion-Forbearance uplifted my mind. My stomach problem disappeared. I gave up cigarettes and alcohol. My grandma was very pleased with my changes; my mom, too."
She added, "I get along better with everyone around me as a result of following the teachings of Dafa."