Wang Bin from Guangdong Province Detained for More Than One Year
June 21, 2018 | By a Minghui correspondent in Guangdong Province, China
(Minghui.org) Falun Gong practitioner Mr. Wang Bin from Jiangmen City, Guangdong Province was unlawfully tried at the Pengjiang District Court on April 10, 2018. His family members received a letter from the court on June 5, informing them that the verdict would be postponed.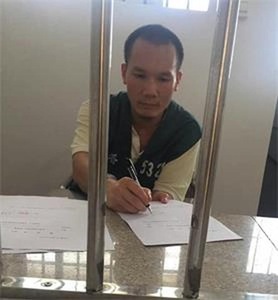 Mr. Wang Bin In Prison
Mr. Wang was arrested by police on May 22, 2017. He was forced to take a physical examination in the detention center. He was put in several heavy shackles, which forced his feet 30 inches apart. Police demanded that he climb stairs without removing the shackles. His feet bled and he suffered serious injuries.
Mr. Wang's wife, Liang Jinyou, has moved to Hong Kong. She has been trying to rescue him and bring Mr. Wang and their daughter to Hong Kong. Mr. Wang's ten-year-old daughter currently lives with relatives.
Mr. Wang's Case
Dozens of police officers from the Jiangmen City 610 Office and the Garden Police Station broke into Mr. Wang's home on May 22. 2017. They arrested Mr. Wang and his 10-year-old daughter. They were illegally detained at the Garden Police Station. The police ransacked his home and confiscated many belongings, including a cell phone, laptop, desktop computer, Falun Gong Master's portrait, Falun Gong books, and CDs related to Falun Gong. Mr. Wang's relatives were informed to get the daughter from the police station at 10:00 p.m.
Mr. Wang was detained at the Jiangmen Detention Center. The family members hired an attorney to defend him. When his attorney first met Mr. Wang at the detention center on June 20, 2017, Mr. Wang was handcuffed and looked emaciated.
Mr. Wang's case was returned twice by the Procuratorate to the police department on November 3, 2017, and December 25, 2017.
Mr. Wang was tried on April 10, 2018. The Jiangmen City 610 Office arranged for people to monitor Mr. Wang's family members and his attorney. The prosecutor, as ordered by the 610 Office, tried to have Mr. Wang sentenced to 9 years in prison.
Mr. Wang is a key target for the local 610 Office. He was charged with distributing software to break through China's internet censorship to expose the persecution of Falun Gong. He was also accused of distributing the Nine Commentaries On The Communist Party, helping people receive broadcasts from the NTD television, and raising awareness of human rights lawyers being persecuted.
Mr. Wang is currently detained at Jiangmen City Detention Center. His family is not allowed to visit him.
Refusal to Renounce Falun Gong
Mr. Wang started to practice Falun Gong in 1996. Because he refused to give up Falun Gong after the persecution started in China, he was followed, monitored and harassed. He was sentenced to a three year term in the Sanshui Labor Camp in 2000 for distributing brochures that exposed the persecution of Falun Gong.
He was held in the Sanshui Brainwashing Center for six months in 2006 for talking to people about Falun Gong.