Turkey: Falun Dafa Introduced at Environment Festival in Istanbul
June 18, 2018 | By practitioners in Turkey
(Minghui.org) Falun Dafa practitioners in Istanbul, Turkey's largest city, participated in the Environment Festival on June 2-3, 2018, to introduce Dafa to the public and teach the exercises. The festival was sponsored by the Kadıköy municipality.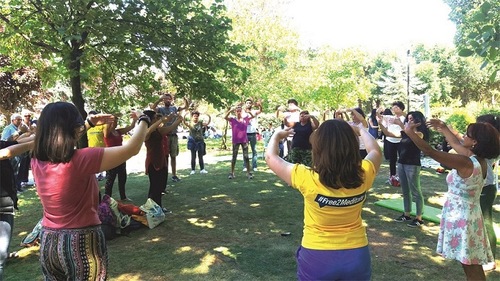 Practitioners demonstrate the Falun Dafa exercises at the Environmental Festival in Istanbul.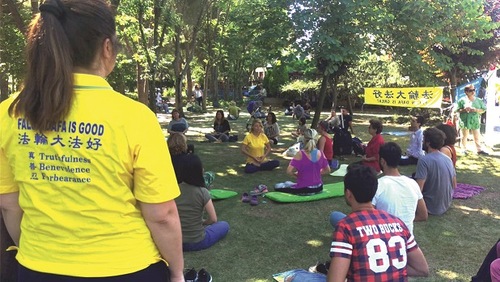 Demonstrating the meditation exercise.
Practitioners also raised awareness about the persecution of Falun Dafa in China. Many people were concerned about the Chinese Communist Party's persecution and wanted to sign the petition to help stop it. They were directed to the website to sign the petition online so as to not break the rules about signing petitions at the festival.
Some of the visitors said they saw the exercise demonstration schedule on the festival's website and had been eagerly waiting to learn them.
A practitioner invited Mrs. Deniz, who was recuperating from cancer surgery, to try the exercises. She was miraculously able to stand for 45 minutes and said she felt very peaceful afterward. She left with a big smile.
Another elderly woman in a wheelchair who had an eye impairment did her best to view the exercises and stayed for the entire hour.
Mrs. Saliha joined the practitioners to do the exercises on Saturday and said that they made her feel very comfortable. She then returned again on Sunday, very pleased to learn the exercises.
At the end of the two-day festival, municipal employees thanked the practitioners for introducing Falun Dafa at the event.