New York Falun Gong Practitioners Teach Exercises in Indian Community
June 16, 2018 | By a Falun Gong practitioner in New York
(Minghui.org) Falun Gong practitioners in New York were invited to teach the Falun Gong exercises in an Indian temple in Elmhurst in Queens on June 9, 2018. Twenty-five people of different backgrounds, most of them wearing traditional Indian clothing, learned the Falun Gong exercises with great enthusiasm.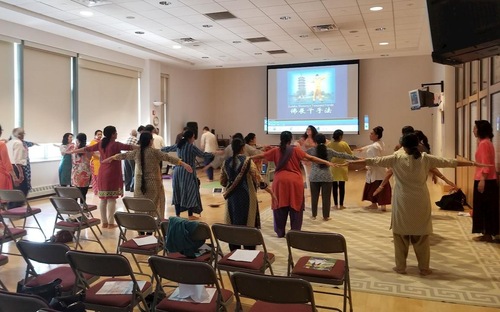 Teaching the Falun Gong exercises in an Indian temple in New York
A lady who goes to the temple had seen practitioners doing the exercises in a public place. She was very impressed and invited them to teach the exercises in her temple.
One practitioner told the gathering how practicing Falun Gong had brought about marvelous changes in her life. Her personal experience made a big impression, and when practitioners started teaching the exercises, everyone paid close attention and followed the instructions carefully. They didn't even want to take a break and continued to review the movements they had just learned. As the practitioner said "Conjoin the hands, press the palms together, and overlap the palms" in Chinese, everyone repeated the Chinese words.
After learning the exercises, some people wanted to buy Falun Gong books while others wanted to bring their families to learn the exercises.