70-Year-Old Woman Imprisoned and Mistreated for Suing Jiang Zemin
June 16, 2018 | By a Minghui correspondent in Jilin Province, China
(Minghui.org) Ms. Meng Yan, 70, is a resident of Qian'an County, Songyuan City, Jilin Province. Because she filed a criminal complaint against the former Chinese communist government head, Jiang Zemin, who started the persecution of Falun Gong in 1999, she was detained, incarcerated, and ill-treated for two years and eight months. She was released on April 20, 2018.
Several Qian'an County Domestic Security Team officers went to Ms. Meng's home on August 19, 2015, with the letter that was part of the criminal complaint she filed against Jiang Zemin. They knocked down the door and ransacked her home. They confiscated a computer, a mobile phone, a printer, 20 boxes of printing paper, a box of printer ink, a tape recorder, an MP3 player, Falun Gong books, and other assorted items. They frightened her grandson, who was there at the time.
Ms. Meng tried to explain that suing Jiang was her lawful right as a citizen and that her practice of Falun Gong was completely legal, but the officers ignored her. They took her to Qian'an County Police Department and later to Songyuan City Detention Center, where she was detained for eleven and a half months.
Ms. Meng was charged with "using a cult to sabotage law enforcement" and sentenced to three years in prison. Her appeal was denied and she was transferred to Changchun Women's Prison in August 2016.
All the Falun Gong practitioners in the prison who refused to give up their practice were forced to sit on small plastic chairs for extended periods every day, which routinely lasted from 5:30 a.m. until 10 p.m. Ms. Meng became extremely thin and her buttocks started to fester.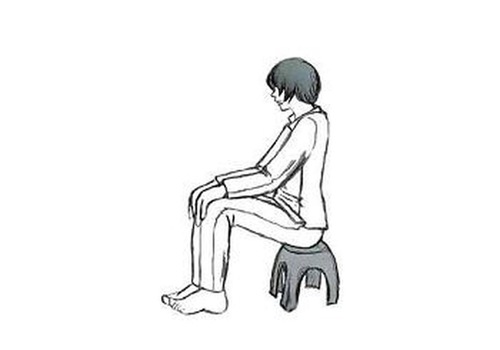 Torture re-enactment: Prolonged sitting
The guards declared that Ms. Meng had hypertension and ordered her to take pills. When Ms. Meng refused, they tried to mix the pills in her food and drink but to no avail. They injected her with an unknown drug at the prison hospital. Ms. Meng was forced to read books that slandered Falun Gong and its founder. The authorities also attempted to coerce her to renounce her practice of Falun Gong.