My Twenty Years of Connection with Taiwan
June 15, 2018 | By a Falun Dafa practitioner in Changchun, Jilin Province, China
(Minghui.org) I am from Changchun, the hometown of Li Hongzhi, Falun Dafa's Master. I have interacted with Taiwan practitioners for 20 years. I am impressed by their dedication and wish that we could have an open cultivation environment like they do.
Receiving Practitioners from Taiwan
At the end of 1997, 83 practitioners from Taiwan, Indonesia, and Canada visited Changchun for six days. I was part of the team to receive them.
The temperature was -10 F. degrees. Taiwan practitioners wore only light indoor clothing as they had never had cold weather. We gave them our winter clothes.
On Chinese New Year's day, Changchun practitioners went to Culture Square to do the exercises and the Taiwan practitioners joined us. It was cold for them and some of them didn't have gloves, but they all completed the one-hour exercises. It started to flurry during the exercises and snowed heavier later. It was quite a scene for them as they had not seen snow before.
We arranged many activities for them—group Fa study, the exercises, experience-sharing, watching the video of Changchun practitioner's First Fa Conference, a Falun Dafa demonstration for regular people, a visit to Mingfang Palace where Master held Fa lectures, and veteran practitioners' stories of Master teaching the exercises at Triumph Park.
Changchun practitioners cooked lunch and dinner at their homes and brought them to the site to save Taiwan practitioners' time. We shared a lot and every day we talked and talked. They were impressed by Changchun practitioners' cultivation spirit, how they could recite Fa teachings, and how they promoted the practice to the public.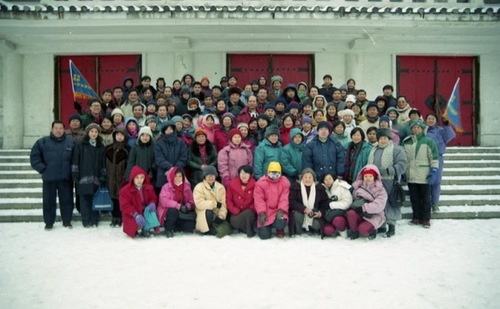 Taiwan Practitioners visited Mingfang Palace, Jilin University.
We took them from their hotels to the airport on January 3, 1998. On the way, they saw a lot of people doing the Dafa exercises and big "Falun Dafa" banners on the trees and along the road.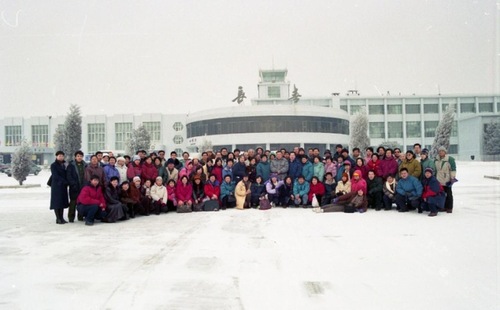 Changchun practitioners see the Taiwan practitioners off at the airport.
Hearing about the Situation in Taiwan
The Chinese Communist Party (CCP) banned Falun Dafa in 1999. We could no longer openly practice Falun Dafa in mainland China.
My school had a teaching exchange with Taiwan in early 2000. I was very excited and hoped to go there to meet a Taiwan practitioner in the education field with whom I had interacted before. This did not work out because I was not allowed to go due to my being a Falun Dafa practitioner.
When my colleagues returned from the trip, they showed me pictures of Taiwan practitioners doing Falun Dafa exercises. "Look! It's all your practitioners. So many. It's so different there. They have freedom there."
A few years ago, I ran into a neighbor at a grocery market. She grabbed my arm and said excitedly, "I joined a tour to Taiwan. There were Falun Dafa practitioners at every sightseeing location. Big poster boards and big pictures showing practitioners being tortured or even having their organs harvested in China. It is terrible, just like what you have been saying."
Shortly after the Nine Commentaries on the Communist Party was published, I received a phone call from a Taiwan practitioner, Ms. Hong Mei. She wanted to inform the people of Mainland China of the evil nature of the CCP.
I told her that I knew this already since I am a Dafa practitioner. I gave her a few numbers of my friends—one was a friend of my husband who was persecuted by the CCP during the Tiananmen Massacre and wanted revenge against the CCP. However, he didn't want to quit the CCP although I had talked to him about it many times.
The next day I went to his office. When I opened the door, he greeted me with a smile and said, "Ms. Hong Mei from Taiwan called me yesterday. We talked for over 30 minutes and I quit the CCP." I admire Hong Mei's wisdom that she could convince him in half an hour.
Visiting Taiwan
I managed to visit Taiwan this year and see Shen Yun on stage. When the tour bus drove on the highway, I saw many large "Falun Dafa is good" signs. I saw practitioners' posters set up at every scenic site. It was very moving.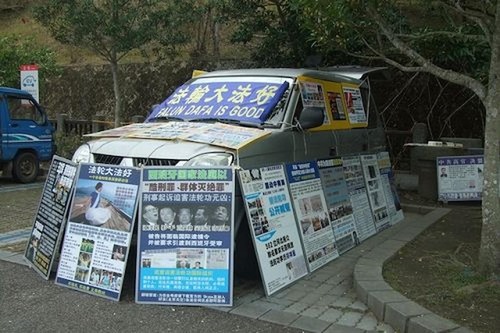 Taiwan Practitioners' Poster Boards Expose CCP's Persecution of Falun Dafa
Taiwan practitioners are devoted to telling mainland tourists what Falun Dafa really is and how it is persecuted in China. Sun-Moon Lake is far away from the city, so practitioners rented a house nearby, so they could always be there.
Practitioners at the National Palace Museum sat in the rain. Practitioners at the Shilin Official Residence (residence of former Republic of China President Chiang Kai-shek) held a poster in the rain and repeatedly called out "Falun Dafa is good!"
Sun-Moon Lake is very beautiful with blue water, a blue sky above, and surrounded by purple and pink cherry blossoms.
Master wrote "A Visit to Sun-Moon Lake" (Hong Yin, Translation Version A) in 1997:"A pool of water crystal clear,Reflecting the splendor of smoke-likeclouds here and there,Here in this chaotic world,It has kept its rare beauty."
I heard that Master traveled full circle along the Taiwan coast at that time to purify the surroundings. I recalled that when Master started teaching Dafa in Changchun, he also made a few circles around the city to clean the environment.
At the National Palace Museum, we stared at every art treasure. When Master visited the museum, he didn't take a tour guide. Instead, Master explained to the practitioners the history of these treasures, how they were made, and how to appreciate them.
We visited Wufeng Agricultural and Industrial High School in Taichung, where Master gave a Fa lecture during his visit. The campus was quiet and date palm trees rose to the sky in the center of the square. I felt the same when Taiwan practitioners visited the Mingfang Palace in 1997—sacredness.
We arrived at Sun Yat-sen Memorial Hall to watch the Shen Yun performance. Taiwan practitioners were decorating the site. A male practitioner carried a few big flower baskets to place at the entrance.
It was almost the same as when we set up the conference site at Shangri-La in Changchun on July 26, 1998, where Master gave a lecture to Changchun Assistants. Practitioners carried out big flower baskets one by one, waiting for Master to come. I couldn't hold back my tears. I told the practitioner who came with me on the trip about this and then she cried. Taiwan practitioners were in tears, too.
Each basket had greetings from a top official in Taiwan, including Tsai Ing-wen (President of Republic of China), Lai Ching-te (former Premier), Jaushieh Wu (Minister of Foreign Affairs). I was shocked. We originated from the same culture, but the two sides of the strait treated Dafa totally different. I believe this will impact people's life in the future.
It was a great experience to watch Shen Yun. When the curtain opened with the big sound of a gong, the universe showed up and my heart was opened. My tears kept coming. All I could do was just clap and clap.
Two gentlemen in their forties sat next to me. They were from the mainland, too. At first they clapped to be polite. Gradually they were absorbed and changed. One said, "The band can practice hard to be good. The dancers can practice hard to be good, but what is the most outstanding is the designer and director." When the show ended, they held their hands up overhead and clapped heartily.
I wanted to meet the practitioners who came to Changchun before. A practitioner told me that they are leading Dafa projects and may not be at the tourist sites.
That practitioner drove me to visit Ms. He, the first Taiwan Dafa practitioner, after the Shen Yun performance. I was moved when we entered Ms. He's home: on the walls were Master's picture, the new Lunyu, and a picture of practitioners' greetings to Master. I have missed this kind of wall for 20 years. It was quite a common scene in Changchun before the CCP's persecution.
Ms. He, 70, with a radiant face, told us how she regained health after coming to Jinan, Shandong Province to attend Master's Fa lecture and the miracles that happened to her and her husband when they went to the Guangzhou Fa lectures.
She brought Dafa to Taiwan and started the first exercise site at Yangmingshan National Park in 1995. Master gave two lectures in Taiwan in November 1997. After the Fa lecture, Master went to Ms. He's home to visit with her and other practitioners. He talked with them until three in the morning and then left.