Falun Gong Group Performs in Festival Parade in Coquitlam, Canada
June 15, 2018 | By Zhang Ran, Minghui correspondent in Coquitlam
(Minghui.org) Falun Gong practitioners in Canada participated in the Teddy Bear Picnic Grande Parade at Festival Coquitlam on June 10, 2018. Spectators praised Falun Gong's large and colorful procession, and were happy to learn about this ancient cultivation practice for mind and body.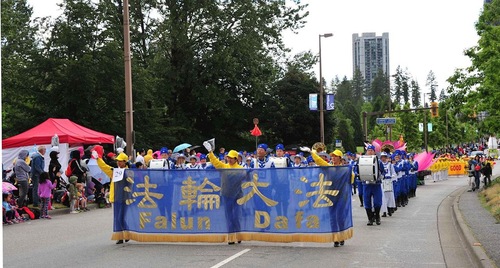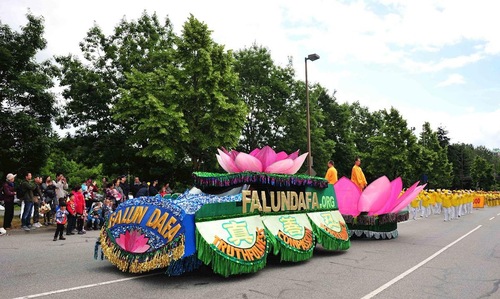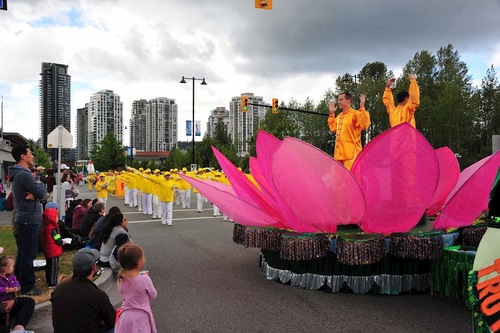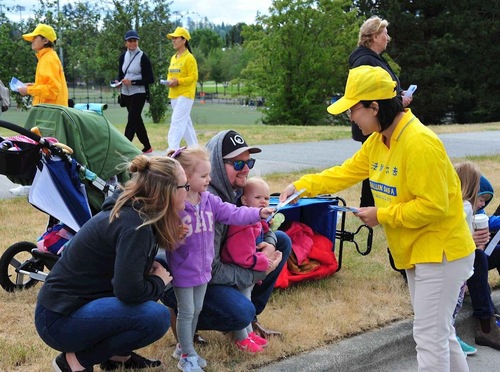 Falun Gong practitioners at Teddy Bear Picnic Grande Parade at Festival Coquitlam
The Teddy Bear Picnic Grande Parade, as part of the annual Festival Coquitlam, attracted a large number of spectators. The Falun Gong procession was headed by the Tian Guo Marching Band, followed by a beautiful lotus flower float, an exercise demonstration team, and an exuberant waist drum troupe.
A local resident named Eric told the reporter that the Falun Gong procession was impressive and unique. He especially enjoyed the float and exercise demonstration. He thought the exercises were very peaceful and empowering.
When Falun Gong practitioners passed the stage, Mr. Tom McDonald, the parade host, introduced Falun Gong as a traditional Chinese cultivation practice which had five sets of exercises, including a sitting meditation. He also mentioned that the practice teaches Truthfulness-Compassion-Forbearance, and has been introduced to more than 100 countries around the world.