Tourist from China: "Falun Gong Benefits the World!"
June 11, 2018 | By a Falun Gong practitioner in Taiwan
(Minghui.org) The National Sun Yat-sen Memorial Hall in Taipei is a must-see landmark for tourists from mainland China. Falun Gong practitioners in Taiwan have persistently reached out to visitors from the mainland, to let them know what Falun Gong truly is and to dispel the lies and negative propaganda disseminated by the communist regime. This is a rare opportunity for many people from China, because on the mainland, all news about Falun Gong is strictly censored.
When they visit Taipei, many Chinese tourists quietly read the Falun Gong exhibits outside the memorial hall, listen to practitioners talk about Falun Gong, and some ask questions. Those who learn the truth about Falun Gong are full of admiration and gratitude for practitioners' persistence in offering a new perspective.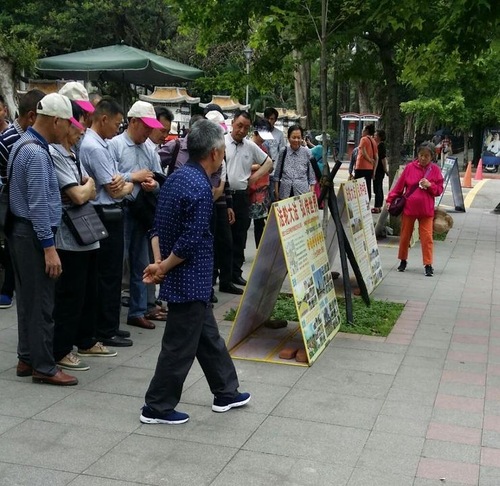 Tourists from mainland China read Falun Gong information in front of the National Sun Yat-sen Memorial Hall.
An ethnic Chinese scholar based in the United States told a Falun Gong practitioner, "Taipei isn't a big place, but I've found Falun Gong practitioners at all the tourist sites. You have truly done your best to spread the facts to people from mainland China! I have also seen Falun Gong activities at many places in New York." The scholar teaches Chinese politics at an American university. He has a strong aversion to the Communist Party's ideology and its infiltration into American campuses. The practitioner gave him a copy of "The Ultimate Goal of Communism" and a Falun Gong introductory flyer. He told the practitioner, "I stand on your side and I wish you great success! Good luck!"
A couple from Guangdong Province, China were surprised to find Falun Gong in Taipei. The man said, "Falun Gong! It's a high-level practice! I know it. What you are doing is superior! I have traveled to many places for business and I have seen and heard a lot about Falun Gong."
Three middle-aged men didn't follow their group to a nearby restaurant, and instead, they used their break to smoke and look at the Falun Gong exhibition. One of them told a Taiwanese practitioner, "We come from your Master's hometown, Gongzhuling. My mother and my uncle are elderly. They started practicing Falun Gong before the persecution began and still are. I know the truth about Falun Gong, but we can't speak about it openly."
Another man said he, too, had practiced but didn't continue after the persecution began. The Taiwanese practitioner told him that Falun Gong is practiced by people all over the world, and he reminded him to treasure his predestined relationship with Falun Gong. The third man said, "You have true freedom here. You can openly talk about it, but we would have been arrested if we did so in our city." All three of them were excited to see that Falun Gong has been so well received in Taiwan.
An elderly gentleman stayed back to read the Falun Gong information while the rest of his group entered the memorial hall. He said he knew the true story of Falun Gong. "I know it well, because people may be deceived at one time, but will eventually see things clearly when they think about what you are doing. The Communist Party only allows people to believe in the Party, obey the Party, and worship the Party. It's a dictatorship! However, there are good people in the Party. I'm a senior member of the Party."
The practitioner talked to the man further, discussing the wicked crimes of the Communist Party. The elderly man replied that he believed in gods and wouldn't identify with Marxism. He said sincerely, "Falun Gong's sacrifice will be rewarded by heaven. It's a pity so many people paid their lives, but you have benefited the whole nation, and the whole world! I'm in my old age, but I hope to see the day that Falun Gong returns to China!"
A tour guide told a practitioner that tourists from the mainland were very curious about Falun Gong and very sensitive to the topic, so they would ask the guide individually why Falun Gong was everywhere in Taiwan. The tour guide had explained to them that Taiwan was a democratic society with freedom of belief. He had also told the Chinese tourists that Falun Gong was practiced all over the world, and that the Chinese Communist Party was the only group who suppressed Falun Gong.
Another senior tour guide usually takes his groups to the Falun Gong truth-clarification booth and tells them, "Since you are now out of the country, you should check out what is different and can't be found in your country. It's Falun Gong. You may want to take a closer look here. We will gather at the Falun Gong booth after you watch the handover ceremony."
Yet another tour guide told a Falun Gong practitioner, "I always tell my groups, 'Falun Gong is a registered legal organization. They appeal to stop the Chinese Communist Party's persecution of the practice. It's a reasonable and legitimate appeal.' After hearing this, some people will tell me individually that they also practiced Falun Gong or their families had practiced Falun Gong."
Falun Gong practitioners at the truth-clarification booth always treat everyone with a sincere smile and their best wishes. They hope that all the passing tourists will be able to feel their compassion and peacefulness, and hope too that they will be able to find their predestined connection with Falun Gong soon.