Two Women Tried for Holding Firm to Faith That Returned Them to Health
June 10, 2018 | By a Minghui correspondent in Heilongjiang Province
(Minghui.org) Two women in Harbin City were recently tried for talking to people about Falun Gong, a spiritual discipline being persecuted by the Chinese communist regime.
Both Ms. Qin Aimin and Ms. Yuan Hong credit Falun Gong for returning them to health.
Ms. Qin used to suffer from rheumatic arthritis and vertigo. Her left leg festered and had a deep hole. It hurt so much that she couldn't walk. While she and her husband struggled to pay her medical bills, the couple both lost their jobs. She came upon Falun Gong in 1996, and in just a few months, all her symptoms disappeared.
Ms. Yuan's life wasn't much easier. She suffered from severe migraines and often hit her head against the wall when she could no longer bear the pain. Her poor health resulted in a bad temper, and she often fought with her husband. They eventually divorced. However, Ms. Yuan later got her life back after she began practicing Falun Gong.
Having had firsthand experience with Falun Gong, Ms. Qin and Ms. Yuan never wavered in their faith after the persecution began in July 1999. They used every opportunity to share their stories with people and tell them that Falun Gong is nothing like what was depicted by state propaganda.
They were arrested on November 19, 2017, while talking to people about Falun Gong. During their joint trial on May 30, 2018, Ms. Qin and Ms. Yuan testified in their own defense and demanded their acquittal.
Presiding judge Miao Shiyun repeatedly interrupted the two Falun Gong practitioners as they presented their defense arguments. Whenever Ms. Qin mentioned Falun Gong, Miao stopped her and said it had nothing to do with the case.
The practitioners' lawyer pointed out that the persecution was initiated by former Chinese dictator Jiang Zemin without any legal basis. Miao warned him to stop talking about who launched the persecution.
The prosecutor produced several photos that he alleged were evidence against Ms. Qin, but he did not present any physical evidence in court.
Miao adjourned the hearing without issuing a verdict.
Impact on Family
While Ms. Qin and Ms. Yuan remain detained, their family members are suffering tremendously.
Ms. Qin's father, in his 80s, was so troubled by her arrest that he lost his balance during a walk and broke his arm. He was also later diagnosed with colon cancer. Ms. Qin's mother-in-law, 92, died in distress shortly before her court hearing.
Ms. Qin's husband wrote a letter to the authorities demanding her release. Nineteen people pressed their fingerprints on the letter to show their support for Ms. Qin.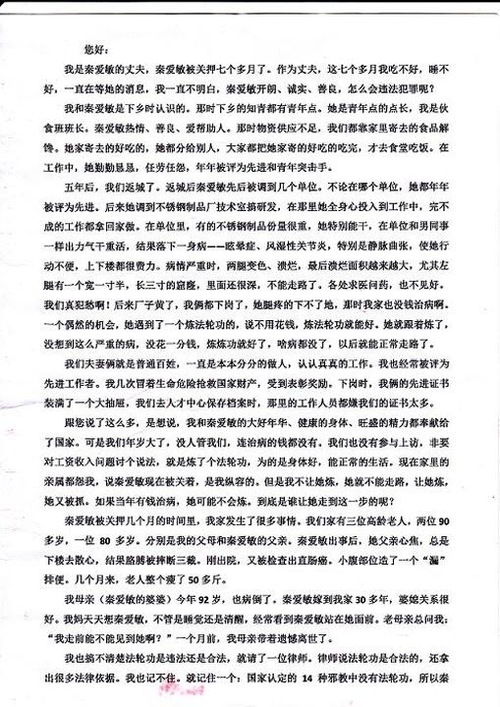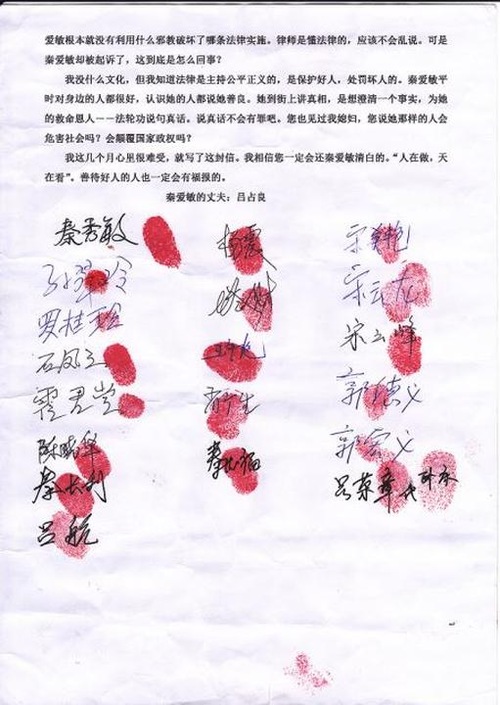 Letter from Ms. Qin's husband, with the fingerprints of other supporters calling for her release