Falun Gong Parades and Events in New York and London
June 10, 2018 | By Falun Gong practitioners in New York and London
(Minghui.org) Practitioners of Falun Gong (also known as Falun Dafa) held a parade in Long Island, New York, and a rally and march in London, United Kingdom to introduce the meditation and spiritual practice to the public.
New York: "Truthfulness-Compassion-Forbearance Is What We Need"
A waist drum team formed by practitioners was invited to participate in the 52nd Long Island Puerto Rican Day Parade in Brentwood, Long Island on June 3, 2018.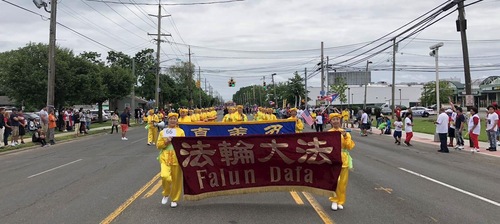 Falun Gong practitioners participate in the 52nd Long Island Puerto Rican Day Parade
Latin Americans in Long Island gather at the beginning of June every year to celebrate Latin cultures. Nearly 5,000 people participated in the celebration. Many participants danced along with the music.
Even though more than 70 organizations participated in the parade, the practitioners were the only Chinese group. It was the waist drum team's second time participating in the parade.
Spectators take photos of the waist drummers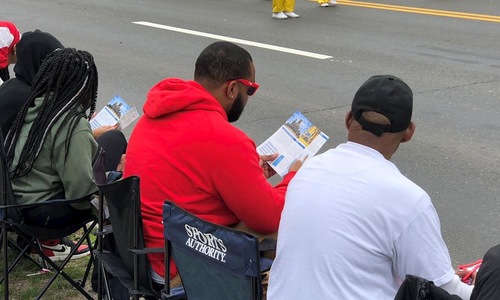 Spectators read Falun Gong flyers
Some practitioners distributed flyers on the parade route to tell people about Falun Gong and its persecution by the communist regime in China.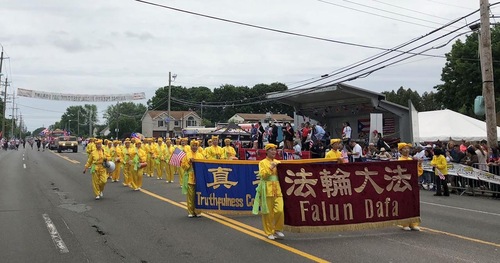 The waist drum team passes by the stage
As the waist drummers passed by the viewing stage, the host introduced Falun Gong in both English and Spanish. She said, "Truthfulness-Compassion-Forbearance is what we need today."
Rally and March in London
Falun Gong practitioners in the U.K. held a rally and march in London on June 3, 2018, to raise awareness of the persecution in China.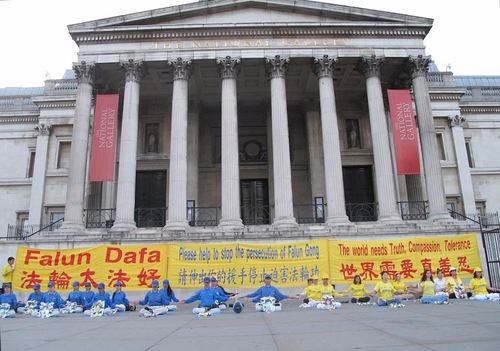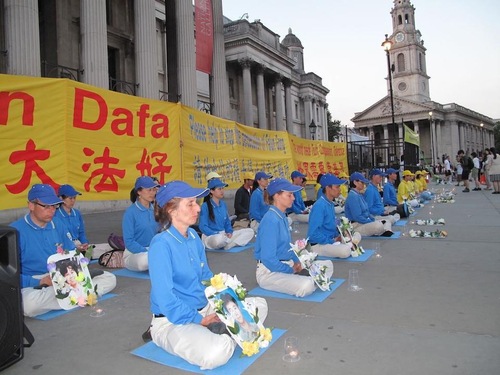 Falun Gong practitioners hold a candlelight vigil on Trafalgar Square in London on the evening of June 3, 2018.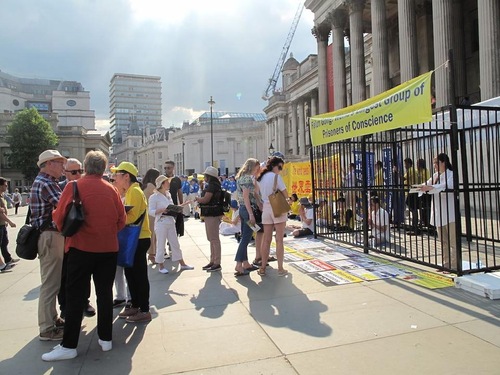 Practitioners hold events on Trafalgar Square on the afternoon of June 3.
Tian Guo Marching Band performs on Trafalgar Square.
"The energy here is very good...I have a peaceful feeling. Even the pedestrians and traffic aren't rushing around like usual," observed James Cox, a professional photographer who grew up in London. He was taking a walk after a day's work when he saw the practitioners.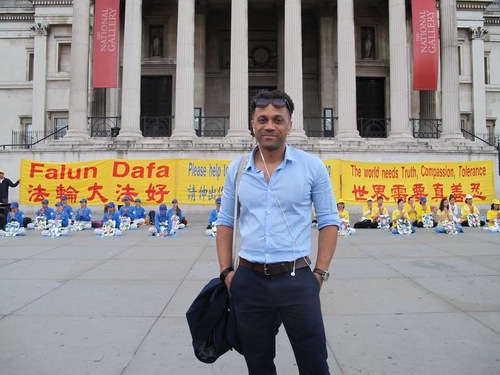 Professional photographer James Cox
Cox said he agreed with Falun Dafa's principle of Truthfulness-Compassion-Forbearance.
Practitioners also held a candlelight vigil with portraits of practitioners who had died as a result of the persecution in China. Cox said the solemn atmosphere both saddened and encouraged him. He said, "This is enormous courage in front of us. We see such pure peace. This is love, and those portraits reflect real steadfastness. This is great courage and beauty."
Cox said what he saw of Falun Gong that day inspired him to reflect on the meaning of life.
Jasvir Kaur Chohan retired as a manager in a community service center. She came from Leicester to participate in a memorial event. When she came across Falun Gong practitioners on the square, she said she felt positive energy.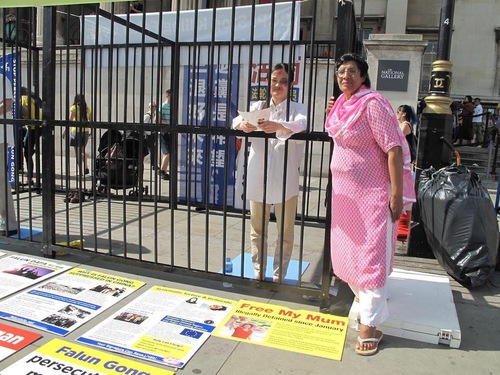 Jasvir Kaur Chohan stands with a Falun Gong practitioner.
She paused to watch the practitioners' exercise demonstration and also saw a reenactment of the torture faced by practitioners in China for their faith. She told a practitioner, "I think you must do this. Otherwise, no people will know what you do. You are doing great!"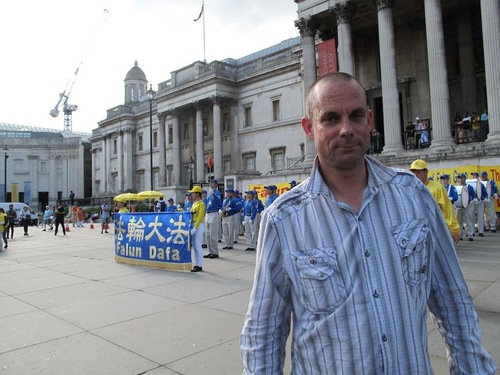 Martin Probert
Martin Probert works in London and often watches street art performances on the square on weekends. He was drawn to the Falun Gong event on the square and was particularly interested in the performance of the Tian Guo Marching Band.
"I feel a very good energy, not the kind of energy from a typical marching band, but a better energy, a more pure feeling," Probert said.
He told a practitioner, "I know practicing Falun Gong is good. I know the CCP government's treatment of Falun Gong practitioners is terrible. I want the persecution to stop."
Probert said, "London is a very stressful city. I was very nervous on the way here today because I had to change buses and subways and go through many crowds. When I saw Falun Gong, my pressure immediately disappeared. After I returned home today, I will visit the Falun Gong website. I must learn it."
Background
Falun Gong was first taught to the public in 1992. Nearly 100 million people across China were soon practicing Falun Gong after experiencing improvements in their health and character. Jiang Zemin, former head of the Chinese Communist Party (CCP), perceived the spiritual discipline's growing popularity as a threat to the CCP's atheistic ideology and issued an order to ban Falun Gong on July 20, 1999.
Minghui.org has confirmed the deaths of thousands of Falun Gong practitioners in the persecution over the past 19 years; the actual number is suspected to be much higher. More have been imprisoned and tortured for their faith. Evidence shows that the CCP harvests organs from detained practitioners, who are killed in the process, to supply the organ transplantation industry.
Under Jiang's personal direction, the CCP established the 610 Office, an extralegal security organization with the power to override the police and judicial systems and whose sole function is to carry out the persecution of Falun Gong.
Related article in Chinese: Rally and March in London