Bulgaria: "The Art of Zhen, Shan, Ren" Visits the City of Bourgas
(Minghui.org) Bogoridi Art Gallery in the Bulgarian city of Bourgas showcased "The Art of Zhen, Shan, Ren" (The Art of Truthfulness, Compassion, Forbearance) exhibition from April 28 to May 6, 2018.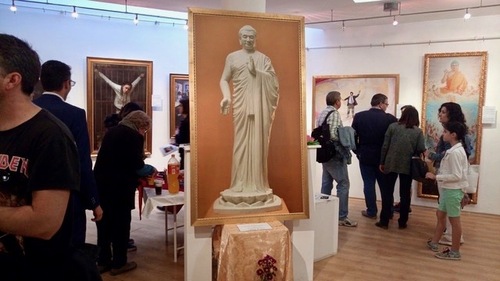 "The Art of Zhen, Shan, Ren" on display in a gallery in Bourgas, Bulgaria April 28-May 6

Amidst the downtown construction and dusty streets, the works in the gallery revealed a splendid, new world. Many visitors appeared to be pleasantly caught by surprise by the bright, beautiful paintings.
The works in "The Art of Zhen, Shan, Ren" are in a neo-renaissance style and done in oil and classic Chinese watercolors. The works are realistic, but not limited to the reality of our tangible material world. What all the artists have in common is that they follow the ancient system for cultivating body and mind called Falun Dafa (also known as Falun Gong). Some of the paintings represent their own cultivation experiences of heavenly scenes seen while in meditation or inner contemplation.
One Cannot Remain Unmoved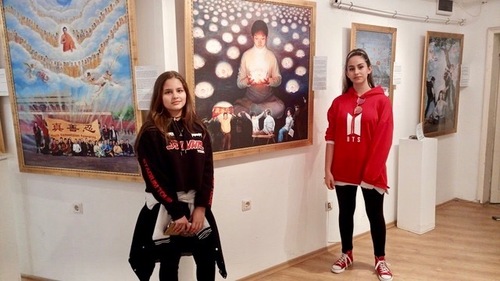 Milka and Monica wrote in the guestbook: " [The exhibition] is very touching, and we want this persecution in China to be over. We are moved to tears."

When the persecution of Falun Dafa in China began in 1999, some of the artists were held in detention centers and brainwashing centers. Once released, they wanted to share with the world through their art what the Chinese Communist Party (CCP) was doing to Falun Dafa practitioners. Many canvases display the torture methods used to try to force the practitioners to renounce their principles.
Many of the visitors were young people, while foreign visitors from Spain, Turkey, Russia, Poland, and Argentina also viewed the works. They learned about the persecution of Falun Dafa with a great deal of concern and wanted to know what could be done to stop it.
A visitor from Turkey wrote, "We had no idea that such cruelty existed." Commenting on the positive side, as practitioners have stood up for their faith despite the abuse, one visitor wrote, "I feel inspired with faith in goodness" and "I am impressed by the artworks' glow and light."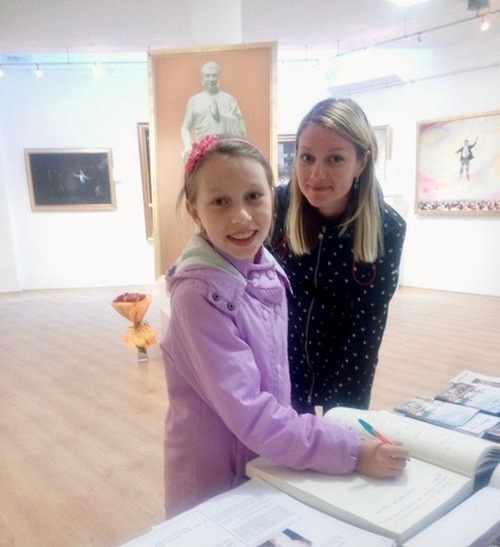 Russian mother and daughter

A woman of Russian descent wrote: "Thank you very much for the exhibition. It reminds us of philosophical truths, which we forget during the struggles of everyday life." Her 10-year old daughter added: "I liked the painting with the lotus candle the most because it symbolizes faith."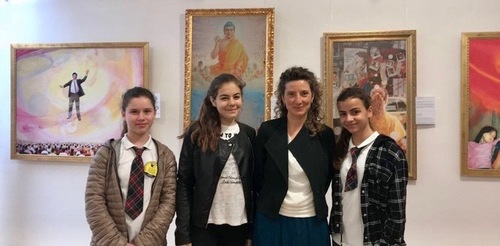 Private international school students

Students from a private high school in Bourgas had many questions about the cultivation practice and the exercises. One of the practitioners demonstrated the exercises and the students were delighted to learn.
The wife of a prominent Bourgas writer commented in the guestbook, "Each act of power has a counteract and its most divine expression is in the art. Thank you for this pleasure."