Saipan and California: Raising Awareness about the Persecution at Community Events
May 06, 2018 | By Falun Gong practitioners in Saipan and California
(Minghui.org) Falun Gong practitioners in Saipan and California recently participated in local community events to introduce Falun Gong and raise awareness of the Chinese Communist Party's (CCP) persecution of the practice in China.
Raising Awareness at the Flame Tree Arts Festival in Saipan
The 37th annual Flame Tree Arts Festival was held in Saipan, in the Northern Mariana Islands, on April 26, 2018. Local Falun Gong practitioners participated in the event to introduce Falun Gong to the public.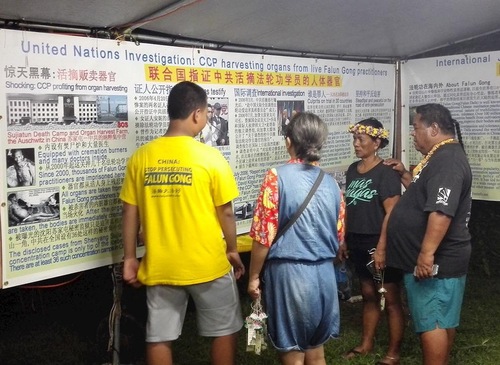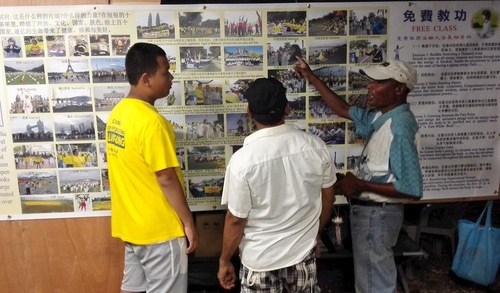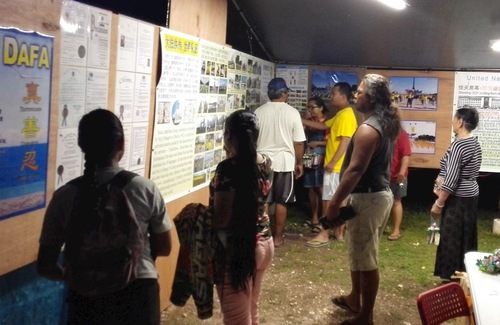 Practitioners explain Falun Gong to the public during the Flame Tree Arts Festival.
The four-day festival included various ethnic and folk art performances, traditional culture shows, and foods. Many local people and tourists attended.
One visitor stood for a long time in front of the poster boards with information about the CCP's persecution and state-sanctioned live organ harvesting. He asked many questions while reading the posters. He said before leaving, "The persecution must be exposed so more people know and bring the perpetrators to justice."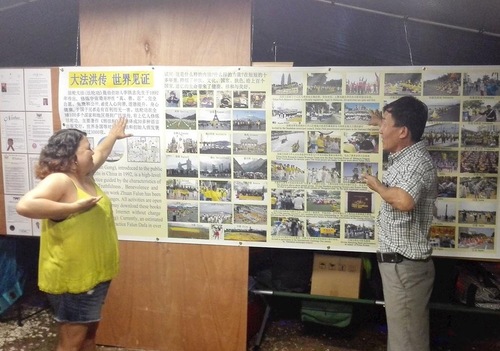 A lady learns Falun Gong.
The practitioners distributed flyers and advised Chinese people to quit the CCP and its affiliated organizations. Some Chinese visitors renounced the Party on the spot.
Introducing Falun Gong in Sacramento, California
Falun Gong practitioners participated in the sixth health expo organized by Hmong Health Alliance at California State University in Sacramento on April 29, 2018. They taught the exercises during the event, conducted workshops, and had a screening of the documentary film Free China.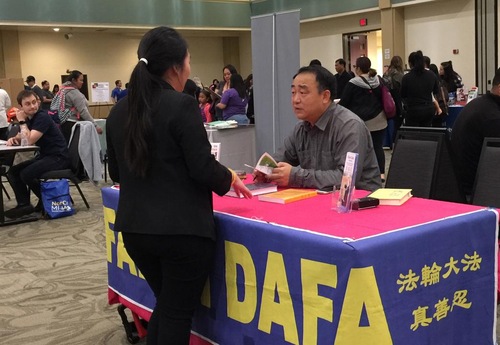 Falun Gong practitioners participate in the health expo at California State University in Sacramento on April 29, 2018.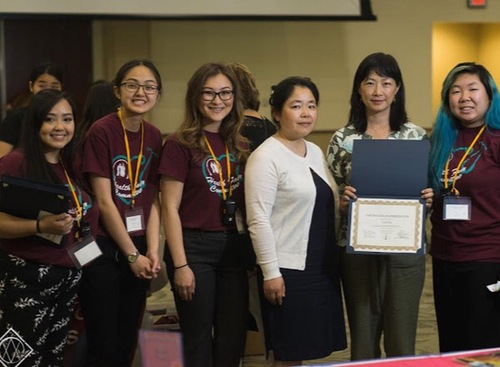 Organizers of the event issued an appreciation note to thank the practitioners for their participation.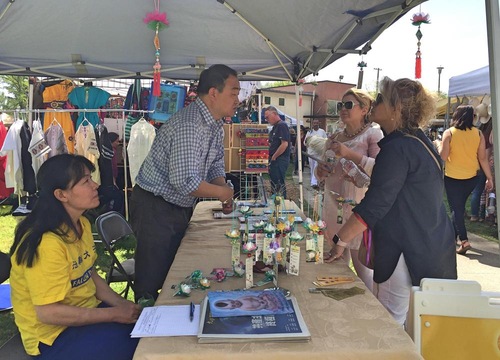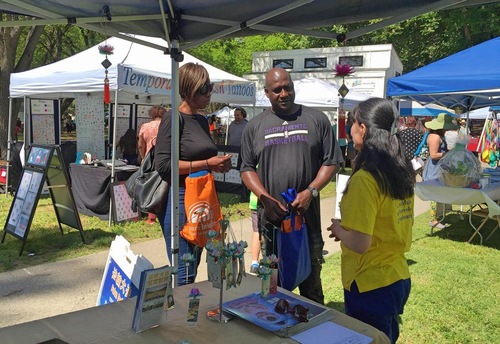 Practitioners introduce Falun Gong to the public on the Earth Day in Sacramento, California on April 22, 2018.
April 22 was International Earth Day, during which environmental protection organizations held a series of events to promote care and protection of the environment. Falun Gong practitioners were invited to participate in the celebration events.
One lady said while accepting a Falun Gong flyer, "I wished to learn the exercises long time ago. But I am always busy. I cannot delay it anymore."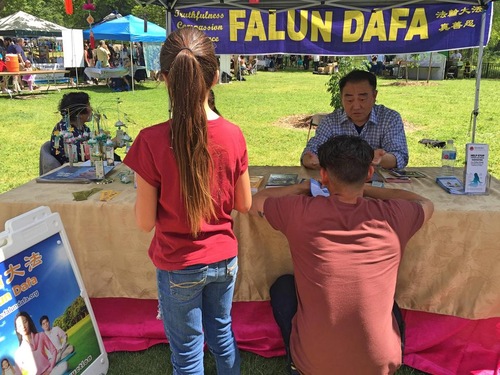 Carl talked with a Falun Gong practitioner for a long time and took a break by squatting down. His daughter waited at his side.
Carl is a young man who said he was seeking the real meaning of life. While listening to a practitioner explain the Falun Gong principles, he became interested and asked many questions. He said he would learn more after going home.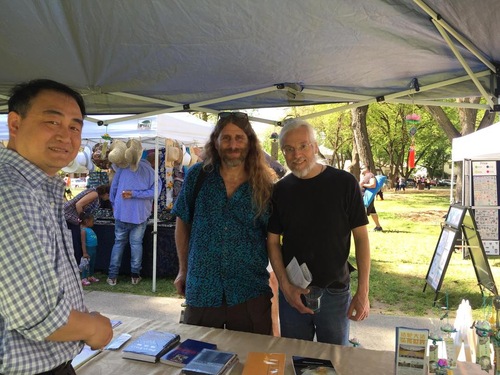 Michael and his colleague from Golden Road Media talk with a practitioner at the Falun Gong booth.
Michael and a colleague said they were independent producers for Golden Road Media. They knew about Falun Gong and came by to greet the practitioners at the Falun Gong booth. They warmly invited the practitioners to introduce Falun Gong at the radio station.
Related article in Chinese: Introducing Falun Gong in California Capitol