Canada: Introducing Falun Dafa to Communities in Quebec and Vancouver
May 31, 2018 | By Minghui corespondents in Canada
(Minghui.org) Over the past weekend, Canadian practitioners joined a march at Quebec City on May 26 to celebrate World Falun Dafa Day. Across the country, practitioners in Vancouver attended the Hyack International Parade at New Westminster. Both events were well received and many passersby signed petitions calling for an end to the persecution of Falun Dafa in China.
Quebec City, Quebec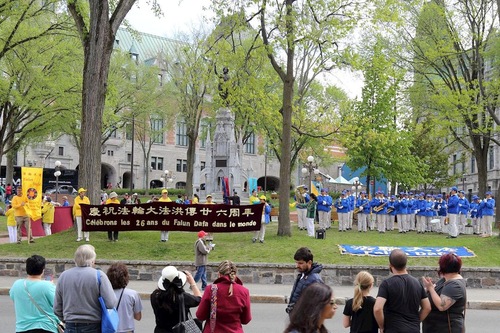 Practitioners celebrated World Falun Dafa Day in Quebec City on May 26.
The march started at Place de l'Assemblée-Nationale at 11 a.m. on May 26 and followed a route on the business streets of Grande-Allée and St-Jean in the Old City, a UNESCO World Heritage Site, to end at the landmark Chateau Frontenac.
Veronica, a Laval University student, was pleased to accept information and a hand-made paper lotus flower from a practitioner. "I will show this to my friend in China," she said. She was disturbed to hear about the persecution in China.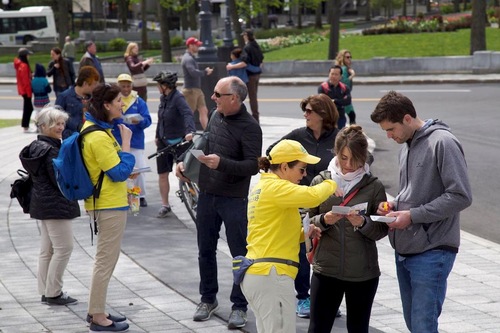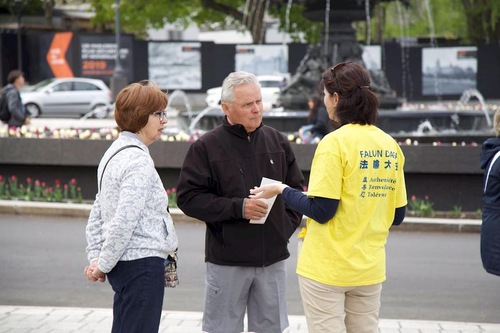 Passersby talk with practitioners to learn about Falun Dafa.
A rally was held after the march at Parc Place D'armes. Speakers talked abou Falun Dafa and the persecution in China in French, English, and Chinese. Quite a few people talked with practitioners and signed petitions calling for an end the suppression.
Richard Harvey, a marketing director in a consulting firm, was surprised to read about forced organ harvesting in China. He often traveled internationally, but what he saw on the posters astonished him. "In the past, I only associated organ trafficking with criminals. But such this large-scale, state-sanctioned forced organ harvesting is beyond my imagination," he said. He thanked practitioners for raising awareness of this important issue.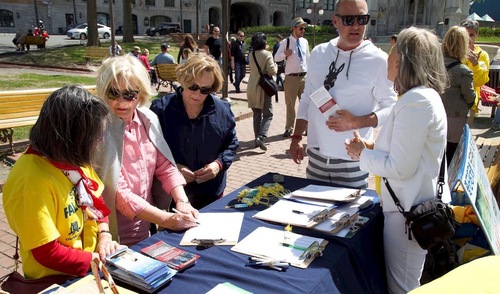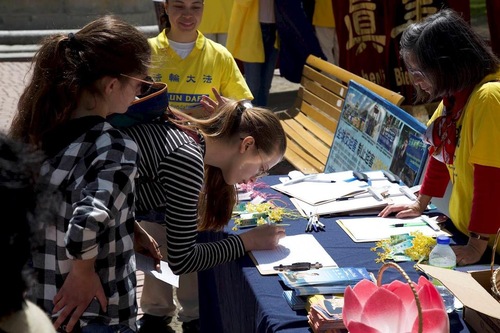 People talked with practitioners and signed petitions to stop the persecution.
Several practitioners at the event shared their understandings of World Falun Dafa Day. A co-worker gave Paryse Girard a pamphlet 7 years and she started to read Zhuan Falun afterward. "I immediately knew that Falun Dafa was something I had been waiting for my entire life. That was why I was so excited." She said Falun Dafa taught her to handle life's difficulties and provided sound guidance.
Lauriane Thivierge, another practitioner who lives in Quebec, said she has been a practitioner since 2005. "I am grateful to Master Li for introducing Falun Dafa. The principles of Truthfulness-Compassion-Forbearance help us to become a better person, both physically and spiritually."
Vancouver, British Columbia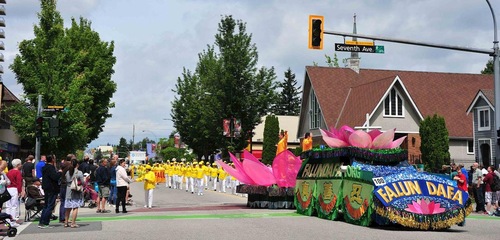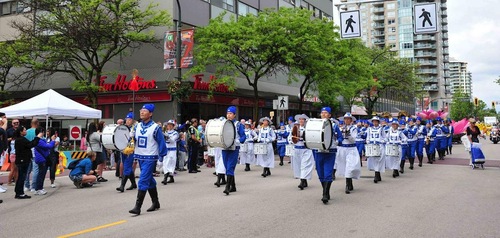 Practitioners participated in the Hyack International Parade on May 26, 2018.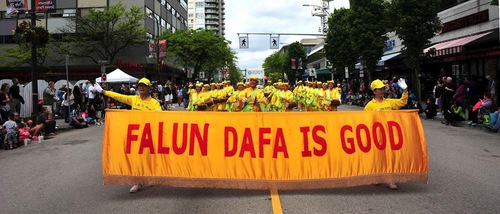 Waist drum performance.
More than 120 groups participated in the annual Hyack International Parade on May 26 at New Westminster in suburban Vancouver. Falun Dafa's Tian Guo Marching Band, waist drums, and float were especially popular.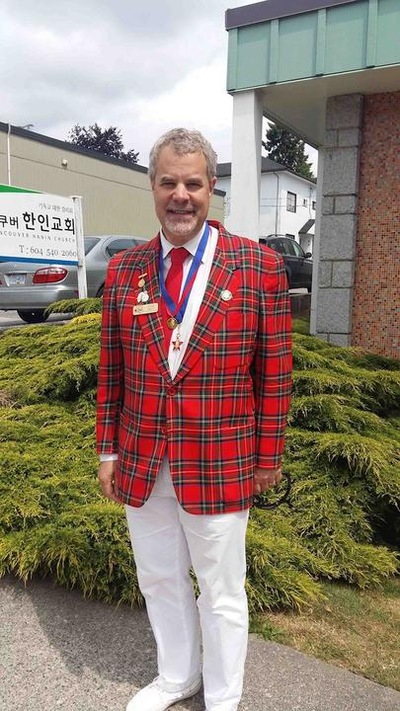 David Brett, President of the Hyack Festival Association, thanked practitioners for their contribution to the community.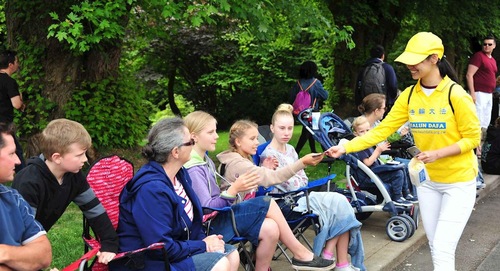 Spectators interested in learning about Falun Dafa
David Brett, President of the Hyack Festival Association, said the parade was a big event in the west coast, with spectators from other cities in British Columbia and the United States. He praised practitioners for their good training, excellent performance, and traditional values reflected in the programs.
As practitioners marched to the state, one host explained Falun Dafa is based on traditional Chinese culture and is practiced in about 100 countries. Maria, who is new to Westminster, clapped along with the music. She liked the band's bright colors and beautiful music. She'd heard about the persecution in China and expressed her hope that it would end soon.
Another spectator, Andria, learned the exercises by following the practitioners' movements. She said the exercises made her feel good. Pointing to the float that said "Truthfulness, Compassion, Forbearance," she remarked, "This is my favorite. It's the best float I have ever seen."
Related article in Chinese:http://www.minghui.org/mh/articles/2018/5/28/"感谢法轮大法来到海悦节游行并给社区带来美好"(图)-368112.html