Veterinarian Detained for Seeking Release of Elderly Falun Gong Practitioner
May 03, 2018 | By a Minghui correspondent in Hebei Province, China
(Minghui.org) Mr. Zhang Hemin, a veterinarian from Qinhuangdao City, was arrested after calling for the release of an elderly woman who was arrested for her belief in Falun Gong.
Officers from the Lichang County Domestic Security Division and Xinji Police Station arrested him on December 21, 2017.
Mr. Zhang and other practitioners and villagers in Lichang County had risked their safety to be interviewed on video in which they called for the release of 70-year-old practitioner Mrs. Wang Shaoping from Lichang County.
Mrs. Wang was arrested with practitioners Zhou Zhencai and Jing Fenglan for clarifying the truth about Falun Gong at an outdoor market in Xinji Town on August 6, 2017.
The interview video was published on the Minghui website on December 9, 2017. The Lichang County Chinese Communist Party (CCP) personnel broadcasted photos of the villagers and practitioners to all other towns to identify them.
Then, Gao Jieli, the head of the domestic security division in the Lichang County Police Department, over 20 domestic security officers and local police from the Matuodian Police Station arrested villagers He Yonginag, He Xide and Li Guoxing, as well as Falun Gong practitioners Mr. Zhang Hemin, He Yongfang, Li Yanjun, Wang Xiuhua and Li Dongyun.
Forced Labor and Torture
Mr. Zhang was detained many times in the past and tortured for his belief in Falun Gong.
He was detained at Xinji Township Hall for three days by police Hu Zhenming on July 21, 1999.
He also was forced to attend a forum held by Xinji Town about Falun Gong in August 1999. The practitioners spoke in support of Falun Gong during the forum and county officials secretly recorded them. Then they altered the footage of Mr. Zhang and broadcasted it countywide to malign him, slander his faith, and deceive the public.
He was detained at Lichang County Detention Center starting on September 7, 1999 for a month. The guards ordered other detainees to beat Mr. Zhang. Then, he had to perform hard labor. When not meeting the quota of making matchboxes he was deprived of food and sleep.
The guards extorted money to pay for detention expenses and kept the remainder.
Mistreated and Tortured
Mr. Zhang was detained at the Lichang County Brainwashing Center for nearly two months from June to July 2000. He was forced to watch videos that slandered Falun Gong and its founder, and listen to high-pitched sounds.
Other torture methods such as standing for a long time, as well as threats and harassment by guards were a common occurrence. He was even forced to pay a fee to cover the expenses of keeping him at the brainwashing center. Family visits were denied.
Mr. Zhang was taken by Xinji Town officials and the local police to the police station in May 2001 for a meeting, and detained on arrival.
They handcuffed him, threw him in the car trunk and took him first to the Lichang Police Department, and then to the Haigang Police Department in Qinhuangdao City.
He was handcuffed with his arms behind his back and tied to an iron chair at the Haigang Police Department. He was deprived of food.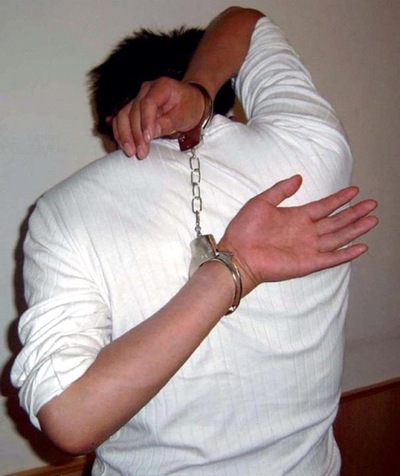 Torture re-enactment: Cuffed with arms behind the back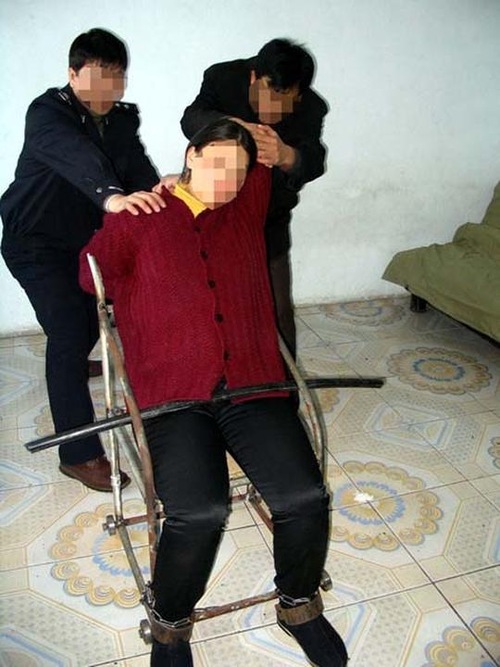 Torture re-enactment: Iron Chair
Two officers brutally beat Mr. Zhang, threw him to the ground, jumped on his body, pulled his hair, and slammed his head against the wall. They slapped his face, and tried to suffocate him.
His right hand was injured from the torture and he could not hold anything for over a month.
Home Confiscated
Mr. Zhang was later detained at Lichang Brainwashing Center for three months, and then transferred to the Xiaowan Brainwashing Center in Shanhaiguan City.

He went to the Xinji Town Police Station to arrange for the residence registration for his child on March 9, 2006. Officer Chen Jiangtao was slandering Falun Gong. Mr. Zhang tried to explain the facts about Falun Gong, so the officer detained him at the police station. The police also confiscated his home that day.
Domestic Security Head Gao beat Mr. Zhang in front of the police force. Then, he was detained at the county detention center for 15 days. It was extended to 30 days, because he supposedly had practiced the Falun Gong exercises while in detention. The guards beat his hands and lower legs with a police baton.
Then, he was detained at the county brainwashing center for over three months where he was force-fed. He was put on a board and a tube inserted through his nose. It was extremely painful. He had convulsions and was dizzy. Then, the center extorted money from his family.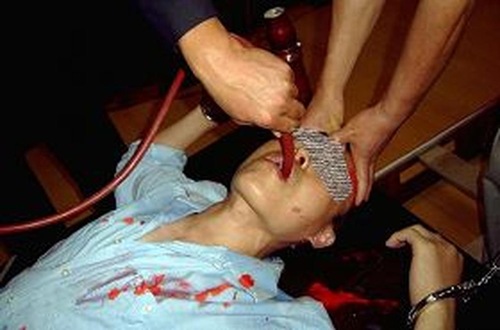 Torture Re-enactment: Forced feeding
Harassment During Beijing Olympics, Family Broken
During the Beijing Olympics in 2008, officials Li Delong and Li Jianhua from Xinji Town, as well as local police officers Zhao Yanguang and Zhao Kai harassed Mr. Zhang numerous times. They arrested him and ransacked his home.
Then, he was ordered to report to the former village CCP Party Secretary Xu Liguo on a daily basis.
Xu Liguo and officials Bai Yong and Li Delong of Xinji Town 610 Office harassed Mr. Zhang at his home on October 17, 2012.
Mr. Zhang's family suffered great financial loss and was under extreme mental pressure as a result of the constant harassment and detentions. Given the tremendous pressure, his wife divorced him.
Healed by Falun Gong, Pillar of the Community
After Mr. Zhang started practicing Falun Gong, he recovered from all his illnesses, including from cervical spondylosis, prostatitis, rheumatism and bronchitis.
More importantly, he became a better person and reconciled with his father after 20 years of resentment between them.
Mr. Zhang follows the principles of Truthfulness-Compassion-Forbearance and thinks of others' needs first. The rates he charges at his veterinarian clinic are very reasonable. He is well-liked. He often provided free services to elderly and poor villagers.
Participants in the persecution of Mr. Zhang:
Yang Jiandong (杨建东), chief, Lichang County Police Department, and Lichang County deputy mayor: +86-13582820989
Gao Jieli (高接力), captain, Lichang County Domestic Security Team: +86-15930035217
Chang Xingliang (常兴良), director, Lichang County 610 Office: +86-3352982289, +86-15033352688, +86-13933632020
Related articles:#17. [Changli, Hebei Province] Ms. Wang Zhanyuan and Zhang Hemin Persecuted#11. [Changli County, Hebei Province] Practitioner Mr. Zhang Hemin from Xinji Town Arrested#21. [Qinhuangdao City, Hebei Province] Mr. Zhang Hemin Harassed#1. [Qinhuangdao City, Hebei Province] Several Practitioners Arrested