Switzerland: Falun Gong Signature Collection Receives Public Support in Lucerne
May 29, 2018 | By a Falun Gong practitioner in Switzerland
(Minghui.org) Falun Gong practitioners in Switzerland held activities on Loewenplatz in Lucerne on May 18, 2018, to introduce the self-cultivation and meditation practice, raise awareness of its persecution by the Chinese Communist Party, and collect petition signatures calling for an end to the persecution in China. They received great support from local residents and tourists.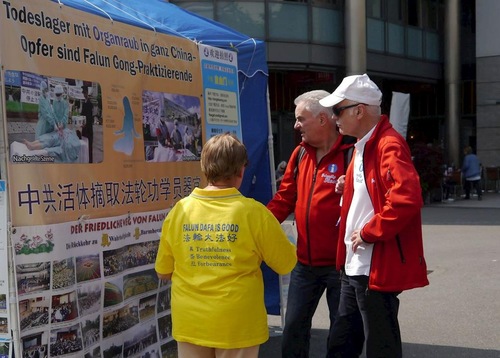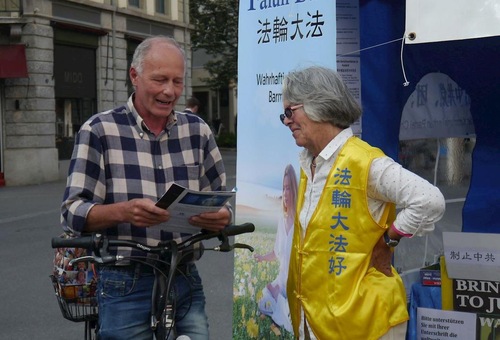 Passersby talk with practitioners to learn more about Falun Gong.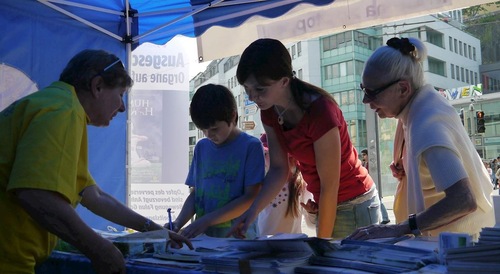 Petition calling for an end to the persecution in China
Many people, including those from China, stopped to find out more about Falun Gong and the persecution. They condemned the crimes committed by the communist regime in China, including its harvesting of organs from living practitioners imprisoned for their faith.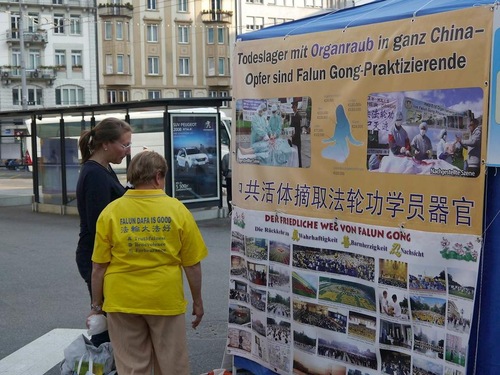 Naomi (left) reads about Falun Gong
Naomi, a local accountant, talked with a practitioner for a long time. She signed the petition and expressed her support for the prosecution of Jiang Zemin, the former head of the CCP who ordered the persecution. Naomi said the organ harvesting atrocities are an affront to humanity. She told a practitioner, "It's terrible that people don't have the freedom to do such a good practice, and they even get persecuted. The persecutors are actually very weak. Otherwise, they wouldn't have persecuted these peaceful people. The persecution won't last!"
She added, "These practitioners are brave. I admire them very much! They have done a great job, improving themselves and spreading the information! To put up with different reactions of people, they must be very thoughtful of others. They are so brave! What they are doing will make a difference!"
A woman named Luedin carefully read the Falun Gong posters. Even though she doesn't usually sign public petitions, she immediately decided to sign this one to call for an end to the CCP's organ harvesting. She said, "Harvesting organs from living people is appalling! They [practitioners] hold a good wish, but they are tortured and killed for their organs... I'm deeply saddened."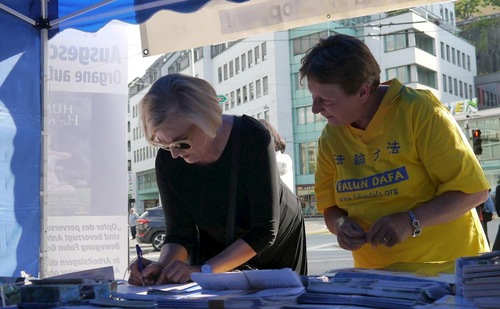 Local resident Krauer signs the petition.
Krauer, a local resident, signed the petition and said, "Self-cultivation is great. I can't understand why it's suppressed. Organ harvesting is a terrible crime! It shouldn't have happened." She encouraged practitioners to continue their efforts and said she was happy to give them her support.