Pennsylvania and Delaware: Elected Officials Congratulate and Proclaim World Falun Dafa Day
May 27, 2018 | By Minghui correspondents in Pennsylvania and Delaware
(Minghui.org) United States Senators and Congressmen for Pennsylvania and Delaware, along with the Pennsylvania governor and Philadelphia city mayor have extended their congratulations for World Falun Dafa Day to Falun Dafa associations. Their letters and proclamations praised Falun Dafa and practitioners for their principles of Truthfulness, Compassion, and Forbearance, and recognized their great contribution to communities.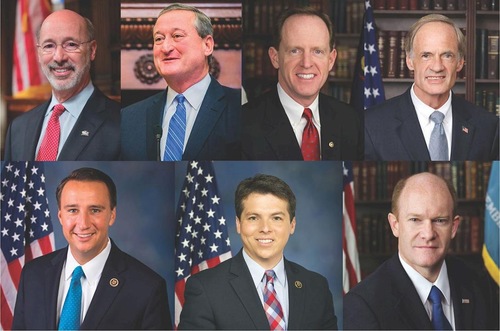 First row (left to right): Pennsylvania Governor Tom Wolf, Philadelphia Mayor James Kenney, US Senator Patrick Toomey of Pennsylvania, and US Senator Thomas Carper of Delaware. Second row (left to right): US Congressmen Ryan Costello and Brendan Boyle of Pennsylvania, and US Senator Christopher Coons of Delaware.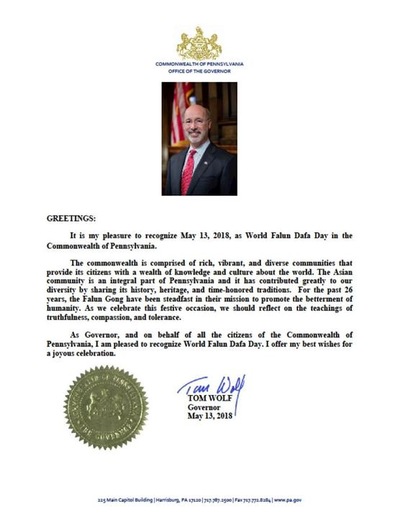 Pennsylvania Governor Tom Wolf's congratulatory letter.
Pennsylvania Governor Tom Wolf wrote in his letter, "The commonwealth is comprised of rich, vibrant, and diverse communities that provide its citizens with a wealth of knowledge and culture about the world. The Asian community is an integral part of Pennsylvania and it has contributed greatly to our diversity by sharing its history, heritage, and time-honored traditions. For the past 26 years, the Falun Gong have been steadfast in their mission to promote the betterment of humanity. As we celebrate this festive occasion, we should reflect on the teachings of truthfulness, compassion, and tolerance.
"As Governor, and on behalf of all the citizens of the Commonwealth of Pennsylvania, I am pleased to recognize World Falun Dafa Day. I offer my best wishes for a joyous celebration."
Proclamation issued by Philadelphia City Mayor James Kenney.
Philadelphia City Mayor James Kenney proclaimed Sunday, May 13, 2018 to be World Falun Dafa Day in Philadelphia, and commended the Greater Philadelphia Falun Dafa Association for organizing this event to recognize those who advocate for the right to practice the teaching of Falun Dafa.
The proclamation noted, "Philadelphia, the City of Brotherly Love, is a shining example for the rest of the world in how we encourage and maintain an environment of peace, tolerance, and compassion for all people. As the first World Heritage City in the nation, our City is enormously proud of its diversity and of what all pockets of our population can teach their fellow Philadelphians about their culture. One shining example is World Falun Dafa Day when we celebrate these attributes that we hold dear and recognize those who practice Falun Dafa in China and around the world.
"Rooted in Chinese spiritual tradition, Falun Dafa, also called Falun Gong, was first taught publicly in China in 1992 by Li Hongzhi, the founder of the practice, who has been honored with multiple awards, including being nominated for the Nobel Peace Prize and Sakharov Prize for Freedom. Today, Falun Dafa is practiced by more than 70 million adherents in over 120 countries worldwide by people of all ages and backgrounds. It is always taught free of charge by volunteers and can be practiced individually or in groups."
Unites States Senator Patrick Toomey issued a Certificate of Special Recognition to the Greater Philadelphia Falun Dafa Association for commemorating World Falun Dafa Day and the 26th Anniversary of Falun Dafa.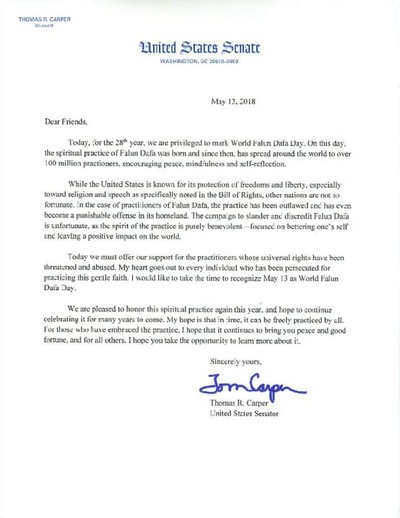 US Senator Thomas Carper's Congratulation on World Falun Dafa Day.
US Senator Thomas Carper wrote in his letter, "...we are privileged to mark World Falun Dafa Day. On this day, the spiritual practice of Falun Dafa was born and since then, has spread around the world to over 100 million practitioners, encouraging peace, mindfulness and self-reflection.
"While the United States is known for its protection of freedom and liberty, especially toward religion and speech as specifically noted in the Bill of Rights, other nations are not so fortunate. In the case of practitioners of Falun Dafa, the practice has been outlawed and has been become a punishable offense in its homeland. The campaign to slander and discredit Falun Dafa is unfortunate, as the spirit of the practice is purely benevolent – focused on bettering one's self and leaving a positive impact on the world.
"Today we must offer our support for the practitioners whose universal rights have been threatened and abused. My heart goes out to every individual who has been persecuted for practicing this gentle faith. I would like to take the time to recognize May 13 as World Falun Dafa Day.
"We are pleased to honor this spiritual practice again this year, and hope to continue celebrating it for many years to come. My hope is that in time, it can be freely practiced by all. For those who have embraced the practice, I hope that it continues to bring you peace and good fortune, and for all others, I hope you take the opportunity to learn more about it."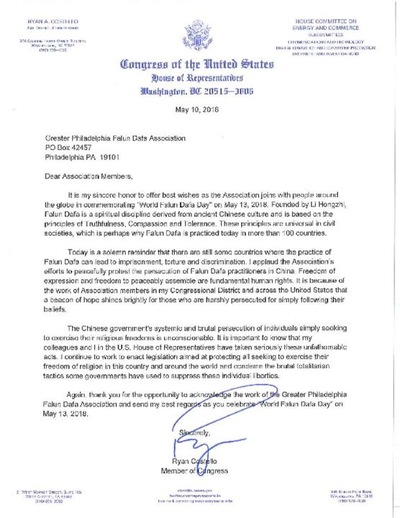 Letter from Congressman Ryan Costello.
Congressman Ryan Costello pointed out in his congratulatory letter, "Today is a solemn reminder that there are still some countries where the practice of Falun Dafa can lead to imprisonment, torture and discrimination. I applaud the Association's efforts to peacefully protest the persecution of Falun Dafa practitioners in China. Freedom of expression and freedom to peaceably assemble are fundamental human rights. It is because of the work of Association members in my Congressional District and across the United States that a beacon of hope shines brightly for those who are harshly persecuted for simply following their beliefs.
"The Chinese government's systematic and brutal persecution of individuals simply seeking to exercise their religious freedom is unconscionable. It is important to know that my colleagues and I in the U.S. House of Representatives have taken seriously these unfathomable acts. I continue to work to enact legislation aimed at protecting all seeking to exercise their freedom of religion in this country and around the world and condemn the brutal totalitarian tactics some governments have used to suppress these individual liberties.
"Again, thank you for the opportunity to acknowledge the work of the Greater Philadelphia Falun Dafa Association and send my best regards as you celebrate 'World Falun Dafa Day' on May13, 2018."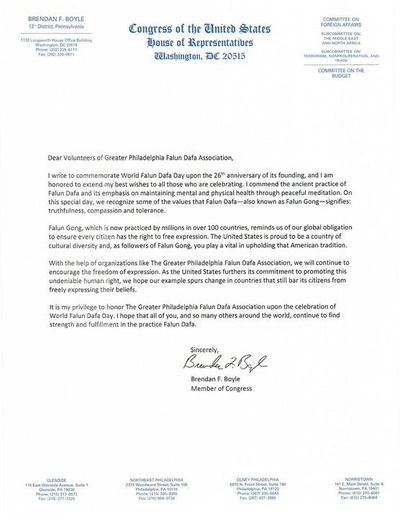 Letter from Congressman Brendan Boyle.
Congressman Brendan Boyle extended his best wishes to Falun Gong practitioners. He wrote, "I commend the ancient practice of Falun Dafa and its emphasis on maintaining mental and physical health through peaceful meditation. On this special day, we recognize some of the values that Falun Dafa – also known as Falun Gong – signifies: truthfulness, compassion and tolerance...
"With the help of organizations like The Greater Philadelphia Falun Dafa Association, we will continue to encourage the freedom of expression. As the United States furthers its commitment to promoting this undeniable human right, we hope our example spurs change in countries that still bar its citizens from freely expressing their beliefs."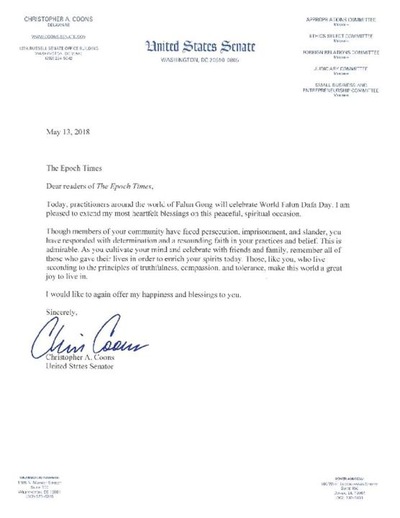 Letter from US Senator Christopher Coons.
US Senator Christopher Coons expressed his congratulations and admiration of Falun Gong practitioners in his letter, "Though members of your community have faced persecution, imprisonment, and slander, you have responded with determination and a resounding faith in your practices and belief. This is admirable. As you cultivate your mind and celebrate with friends and family, remember all of those who gave their lives in order to enrich your spirits today. Those, like you, who live according to the principles of truthfulness, compassion, and tolerance, make this world a great joy to live in."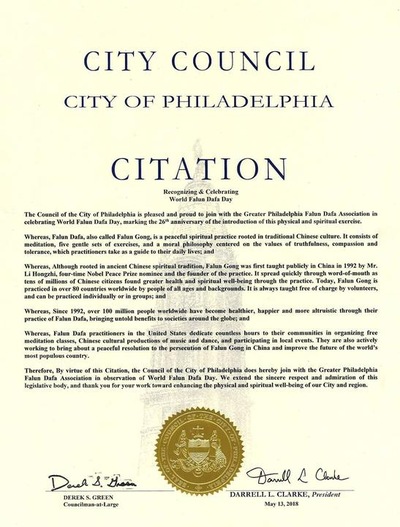 Philadelphia City Council's citation recognizing and celebrating World Falun Dafa Day.
The Philadelphia City Council issued a citation recognizing and celebrating World Falun Dafa Day. It stated, "Falun Dafa practitioners in the United States dedicate countless hours to their communities in organizing free meditation classes, Chinese cultural productions of music and dance, and participating in local events. They are also actively working to bring about a peaceful resolution to the persecution of Falun Gong in China and improve the future of the world's most populous country.
"Therefore, By virtue of this Citation, the Council of the City of Philadelphia does hereby join with the Greater Philadelphia Falun Dafa Association in observation of World Falun Dafa Day. We extend the sincere respect and admiration of this legislative body, and thank you for your work enhancing the physical and spiritual well-being of our City and region."