Celebrating World Falun Dafa Day in Québec
May 26, 2018 | By a Falun Dafa practitioner in Canada
(Minghui.org) Falun Dafa practitioners in Sherbrooke, Québec held a celebration of World Falun Dafa Day in Jacques Cartier Park on May 19, 2018, marking the 26th anniversary of Falun Dafa's public introduction. MP Pierre-Luc Dusseault and local supporters attended the celebration to express their support.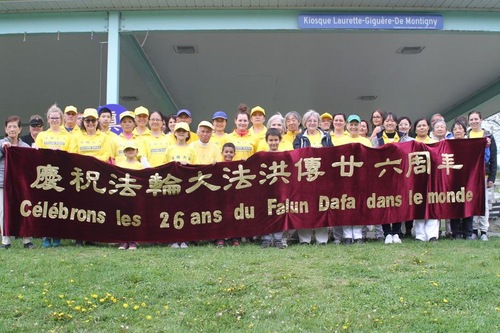 Falun Gong practitioners in Sherbrooke and surrounding areas celebrate World Falun Dafa Day.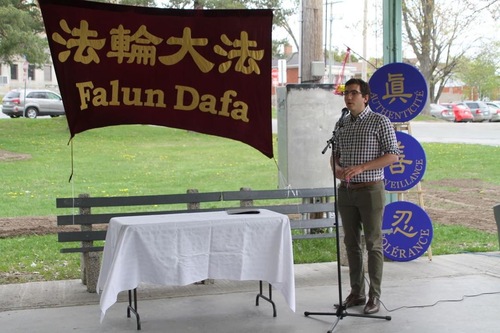 MP Pierre-Luc Dusseault gives a speech at the World Falun Dafa Day celebration.
MP Pierre-Luc Dusseault said at the celebration that he was very happy to gather with Falun Gong practitioners at this special occasion, and it was a great opportunity to tell people in Sherbrooke about Falun Dafa and the persecution in China. He called the persecution of innocent people following Truthfulness-Compassion-Forbearance ridiculous and irrational. He said he would continue to urge the Canadian government to make Falun Gong a priority when dealing with the Chinese government.
Local resident Mélissa Mongeau spoke at the rally, sharing what Falun Dafa had done for her. She said the practice had improved her sleep and made her feel calm. She had been troubled by depression since her adolescence. "My depression disappeared since I started cultivating myself. I feel peace in my mind instead."
Mélissa also noticed a big improvement in her tolerance and patience. "Blaming others is easy, but I would look within for my own problem as a cultivator. When my kids didn't listen to me or were rowdy, I was able to stay calm and patient. I wasn't able to do this before my cultivation."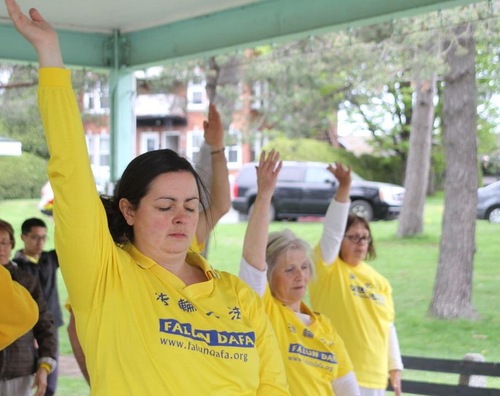 Mélissa Mongeau (front) demonstrates Falun Gong exercises.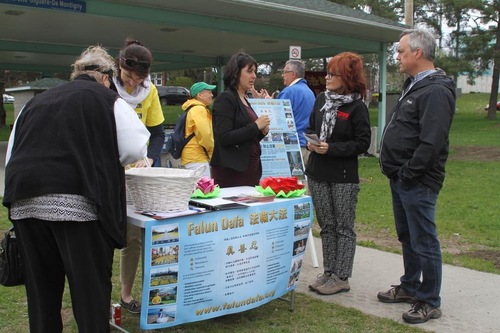 Local residents get information about Falun Gong.
Falun Gong practitioners set up a display and a booth with introductory materials. Many people came to learn about Falun Gong and the persecution by the Chinese Communist Party (CCP).
Jocelyn Charlend, a retired nurse, said she had heard Falun Gong was great for health, but this was the first time she saw a Falun Gong event. She felt the exercises were great and relaxing. Upon hearing about the CCP's crime of harvesting organs from living practitioners in China, she signed the petition calling for an end to this atrocity.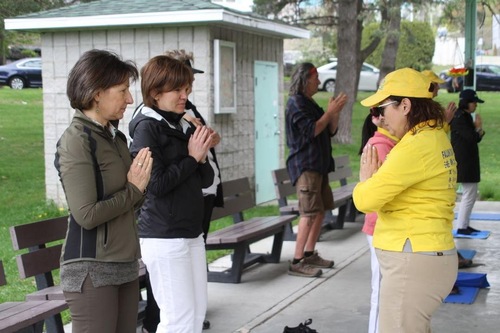 Ruth and Monique learn Falun Gong exercises.
Ruth and Monique heard about the activity from Facebook and came to learn the exercises. Both of them learned all five sets of exercises and said afterward that they felt great.