Canada: Falun Dafa Day Celebrated at Edmonton and Surrey
May 23, 2018 | By Minghui correspondent Zhang Ran
(Minghui.org) World Falun Dafa Day events have continued these past two weekends to celebrate the introduction of the practice to the public 26 years ago. The following are reports from Edmonton and Surrey in Canada.
Edmonton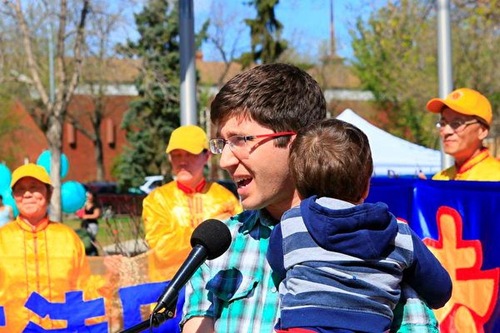 Member of Parliament Garnett Genuis attended the World Falun Dafa Day celebration on May 12, 2018.
The event at Edmonton took place on May 12, 2018, starting with group exercises, followed by a character formation and other activities. Member of Parliament Garnett Genuis gave a speech of congratulation on the special occasion. He said human rights violations in China by the communist party cannot be tolerated, including that against Falun Dafa practitioners, Tibetans, Christians, and other prisoners of conscience.
He emphasized that two resolutions were under review in the Canadian Parliament related to forced organ harvesting in China of living Falun Dafa practitioners. One is C350 that forbids those involved in organ harvesting to enter Canada, as well as to punish those who accept unknown organ sources. This resolution applies to all countries, among which China has the most serious problem with it.
Another resolution is S240 introduced in the Senate that opposes organ trafficking. This resolution has passed preliminary review and will be voted on next month. He hopes people will pay attention to these resolutions and contact their senators to support them.
Genuis said although attendees of the events may come from various backgrounds with different cultures and values, we should all support Canadian values and universal values. He hopes practitioners in China will soon be free to practice their belief.
Several elected officials including members of parliament (MPs) sent greetings to the event including Jason Kenney (leader of the United Conservative Party in Alberta), Michael Cooper (MP for St. Albert – Edmonton), Kerry Diotte (MP for Edmonton Griesbach), and Dane Lloyd (MP for Sturgeon River-Parkland).
Several practitioners shared how they began to practice Falun Dafa. Scott grew up in a Christian family and he was always interested in meditation. One practitioner told him about Falun Dafa in 1999 and he attended a nine-day lecture session that year. "I am very thankful for Master Li's (the founder of Falun Dafa) compassion and patience. My physical health improved and many of my questions were answered. I know Master is taking care of me all the time," said Scott, "Thank you, Master."
Surrey
Practitioners in Vancouver attended the 72nd annual Cloverdale Rodeo & Country Fair at Surrey on May 19. Located in suburban Vancouver, Surrey is one of the prominent filming locations in Greater Vancouver and the Cloverdale Rodeo & Country Fair attracts a large number of tourists every year.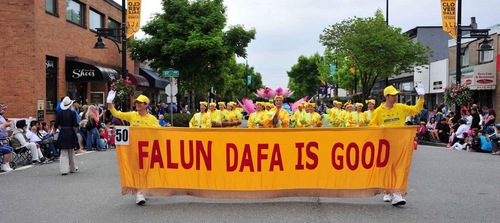 Practitioners in Vancouver attended the 72nd annual Cloverdale Rodeo & Country Fair at Surrey on May 19, 2018.
Many spectators commented that the float was very beautiful.
Many people were impressed by the waist drum troupe and the float brought by practitioners during the parade. William and Kaite Butt have lived in the region for decades and they both liked practitioners' performance very much. "The drumbeat is well coordinated and the float is very beautiful," said William with two thumbs up.
A spectator Jamie had not seen Falun Dafa practitioners in a parade previously and she really enjoyed watching the float. Curious about traditional Chinese culture and the principles of Truthfulness-Compassion-Forbearance, she talked with a practitioner and accepted materials to follow up on later.
http://www.minghui.org/mh/articles/2018/5/21/克洛弗代尔牛仔节-观众喜见法轮功(图)-366840.html