Thank You Master for Making Me Good
May 21, 2018 | By Minghui correspondent Huang Yusheng in Hsinchu, Taiwan
(Minghui.org) Falun Dafa was first made known to the world on May 13, 1992. In just seven years, millions of people benefited from its miraculous effectiveness in curing diseases, strengthening one's health, and elevating moral standards.
Since 2000, Falun Dafa practitioners around the world have celebrated May 13th as World Falun Dafa Day with various events and performances to share the beauty of Falun Dafa with the world. Before the commencement of the 19th World Falun Dafa Day in 2018, the Northwestern Taiwanese Falun Dafa practitioners organized a celebration in Hsinchu's Guanxin Park, where many shared their life-changing experiences after starting cultivation practice.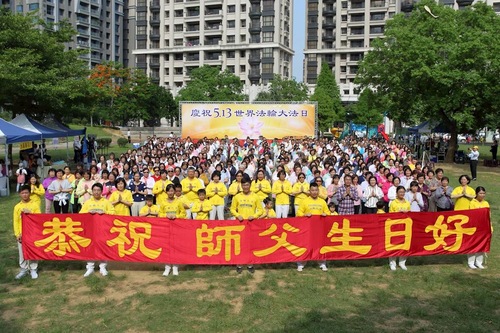 Falun Dafa practitioners in Hsinchu County, Taiwan celebrate World Falun Dafa Day and the birthday of the founder Master Mr. Li Hongzhi in Hsinchu's Guanxin Park.
Ms. Wei, a media professional, was first introduced to Falun Dafa by her father when she was in high school. While attending a university, she came across a few Falun Dafa practitioners of the same age and was deeply moved by their sincerity and compassion. They inspired her to cultivate as well.
As she has proceeded on with life, through education, work, marriage, and children, Falun Dafa has always been well-integrated into her life. Wei recounted a time when her child was turning one year old, where she was beyond exhausted and struggling to be the best mother she could be for her child. It was a fellow Falun Dafa practitioner and colleague who reminded her that it does not necessarily take the best food or environment to be a good mother. Rather, teaching children by example to be peaceful, stable, and happy is most important. Cultivation has changed her mindset and allowed Wei to efficiently balance work and family.
Mr. Qiu Jian Wei's high school teacher introduced him to Falun Dafa and he has now been practicing for eleven years. Qiu mentioned that he has benefited both physically and mentally from cultivation. Not only did his health improve, but he also became more compassionate and forgiving. He now thinks rationally when a problem arises instead of flaring up like he used to before beginning cultivation practice.
Qiu's mother, wife, and sister began cultivating three years ago. They have since felt that family relations – whether between the couple or between wife and in-laws – has became more harmonious and united. Looking back, Qiu realized that he has not had any conflicts with his wife during the past three years, all because of cultivation. His mother has been taking care of his little son, and they hope that he will soon become a little practitioner too.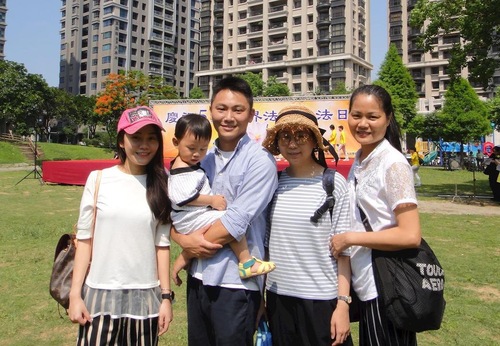 Mr. Qiu Jian Wei and family attend the celebration for World Falun Dafa Day.
Mr. Huang brought his wife and their six-month-old daughter to attend the World Falun Dafa Day event. He noted that if a couple cultivates together, they will have more patience and a common understanding towards the raising of a child. Instead of exerting physical and verbal punishment in response to disobedience, the couple treats the children with Truthfulness, Compassion, and Forbearance. Although their daughter is only an infant and has yet to learn to talk, it seems that she already feels the love of her parents. Mrs. Huang also mentioned that cultivating Falun Dafa during pregnancy had a positive effect on her body and mind, reduced anxiety and fear, and supplied her with strength for post-labor recovery.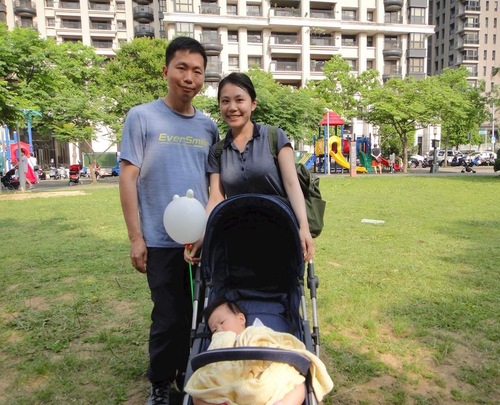 Mr. Huang and family attend the celebrations for World Falun Dafa Day.
Little practitioners from the Minghui Doudou Kindergarten received enthusiastic applause following their performance of a dance piece called Xinjiang Children. Ms. Lu, the head of the kindergarten, recounted that when she first started cultivating, she would invite the teachers and children in the kindergarten to join her, and arrange for an hour-long session for the children to study the Fa and practice the exercises. She had previously prioritized the development of a child's intellect as the main goal for education. But she realized after cultivating that good moral character is the best asset for children to develop. The ability of a child to study effectively is based on the foundation of good character, and if they know the reason for hard work and discipline, they will manage their academics well. The teachers and parents thus educate the students based on the common language of Truthfulness-Compassion-Forbearance.
Lu also mentioned that some children with special needs underwent a positive change after just two weeks of enrollment in this kindergarten. When they returned for checkups, the child psychiatrists often asked where they had been for the past two weeks. Any symptoms of delay had disappeared, and the extreme difference in the assessment index had reverted back to normal. Parents also trust this environment where the children are free to express themselves and are taught to love and respect each other.
Fourth-grader Shi Wei Ting, and first-grader Lü Yun Yan have been cultivating Falun Dafa with their parents since they were quite young. Shi mentioned that she tends to be more forgiving of her classmates and tries to think about their needs when a problem arises. Apart from studying in school together, Shi and Lü also study the Fa with little practitioners in other regions via the Internet, and during holidays, follow their parents to truth-clarification sites to clarify the facts about Falun Gong. They are growing up happy and healthy in the cultivation of Falun Dafa.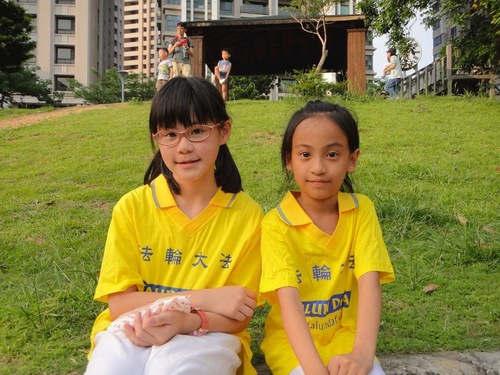 Fourth-grader Shi Wei Ting (left) and first-grader Lü Yun Yan (right) abide by the principles of Truthfulness-Compassion-Forbearance.