Vancouver: Rally and Parade Celebrate World Falun Dafa Day
May 20, 2018 | By Zhang Ran, Minghui correspondent in Vancouver
(Minghui.org) Falun Gong practitioners and supporters in Vancouver held a celebration in front of the Vancouver Art Gallery on May 13, 2018 to mark the 19th World Falun Dafa Day and the 26th anniversary of Falun Dafa's public introduction. Government officials sent congratulatory letters in recognition of this special event. Mr. Li Jianfeng, a former judge in China, and other supporters gave speeches to express their good wishes and respect for Falun Gong and the practice's founder Master Li Hongzhi.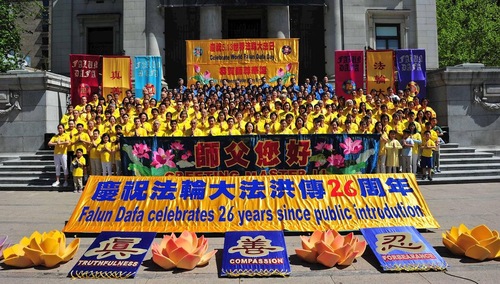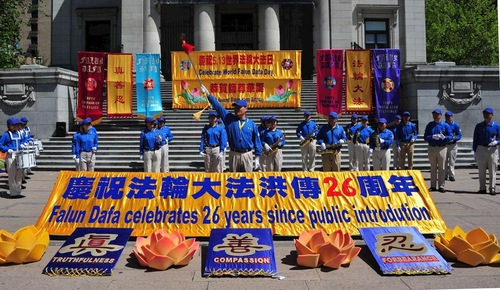 Celebrating the 19th World Falun Dafa Day in front of the Vancouver Art Gallery.
Proclamations and congratulatory letters from ten British Columbia government officials were read at the celebration.
Falun Gong practitioners took a group picture to send happy birthday greetings to Master Li. The Tian Guo Marching Band and a waist drum troupe of Falun Gong practitioners performed to express their gratitude to Master Li. Many spectators learned the Falun Gong exercises over the course of the event.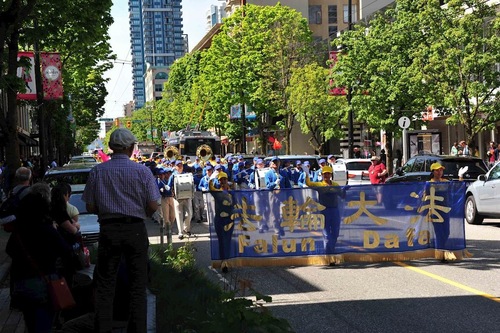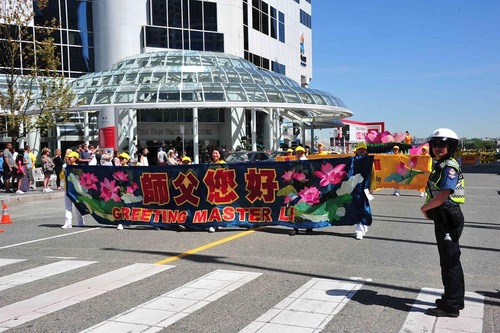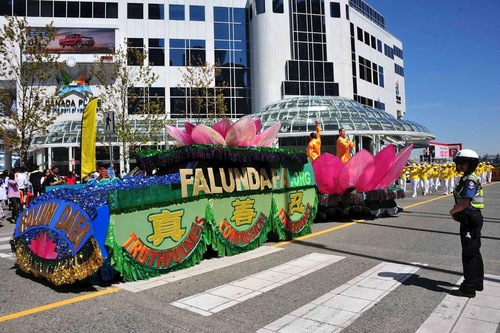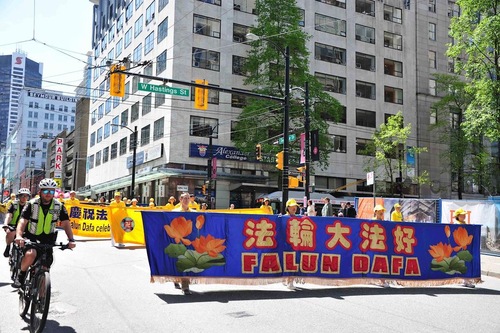 Falun Gong practitioners held a parade in downtown Vancouver to celebrate World Falun Dafa Day.
Part of the Dafa Day celebration included a one-hour-long parade through popular tourist sites including the Five Sails and Olympic Cauldron. A large number of people, including many Chinese people, watched the parade, took pictures, and received brochures about Falun Gong.
Tourists from China were excited to see a Falun Gong parade. They took pictures and videos of the parade. Some took group pictures of themselves with Falun Gong practitioners. A young couple from China followed the procession and videotaped the entire parade.
Mr. Reza Karimi (front), a new Falun Gong practitioner, expresses his gratitude for Falun Dafa.
Mr. Reza Karimi, who recently began practicing Falun Gong, said he had found answers to his life-long questions from Falun Gong. He treasures the opportunity to cultivate himself, and strives to follow the principles of Truthfulness-Compassion-Forbearance in everyday work and life. "I learned how to put others in front of myself at any time. I look for my own problems when facing conflicts. This is the best thing I've learned from Dafa."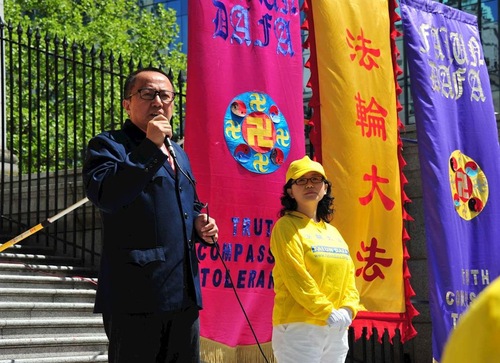 Mr. Li Jianfeng, a former judge in China, gives a speech at a World Falun Dafa Day rally in Vancouver.
Mr. Li Jianfeng, a former judge in China, had been imprisoned for years by the Chinese Communist Party (CCP) for seeking justice for marginalized groups in China. He attended the celebration and gave a speech in his judge's uniform. He stated, "I am attending this rally in my judge's uniform for two reasons. First, I would to like tell the world that there are judges of conscience in China who support Falun Gong. Secondly, I would like to offer Falun Gong practitioners under persecution an apology on behalf of the judges in China. Honestly, many judges in China, including myself, are very sympathetic toward Falun Gong practitioners.
"I'm very excited to be here today, because I see that the Falun Gong group has been growing and [the practice has been] passed to more and more people. More than ten years ago, Jiang Zemin claimed he would wipe out Falun Gong within three months. In reality, Falun Gong not only exists today, but also prospers. I see more young practitioners. More and more people in China and around the world have joined the Falun Gong group. Despite the imprisonment of thousands and thousands of Falun Gong practitioners in China, [the persecution] simply cannot suppress Falun Gong. It's the power of faith.
"We are only blessed by the divine when we do things according to justice and Truthfulness, Compassion and Forbearance. Finally, I would like express my greetings to Master Li Hongzhi, and my gratitude to all people who support Falun Gong!"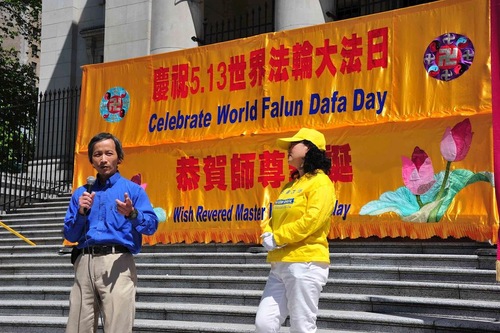 Mr. Wu Zhuohua, a supporter of Falun Gong, gives a speech.
Mr. Wu Zhuohua, a supporter of Falun Gong and former teacher in China, said in his speech that the Chinese society was plagued by crises, and the worst crisis was the degeneration of morality, which has been destroyed by the CCP in its suppression of religious groups. "The Chinese people are deprived of their right to freedom of belief. Without any belief, the nation is in the worst danger," Mr. Wu said. He expressed his admiration and best wishes to Falun Gong practitioners.