Frankfurt, Germany: Raising Awareness of the 19-Year Persecution of Falun Gong
May 02, 2018 | By a Falun Gong practitioner in Frankfurt
(Minghui.org) In conjunction with practitioners around the world commemorating the 19th anniversary of the April 25 Peaceful Appeal, Falun Gong practitioners in Frankfurt and surrounding areas held a rally in front of the Chinese Consulate on the morning of April 25, 2018.
The practitioners also held an Information Day activity at St. Paul's Church tourist site in the bustling downtown area that same afternoon. They continued their efforts to raise awareness of the persecution and call for it to end.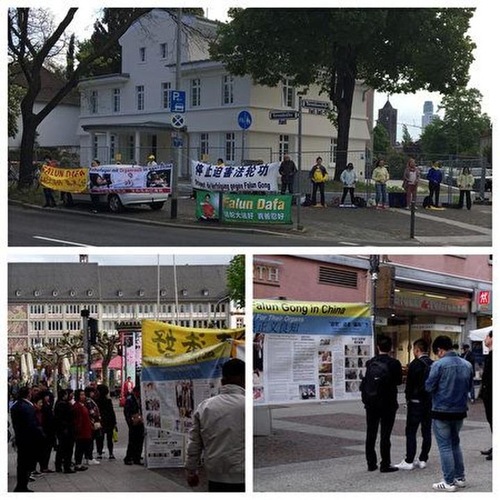 Rally at the Chinese Consulate and activity at St. Paul's Church in Frankfurt to commemorate the 19th anniversary of the April 25 Peaceful Protest
Practitioners demonstrated the Falun Gong exercises opposite the Chinese Consulate with banners that said, "Falun Dafa Is Good, Truthfulness-Compassion-Forbearance Is Good," "Stop the Persecution of Falun Gong."
As the cars drove by, the drivers could see the messages on the banners. Some of them rolled down their car windows and read the words on the banners out lout.
Anja, a German practitioner in her 70s, was one of the event organizers. She said that the Chinese Consulate slanders and maligns Falun Gong outside of China. It also interferes with and prevents Falun Gong practitioners from holding activities. The goal of this commemoration of the April 25 Peaceful Protest was to raise awareness of the persecution.
Practitioners set up an information booth in front of St. Paul's Church that afternoon. Their banners read, "The Chinese Communist Party Is Not China," among others, attracting the attention of many Chinese tourists.
One practitioner said that more than a dozen buses filled with Chinese tourists stopped in front of the church. She met with many of them, who listened quietly as she talked to them about recognizing the CCP's evil nature and not believing its deceptive lies. One young man shouted his agreement: "Yes! Don't believe the lies!"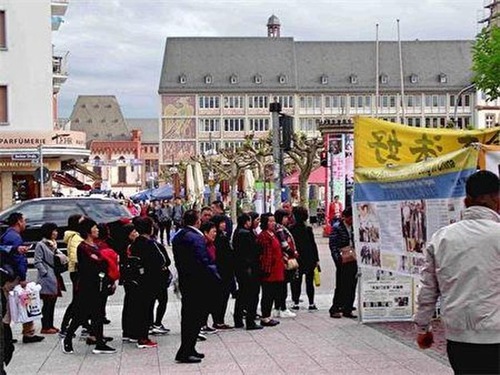 Chinese tourists stop to read the posters at Falun Gong truth-clarification site
Beate, another German practitioner in her 70s, said that she met with a German woman who was shocked to see the images of the CCP killing Falun Gong practitioners for their organs while they were still alive. She asked, "Can that still be going on in the world today?" Beate talked to her about the persecution and the CCP's state-sanctioned live organ harvesting. The woman signed the petition and condemned the CCP.
A woman from Austria in Frankfurt that day stopped by and asked for more information. She told Beate that she had seen the U.S.-based Shen Yun Performing Arts show in Salzburg the week before. She thought the show was amazing and had heard Falun Gong mentioned several times. That made her want to learn more about it. She certainly didn't expect to come across a Falun Gong information booth in Frankfurt, so she was very grateful the practitioners were there.