Canada: Celebrating World Falun Dafa Day in Calgary
May 19, 2018 | By a Falun Gong practitioner in Calgary
(Minghui.org) Falun Gong practitioners in Calgary Canada celebrated World Falun Dafa Day in Prince's Island Park on the weekend of May 13, 2018 in the beautiful sunny weather of early spring. Many people visited the park, watched the Falun Gong practitioners' group exercises, and read the Falun Gong display boards.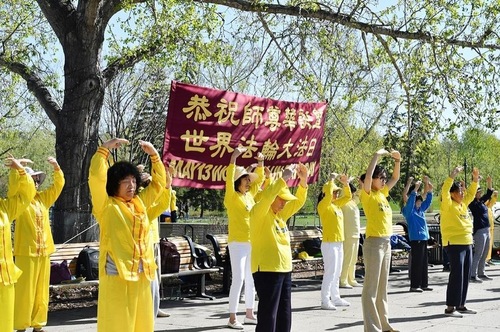 Falun Gong practitioners hold a group exercise session in Prince's Island Park in celebration of World Falun Dafa Day.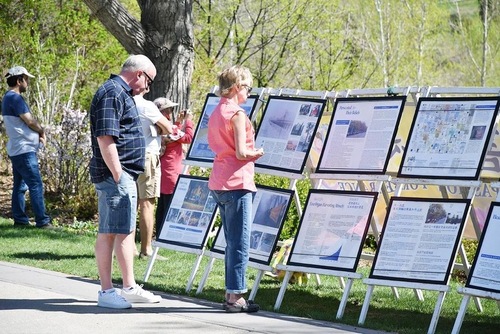 Park visitors read Falun Gong display boards.
Dressed in yellow exercise uniforms, practitioners did the exercises as a group, along with soothing music. The beautiful scene attracted the attention of many park visitors who took photos and read the introductory flyers.
One young lady read the display boards for a long while, and shed tears upon reading the facts about innocent Falun Gong practitioners being persecuted by the Chinese Communist Party (CCP). Pointing at the practitioners doing exercises, she asked, "How could such a wonderful exercise be persecuted so terribly?" Tears came to her eyes upon hearing about the atrocities of the CCP. A practitioner told her she could write to the Canadian government about helping stop the persecution, and spread the information to her family and friends. She nodded in agreement and wanted to learn Falun Gong. A practitioner provided her with times and location of the group exercise practice. She gave the practitioner a hug in appreciation.
Women practitioners performed a waist drum dance after the group exercises. Spectators praised their beautiful drum dance and joyful music. Practitioners in Calgary sincerely wished Master a happy birthday and celebrated this special occasion from the bottom of their hearts.