Southeast U.S. Falun Dafa Experience Sharing Conference Held in Atlanta
May 18, 2018 | By a Falun Dafa practitioner in Atlanta, Georgia
(Minghui.org) The Southeast U.S. Falun Dafa Experience Sharing Conference took place at the Georgia Institute of Technology on May 13, 2018. Practitioners from six states attended the conference including Georgia, Florida, South Carolina, Tennessee, Mississippi, and Alabama.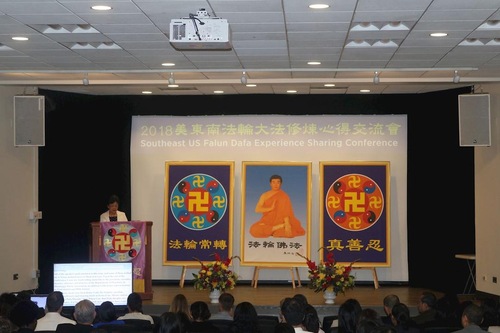 Practitioners from six states attended the Southeast US Falun Dafa Experience Sharing Conference on May 13, 2018.
Many practitioners began to practice at Georgia Tech years ago and spread Falun Dafa to other areas in Atlanta and Georgia. Eight practitioners from various ethnic groups spoke at the conference including Chinese, Korean, Vietnamese, Hungarian, Ukrainian, and Russian.
Proclamation from Mayor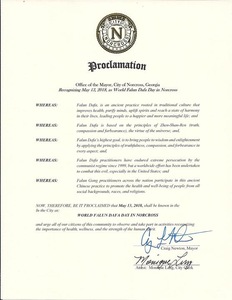 Proclamation from Craig Newton, mayor of Norcross in suburban Atlanta.
Craig Newton, mayor of Norcross in suburban Atlanta, issued a proclamation to honor May 13 as World Falun Dafa Day. "Falun Dafa, is an ancient practice rooted in a traditional culture that improves health, purity of mind, and is spiritually uplifting to reach a state of harmony, leading people to a happier and more meaningful life," read the proclamation.
It indicated that practitioners applied the principles of Truthfulness-Compassion-Forbearance to achieve the goal of wisdom and enlightenment. "Falun Dafa practitioners have endured extreme persecution by the communist regime since 1999, but a worldwide effort has been undertaken to combat this evil, especially in the United States," continued the proclamation.
At end of the proclamation, it stated, "Falun Gong practitioners across the nation participate in this ancient Chinese practice to promote the health and well-being of people from all social backgrounds, races, and religions."
New Practitioners
Thanh Nguyen came from Vietnam and he lives in Florida. Working as an electrical engineer, he longed for a successful career and wealthy life. But things did not go as he planned. To make things worse, his wife had poor health. To find a better life, they tried Christianity and other ways and later came across Falun Dafa in January 2012. "I am a fourth generation Catholic, but reading Zhuan Falun really opened my mind and convinced me that Falun Dafa is what we should follow," he said.
Ms. Zhao in Florida also began to practice in 2012. As a new practitioner, she decided to work hard and catch up with other practitioners. Therefore, she made a plan of reading Master's new lectures ten times in addition to reading Zhuan Falun. "I completed this goal last September, five years after I became a practitioner. I then found myself being able to do the sitting meditation for two or three hours" she said, "I am now reading the new lectures for the eleventh time and I will make sure I use the Fa principles to guide my words and actions."
Li Minyu is from Florida and she learned Falun Dafa from her mother in 2015. "Growing up in China, I was also influenced by the defamatory propaganda and even said bad things about Dafa." Because of family conflicts, she and her mother moved to another place, where she followed her mother's suggestion and read Zhuan Falun three times. "That experience made me serious about cultivating Falun Dafa," she recalled.
After attending the New York Experience Sharing Conference in 2017, she learned to look within and improve her moral character. "I grew up in a single-parent family and arguments in the family was a norm for me," she explained. That led to frustration and depression. From Falun Dafa, she learned to be considerate and compassionate towards others, and her family is now very happy.
Letting Go of Attachments
Melina from Atlanta began to read Zhuan Falun in September 2017 and she soon learned the importance of cultivation practice. "I came to understand that the principles of Truthfulness-Compassion-Forbearance are not only profound, but also something I need to assimilate to." By doing the sitting meditation both in the morning and before sleeping, she felt an energy from the practice and had a deeper understanding of the principles described in Zhuan Falun. This also strengthened her righteous thoughts.
Oleksii's family came from Ukraine and he was a professional athlete since he was very young. After beginning to practice Falun Dafa, he realized the professional training he received earlier had pros and cons. "It taught me to be hardworking, disciplined, and determined. On the other hand, I also had a strong desire of competing to win." He said these attachments existed on many levels and have a variety of manifestations. "These attachments are interconnected and I need to improve my moral character to eliminate them," he said.
Tom, a graduate student at Georgia Tech, comes from Hungary. Six months after becoming a practitioner, he moved from the student dorm to an off-campus residence. The dorm administration made a mistake and sent him a check for $1,638. "In the beginning, I was happy to receive the extra money. Then I remembered the story in Zhuan Falun and what the father did after winning a lottery. So I knew what to do and returned the check to the administration together with two hand-made paper lotus flowers. Staff members were very impressed because I am the only one who had returned such money and I gave them a gift as well," said Tom.
The conference ended at 4:30 p.m. and several practitioners said they would remain diligent in cultivation practice.