Four Missouri Cities Proclaim Falun Dafa Day
(Minghui.org) As the 19th World Falun Dafa Day, the 13th of May, is approaching, four cities in Missouri, U.S.A., St. Louis, O'Fallon, St. Peters, and Wentzville, issued resolution and proclamations, praising the contributions that Master Li Hongzhi (the founder of Falun Gong) and practitioners have made in their communities.
The mayors and the members of the board of aldermen recognized Falun Dafa as a traditional Chinese self-cultivation practice based on the principles of Truthfulness, Compassion, and Forbearance, which has brought about profound physical benefits and mental and spiritual well-being to more than 100 million practitioners from all walks of life in over 100 countries.
They also praised practitioners in Missouri for dedicating countless hours in organizing free cultural events, meditation workshops and classes in local community centers, senior centers, libraries, parks, fairs, and health expos, and participating in public events to benefit local communities.
Meanwhile, the proclamations also condemn the 19-year-long persecution of Falun Gong in China.
The mayors of O'Fallon, St. Peters, and Wentzville sent greetings to Master Li Hongzhi, and declare May 13, 2018 as "Falun Dafa Day" in their cities. The Board of Aldermen of St. Louis recognize Master Li Hongzhi and practitioners for their many accomplishments.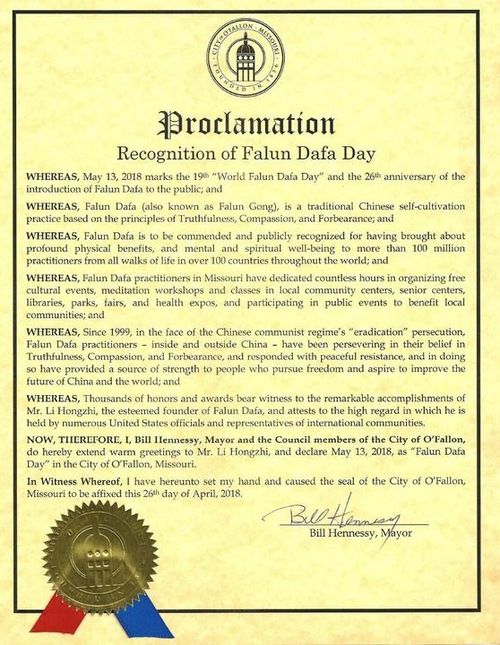 The proclamation issued by Bill Hennessy, the mayor of O'Fallon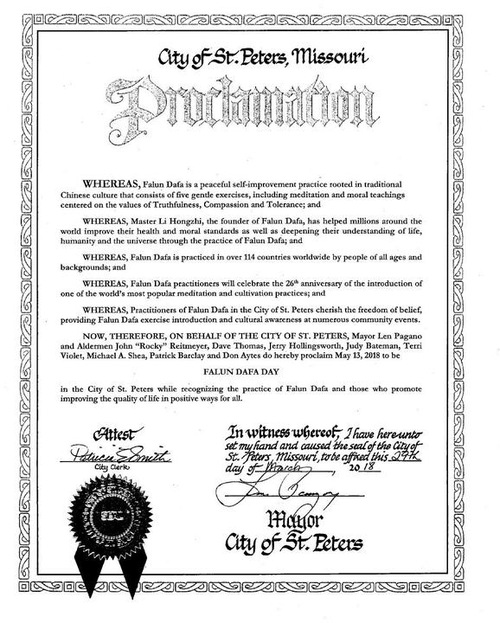 The proclamation issued by Len Pagano, the mayor of St. Peters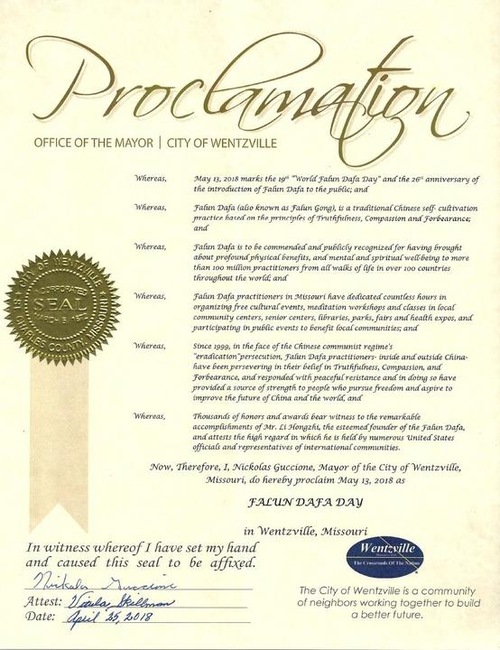 The proclamation issued by Nickolas Guccione, the mayor of Wentzville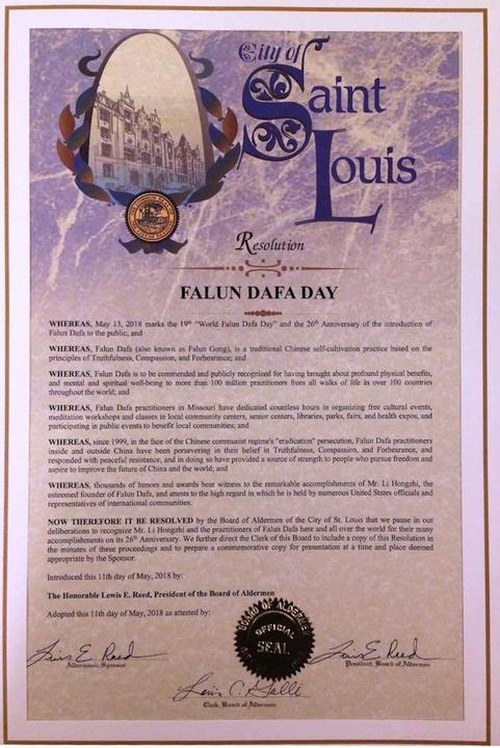 The resolution by the Board of Aldermen of City of St. Louis.
http://www.minghui.org/mh/articles/2018/5/11/美国圣路易市议会决议案褒奖法轮大法-366014.html