New York: Celebrating World Falun Dafa Day with Music and Dance
May 13, 2018 | By Minghui correspondent Cai Ju
(Minghui.org) May 13, 2018 is the 19th World Falun Dafa Day and the 26th anniversary of Falun Dafa's public introduction. Falun Gong practitioners in Greater New York held various celebration events in honor of the occasion.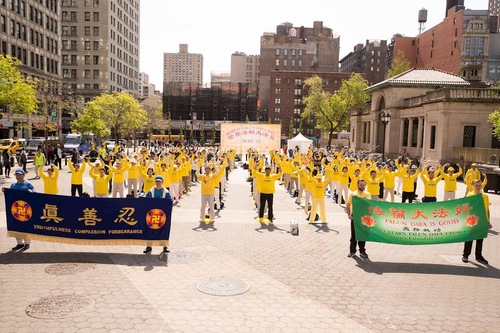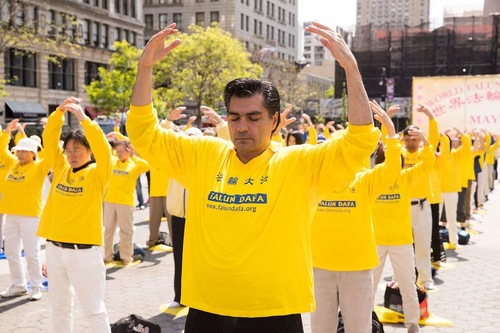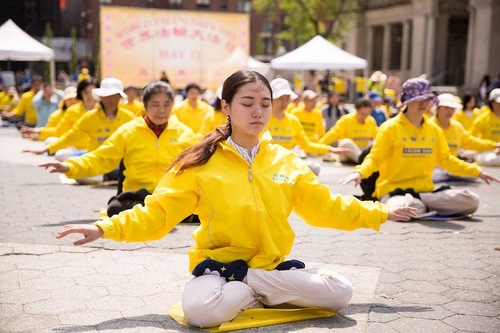 Falun Gong practitioners perform the exercises on Union Square in Manhattan, New York on May 10, 2018.
Meditating Together
One the morning of May 10, about 200 Falun Gong practitioners gathered for exercises on Union Square. Many passersby stopped and took photos.
Falun Gong practitioners demonstrate the exercises.
Stratos Tzortzoglou, a professional actor, stopped at the event to learn more. Looking at a Falun Dafa banner, he said, "Truthfulness-Compassion-Forbearance—I think it is the meaning of human life. This is what the world needs!"
Performing Music and Dance in Celebration
Following the exercises, the talented practitioners from the group put on music and dance performances, sharing traditional Chinese culture and the joy of Falun Dafa with the public.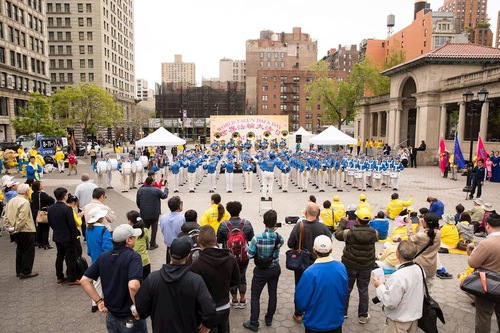 Tian Guo Marching Band performs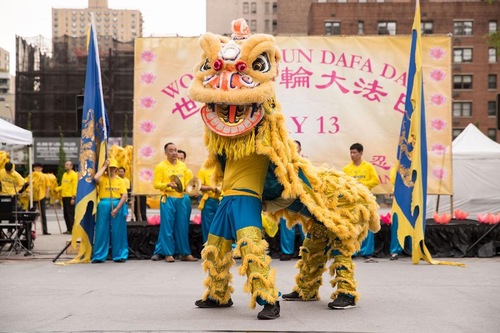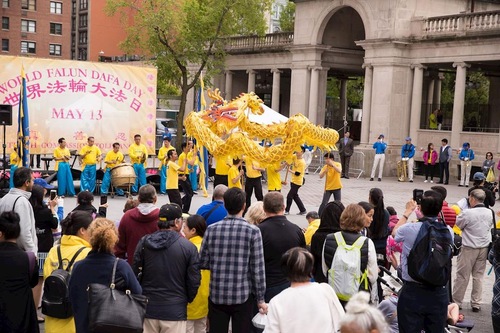 Lion and dragon dance.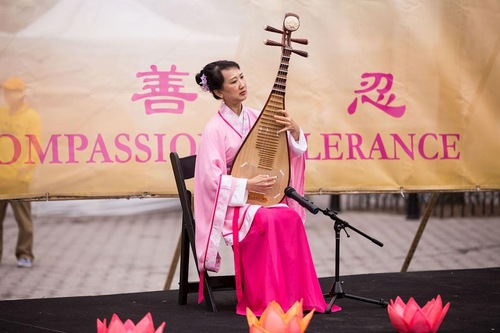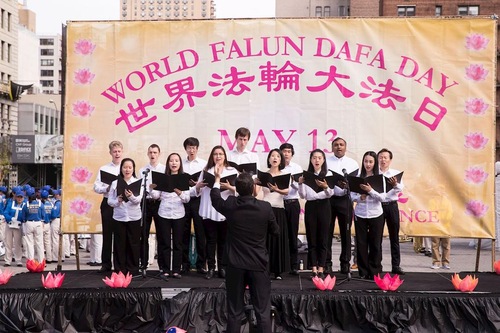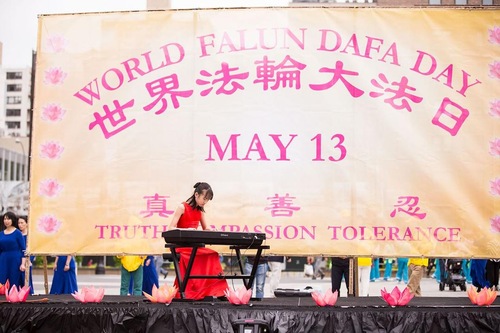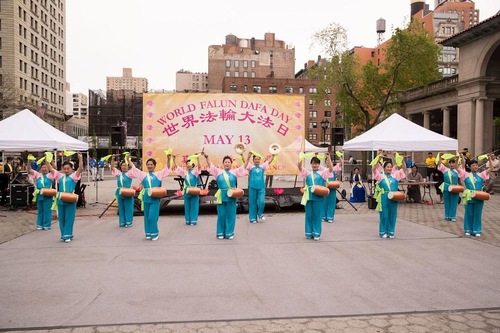 Music performance, solo, choral and waist drum performances
"Superb. I didn't expect to see such a great performance here," said tourist Tim Vamkleunen.
Another passerby, Brita Kcase of New York, said, "The music is beautiful and has attracted such a large crowd!"
Benefiting People Worldwide
Falun Gong is practiced in 78 countries, though it has been brutally persecuted in China since 1999.
Spokesperson Erping Zhang of Falun Dafa Information Center said, "May 13 is a special day. Master Li made Falun Dafa public on this day in 1992. Practicing Falun Gong not only benefits health, but also helps one understand the meaning of life."
He said that since April this year, more than 100 proclamations were received from federal, state, and city governments honoring Falun Dafa and its benefits to society.
Falun Dafa's Healing Power
Practitioner Yao Chen sings at the celebration of the 19th World Falun Dafa Day on May 10.
Practitioner Yao Chen studies music and performed two songs in the celebration. Her performance reflected her deep gratitude to Master Li for rescuing her from a painful disability.
While traveling in 2011, her feet were injured in an accident. She could not walk as a result and had to use a wheelchair. She visited many doctors, but nothing helped. One day, she was watching news programs on NTDTV and saw a web-link. She clicked it and heard the Dafa music Pudu. Upon hearing the music, she burst into tears. She then sat up and crossed her legs in meditation for about 20 minutes. After that, she was miraculously able to walk again.
She then went to the website where she had heard the sacred music and found the book Zhuan Falun. She read it overnight and began practicing Falun Dafa.