Canadian Lawmakers Celebrate World Falun Dafa Day in Ottawa
May 12, 2018 | By Minghui correspondent Ying Zi
(Minghui.org) On Wednesday, May 9, over a dozen Canadian Parliament members (MPs) from different parties joined hundreds of Falun Gong (also known as Falun Dafa) practitioners on Parliament Hill in Ottawa to celebrate World Falun Dafa Day, May 13. The event celebrated the group's core virtues of Truthfulness, Compassion, and Forbearance with a parade, dances, songs, drums, band performances, and exercises demonstrations.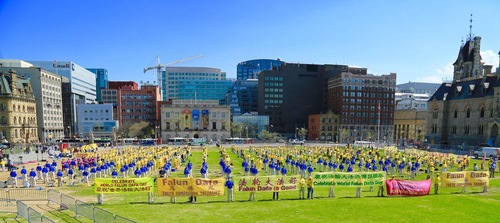 Celebrating World Falun Dafa Day in Ottawa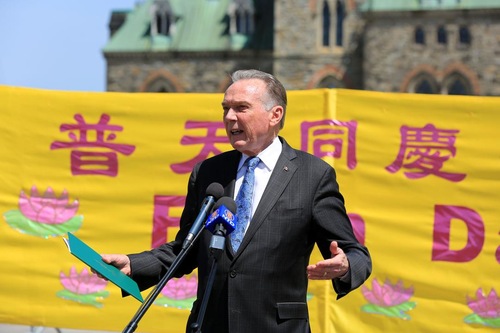 MP Peter Kent greets practitioners in Chinese: "Hello. Falun Dafa is good."
MP Peter Kent said: "I share with all of you the dream that one day, all Chinese citizens will enjoy the freedoms of speech and assembly, all the democratic rights that we too often take for granted here in Canada. A day when human rights advocates are no longer considered enemies of the Chinese state, a day when Chinese television no longer broadcasts confessions obtained through blackmail and torture. A day when political prisoners are no longer subject to organ harvesting. A day when the tenets of Falun Gong can be spoken out loud in Tiananmen Square: Zhen-Shan-Ren, Truthfulness-Compassion-Tolerance."
MP Kent also conveyed a message from Andrew Scheer, the leader of the Conservative Party of Canada and the leader of Canada's official opposition. His message said: "I'm delighted to extend my warmest greetings to everyone celebrating the 26th Anniversary of the introduction of Falun Dafa to the public. Through the promotion of the principles of truthfulness, compassion, and forbearance, millions of people around the world have benefited from the teachings of Falun Dafa. I know this practice has a strong following in Canada's peaceful, pluralistic society."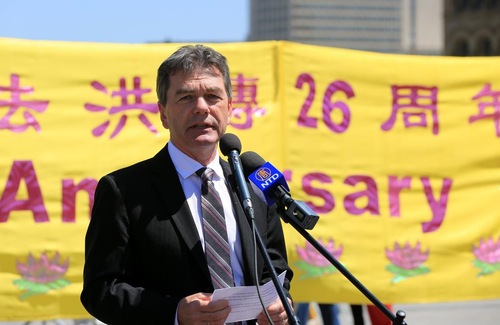 MP David Anderson said: "Religious freedom is a fundamental human right. Those who believe in the core values of Falun Dafa—and indeed all faiths—must have the right to practice and to promote their unique teachings without fear of persecution. It's time that the regime in China began to practice truthfulness, that they learned the value of forbearance, and that they began to show compassion to their own citizens."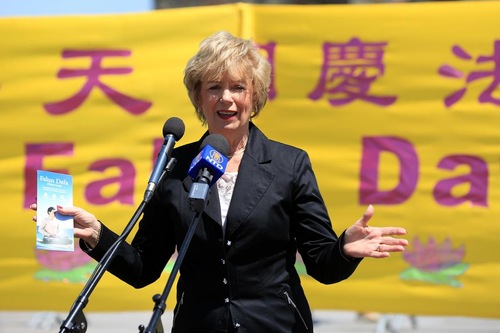 MP Judy Sgro thanked practitioners for bringing Falun Dafa to Canada. She said: "The messages that you deliver are peacefulness, compassion, respect. They are the messages that all of us in Canada need to think about every single day. You manage to bring us all some focus on issues that are happening around the world that shouldn't be happening, and you stand firm in your belief for freedom, for human rights, and respect. Thank you for making Ottawa gloriously yellow today and for helping us learn how to enjoy a quality of life that for many in our country is non-existent."
MP Larry McGuire said: "As an individual from Southwest Manitoba, but as a true Canadian, I support your efforts with regard to the peacefulness of the mind and dealing with individuals that need that help. So with those few words. I would just like to say congratulations, that it's a great pleasure for me to be here today, to participate with you. Thank you."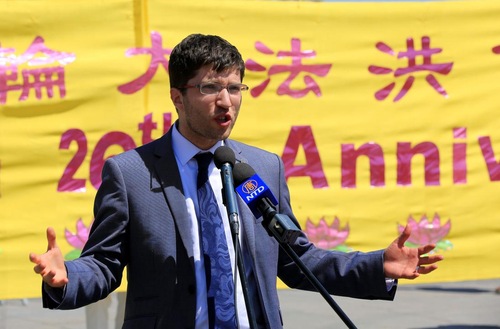 MP Garnett Genuis at the event
MP Garnett Genuis, who proposed Bill C350 that condemns the state-sanctioned organ harvesting in China, said: "This bill would do two things: It would deal with inadmissibility to Canada those who are involved in organ harvesting It would also make it a criminal offense for a Canadian to go abroad and receive an organ that had been taken from someone without their consent."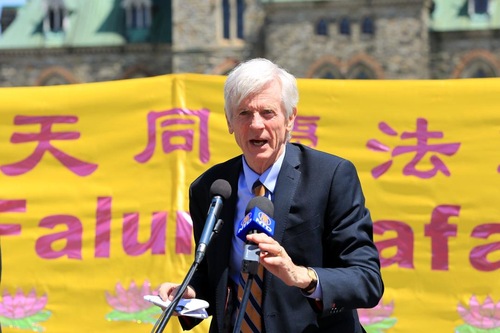 Former MP David Kilgour talked about forced organ harvesting. He said: "Matas, Ethan Gutmann, and I […...] concluded cautiously that a minimum of 60,000 transplants per year are being done across China as of mid-2016. There's a very small pool of volunteer donors plus a few thousand convicted prisoners. This means that about 150 human beings daily in China are being killed for their organs. The Party's current narrative, as I mentioned, is to try to get people to believe that this all stopped on January 1, 2015."
MP Elizabeth May praised practitioners, saying, "You are the living embodiments of peacefulness, truthfulness, and tolerance. You are here with nothing but a peaceful spirit of love, which you bring to Parliament Hill.
"Therefore, it is the least we can do, those of us who serve in this beautiful building as members of parliament, to work for you, to work for the day when, one day, the People's Republic of China will respect human rights, respect freedom of religion, respect your right to practice Falun Dafa/Falun Gong, and cease the cruel persecution of people who practice Falun Dafa/ Falun Gong in the People's Republic of China. "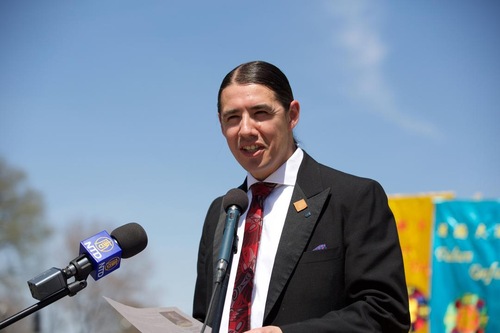 MP Robert Falcon-Ouellette said: "In Canada we are very fortunate to have Falun Dafa practitioners like my friend Maria Cheung from the University of Manitoba. In Canada we have the right to practice our faiths and rituals in peace and security. And this is not true across the world. We have a responsibility to keep fighting for those rights around the world. Our country glows thanks to the diversity and expression of peaceful faith groups like yours."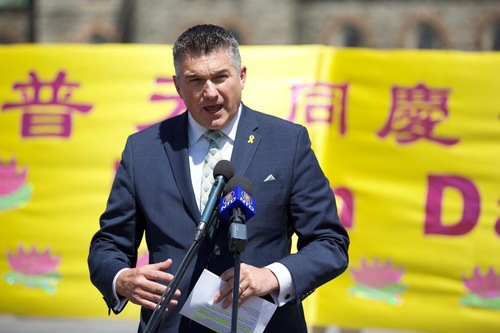 MP James Bezan said: "The principles, the three pillars of Falun Dafa, of truthfulness, of compassion, and of tolerance, are so key to what we as Canadians all believe in. And you emulate that in your daily lives and through the practice of Falun Gong. I want you to know that everyone here in Canada stands with you to fight against this oppression, to fight against the murderous regime in Beijing, and to ensure that your faith will flourish there and around the world."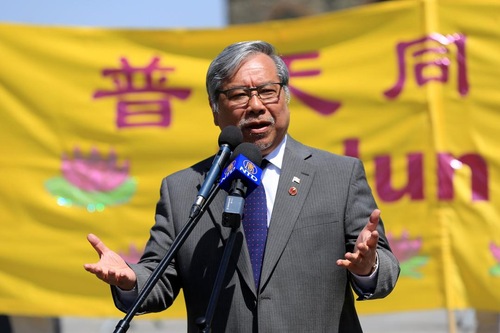 Senator Thanh Hai Ngo said: "When I see a big big crowd like this, it shows that you are really, really fighting for your human rights, for the people who practice Falun Gong. It is you who have to struggle for this cause, and it has been 26 years. I hope that you are going to continue to fight and that the Chinese government acknowledges it is not right for them to suppress Falun Gong/Falun Dafa. I hope and I wish that you continue. And I, on behalf of the Senate of Canada, will continue to support you. I will continue to fight for you, for human rights, and for the rule of law."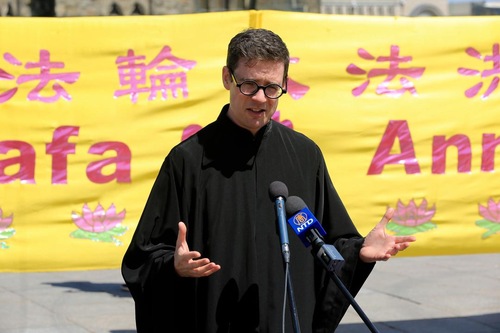 Andrew Bennett, Canada's former Ambassador for Religious Freedom, said: "Yours is a public faith that speaks to the importance of human dignity, the dignity of every human being in this country, and so it's wonderful to see you all here on this lawn before Parliament today, being able to live out your faith, your practice, in this way. And it's a pleasure for me, as a Catholic Christian, to celebrate with you and to recognize how you're able to continue to grow in your practice towards truthfulness and compassion and tolerance."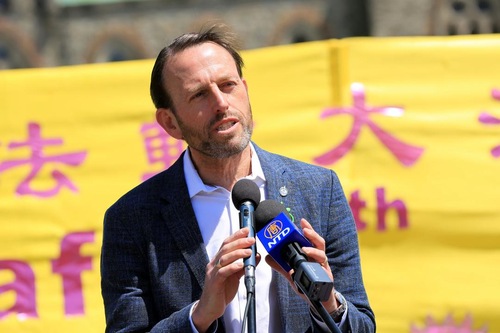 Former MP John Weston said: "We love the influence of Chinese culture, which is how to respect others and support others' rights. We think if somebody is suppressing others, we will be affected, too. If, in any country or any region, suppression such as organ harvesting occurs, we should fight against it together."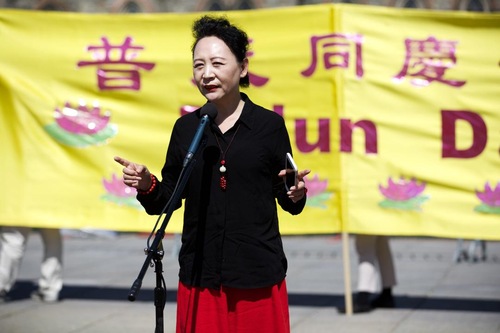 Sheng Xue, a Chinese democracy movement activist, praised practitioners' peaceful resistance. She said that the resistance has drawn the attention of the entire world and that more and more people have recognized the evil nature of the communist party and seen the beauty of Falun Dafa.