Falun Gong Practitioners That the CCP Has Persecuted for 19 Years
May 01, 2018 | By a Minghui correspondent
(Minghui.org) Nineteen years ago the Chinese communist regime launched the persecution of Falun Gong, a mind and body practice that follows the principles of Truthfulness-Compassion-Forbearance. Some of the police officers in charge of arresting and torturing them have now admitted that these are good people.
Three of those kind and law-abiding Falun Gong practitioners are profiled below.
Talented Engineer
Mr. Wang Zhongming, 53, from Chongqing contracted hepatitis a month after he earned his Master's degree and started working. After eight years of suffering he began to practice Falun Gong. He quickly regained his health and was able to do his job well. Mr. Wang became an expert in his field and a senior engineer.
Mr. Wang was recognized as an "Outstanding Worker" for four years in a row. His photos with his record of excellence at work were posted outside of his office. At home he was a good son and husband. His wife believes that his achievements were a result of practicing Falun Gong.
The authorities seized Mr. Wang on September 28, 2017, because he refused to give up his faith and illegally tried him in Yubei District Court on January 26, 2018.
Model Employee
On April 8, 2018, 70-year-old Mr. Xue Fugui was sentenced to three years in prison for practicing Falun Gong. The Xinghualing District Court in Taiyuan City, Shandong Province also ordered him to pay a fine of 4,000 yuan.
When Mr. Xue served in the military, his term was extended for five years because his superior trusted the quality of his work and needed his help. After he was demobilized, he became a coal miner. He remained a hard worker and later was voted "Model Employee" of Ximing Mine, Xishan Bureau of Mines and the City of Taiyuan.
Mr. Xue later suffered severe back pain due to his years of hard labor. He couldn't properly stand or walk. He also had arthritis and stomach pain. None of the doctors he saw could help.
He completely recovered after practicing Falun Gong. He was then able to volunteer to help fix public restrooms and gutters. He was honest and helped people in need. Prison seems the last place he should be.
Woman Who Helps Disadvantaged Students
In college, Ms. Zhou Qian was diagnosed with uterine cancer and had to have surgery and chemotherapy. She became very weak. That was when her mother, a Falun Gong practitioner, encouraged her to take up the practice.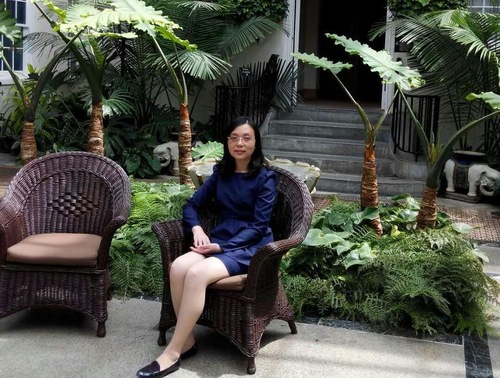 Ms. Zhou Qian
Six months later Ms. Zhou was free of discomfort and has never taken a pill since. For many years she took out part of her savings and donated them to disadvantaged students in remote areas.
Ms. Zhou was working at Lloyd's Register Quality Assurance on January 10, 2018, when Pudong Police Department and Weifangxincun Police Station officers arrested her, suspecting that she'd mailed Falun Gong literature to a police officer. Prior to this arrest, Ms. Zhou was arrested once before, incarcerated, and beaten for not giving up her belief. She was later sentenced to three years in prison.