Vancouver: Practitioners Learn from Each Other During Experience-Sharing Conference
May 01, 2018 | By Minghui correspondent Zhang Ran
(Minghui.org) The 2018 Vancouver Falun Dafa Experience Sharing Conference took place on April 28 at Langara College in Vancouver, Canada. Practitioners discussed how they follow the principles of Truthfulness-Compassion-Forbearance to become better citizens, and tell people the facts about the persecution in China.
Clarifying the Facts to Chinese People
During the past ten-plus years Ms. Xiong has been at the visa office of the Chinese Consulate and at tourist sites telling Chinese people about Falun Dafa, so that they will not be misled by communist, defamatory propaganda. She said, "When standing in front of the visa office building, some pedestrians were moved, and sent food, tea, and flowers. Drivers in passing cars also honked, showing their support."
The visa office relocated twice and Ms. Xiong was almost always there. Because she often helped people with directions, opening the door, or cleaning around the buildings, the business owners of nearby shops were moved. She said, "They sometimes gave me snacks, and I was touched because they were doing something to support an upright cause." When people came asking if she needed help, Ms. Xiong often told them the best way to help was to tell more people about the tragedy in China. "Absolutely!" replied one pedestrian.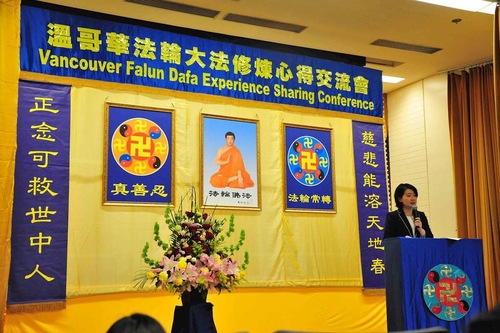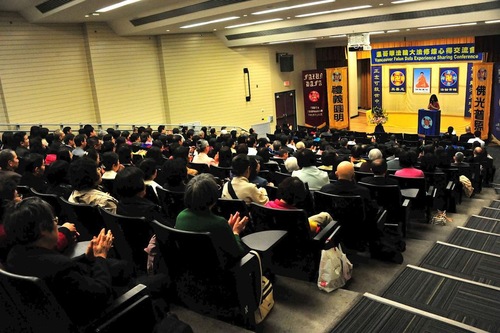 The 2018 Vancouver Falun Dafa Experience Sharing Conference at Langara College on April 28, 2018.
Becoming More Diligent
Ms. Lee worked in sales and marketing for the Epoch Times. Since she spoke fluent Korean, she visited almost all stores owned by Koreans. But as time continued, she slacked off, and became somewhat depressed.
One day she had a dream, in which she was wandering around with a big, heavy suitcase. A man came up to her and offered help, but she held the suitcase tightly and was unwilling to let it go. Considering this a hint from Master, Ms. Lee started putting more effort into studying the Fa, doing exercises, and sending forth righteous thoughts. She also looked inward when dealing with interference from the old forces. "Several days later, I had another dream in which I took a handbag out of the suitcase and left the rest behind," she said, "I am clear that as a Dafa disciple, I should assist Master with Fa-rectification and saving people. So I promised to do well as a Dafa disciple."
As Ms. Lee strengthened and aligned her righteous thoughts, she gained more courage and wisdom. Miracles occurred during the following month, and she closed two large, one-year contracts with clients.
Looking Within to Improve
Mark Tickner talked about his experience participating in debates, in both British Columbia and Fraser Valley, running for Member of the Legislative Assembly. He attended all the meetings and always brought up the persecution against Falun Dafa in China, especially the crime of forced organ harvesting. In the forums candidates stood in lines and talked with the public. He said, "When I spoke about forced organ harvesting and Falun Dafa, the forum went quiet as if even the air was frozen in the room. But I knew in another dimension, it was a heavy blow, like thunder."
Mark said that practitioners must view the Fa teachings as most important, because they help practitioners maintain focus and walk their cultivation paths well. "When tribulations occur at work or at home, I always consider it an opportunity to improve myself," he added. This way, he has gained deeper understandings of the Fa and been able to let go of selfishness and other attachments.
Raising Awareness in the Classroom
Ms. Qi, from mainland China, has been practicing Falun Dafa since childhood following her parents. She went to a college in Vancouver four years ago, majoring in visual arts and computer studies.
"I thought about telling professors and students facts of Falun Dafa, as well as the persecution, in the art class." She therefore composed two artworks to exhibit in the classroom. In an advanced art class, the professor was Chinese, and she was initially hesitant. She later went to him, saying that she planned to compose an artwork on the human rights violations in China, including the suppression of Falun Dafa.
"To my surprise, the professor approved it. It turned out he was one of the victims of the democratic movement on Tiananmen Square in 1989," she added. Ms. Qi thus composed a series on the suppression in China, including the persecution against Falun Dafa. When she presented them to the entire class, everyone became serious and studied each of them attentively. The students were shocked by the crimes and sympathetic to practitioners.
The professor later said to Ms. Qi, "This is a great piece. You should frame it."